Published in The Financial Express on Friday, 12 January 2018
Rice prices rise further despite Aman harvest, imports
Yasir Wardad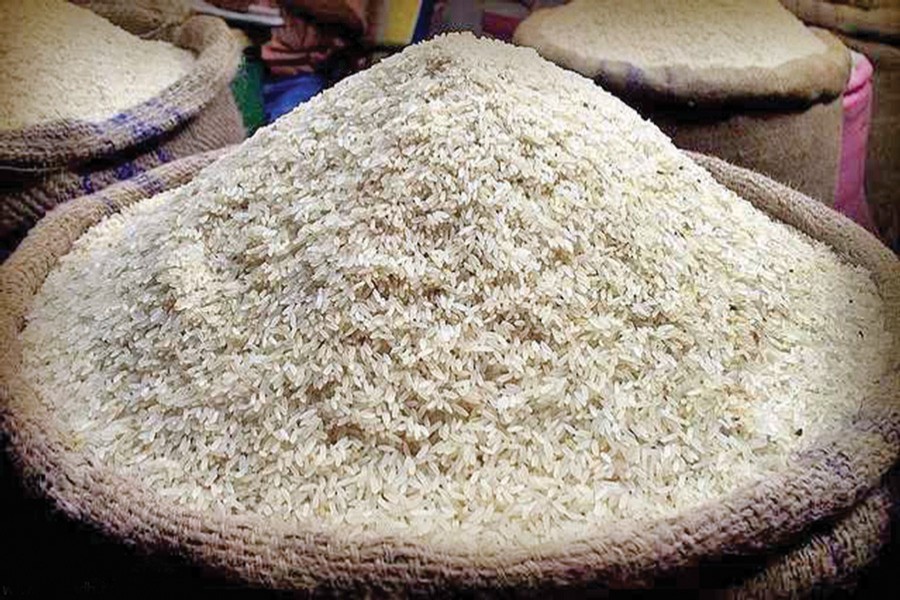 The ongoing Aman harvesting season and an all-time high import hardly could benefit consumers as rice became pricier again last week, augmenting sufferings of the commoners further.
Seasonal coarse rice Swarna and BR-11 were sold at Tk 52-Tk 55 a kg at retail markets in the capital while hybrid varieties at Tk 48-Tk 52 a kg—Tk 2 surge in a week.
Prices of the varieties also showed a Tk 1.0-Tk 1.5 hikes at wholesale markets — Badamtoli, Babubazar and Mohammadpur Krishi Market in the city, trading sources said.
Prices of finer varieties, Najirshail and Minicate, however, were static maintaining their previous high as sold at Tk 65-Tk 78 a kg at retails based on quality.
Medium quality Brridhan-28 and Kajol Lota were also stable at Tk 56-Tk 60 a kg at retail markets.
Traders attributed the rise in prices of coarse rice mainly to persisting high paddy prices in the Aman harvesting season while experts sensed market syndication responsible for the surge.
Haji Md Asadullah, joint secretary of Badamtoli-Babubazar Rice Wholesalers Association told the FE that prices of Swarna were increasing at mill-gates for the last ten days.
He said the price of per sack (50 kgs) rice increased by Tk 40 during the period.
Contacted, Secretary of Bangladesh Auto Major Husking Mill Owners Association (BAMHMOA) K M Layek Ali said prices of paddy have reached all-time high this season.
He said Swarna, BR-11 paddy were selling at Tk 980-Tk 1000 a maund (40 kg) and Najirshail paddy at Tk 1300-Tk 1350.
Layek Ali said production of Aman declined this year which caused surge in paddy prices.
Meanwhile, a large quantity of rice was also imported last year.
Consumers Association of Bangladesh (CAB) president Ghulam Rahman termed the recent hike in rice prices as abnormal during the harvesting season despite a huge import.
He said that their market reports showed milling cost of Swarna would not be more than Tk 39.8 a kg following the paddy prices, but was being traded at Tk 52-Tk 55 a kg in the Dhaka retails.
Local think-tank Centre for Policy Dialogue (CPD) research fellow Towfiqul Islam Khan told the FE that consumers usually expect a decline in prices during the harvesting season, which was absent this year.

He said that the overall production might witness a decline following a two-spell of flood this year.

"Our survey found flash-flood caused an approximate loss of 1.53 million tonnes of rice worth Tk 53 billion during the Boro season," he said.

He said monsoon flood in August affected 8.2 million people in 32 districts, causing damage to 9.0 per cent of croplands, especially that of Aman.

"But there is no supply shortage of rice now following the domestic harvest, sound imports and almost static international prices", he said.

Agri economist Prof Gazi M Jalil said the millers, importers and their allied traders should be brought under close scrutiny to combat any artificial price hike.

He said the government stock of rice should be raised to at least 1.5 million tonnes to put some impact over the mainstream market so that the limited income groups could afford rice at reasonable rates.

The expert also urged the government for taking action to minimise huge price gap between the farmers' end and the consumers' end.
Head of the Directorate General of Food (DGoF) M Badrul Hasan said the rice import has touched all-time high at 2.38 million tonnes so far in the current financial year.
"We have a stock of 0.58 million tonnes (of rice) now which was 0.38 million in December last," he said.
We have started procuring 0.3 million tonnes more from the millers at Tk 39 a kg during this Aman season, he said.
He said the government has brought 0.4 million tonnes of rice while 1.2 million tonnes more will be imported during the remaining period of this fiscal year.
Rice prices hit all-time high in September in the last calendar year when coarse variety Swarna price reached Tk 55-Tk 56 a kg while finer variety Minicate and Najirshail Tk 70-Tk 82 a kg.