Published in The Financial Express on Thursday, 21 January 2016
Plastic waste management: In search of an effective operational framework
Khondaker Golam Moazzem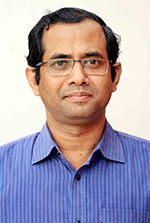 Bangladesh's development trajectory in the future will hinge, among others, on sustainable industrial development. This is also highlighted in "2030 Sustainable Development Agenda" under a number of goals and targets (Goals are 6, 11 and 12). Management of environmental pollution, including those of solid waste management in municipal areas, will be a major area of attention. The country is currently paying a heavy toll due to unplanned and inadequate waste management practices, particularly those which originate in urban areas. One of the major components of solid waste in municipal areas is plastic waste. Because of lack of proper management with regard to recycling of plastic products, these wastes have instead caused long-term damage to the environment due to the non-biodegradable nature of plastic. On the other hand, higher consumption of plastic products is a reflection of higher income of the people. With rise in income, plastic consumption has increased significantly in the urban areas – from 5.56 kg per person in 2005 to 14.9 kg per person in 2014 (Waste Concern, 2014). This rise in plastic consumption has dramatically increased the volume of wastes. The share of plastic waste in Dhaka city has increased from 1.74 per cent in overall landfills in 1992 to 4.1 per cent in 2005 and to 6.5 per cent in 2014 (Waste Concern, 2014).
Bangladesh is an emerging developing country which has recently been elevated to 'lower middle-income' country status and is likely to be graduated to 'developing country' status by 2024. Plastic consumption in  the country is still at a very low level compared to other countries and  regions (Figure 1). The per capita consumption of plastic (3.5 kg per person per year in 2014) was lower than that of Sri Lanka (6.0 kg/person/day) and far behind that of developed regions in North America (139.0 kg), Europe (136 kg), and Asia (36 kg) (Waste Concern, 2014). More importantly, plastic consumption is likely to increase in the coming years mainly due to rise in per capita income and rise in total population in the urban areas. [Total population in urban areas has increased dramatically over the years and will continue in the future. Between 2005 and 2014, urban population has increased from 32.76 million to 41.94 million. It is to rise to 78 million in 2025.]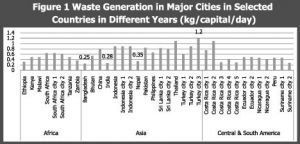 Bangladesh is perhaps one of the countries with fastest growth in consumption of plastic products during the last decade. Between 2005 and 2014, plastic consumption in urban areas of the country has increased significantly (by 169 per cent although overall national consumption has increased by 16.2 per cent) which is even higher compared to other countries and regions such as North America (32 per cent), Asia (80 per cent), Europe (37 per cent) and world (25 per cent). The growth in consumption of plastic products will continue in the coming decade. This possible rise in plastic consumption may lead to huge plastic waste in municipal areas which need to be properly managed.
Compared to neighbouring developing and developed countries, Bangladesh lags far behind in waste management. Most of these countries have well-developed legal framework, institutional structure and industrial base for recycling in order to tackle solid waste generated in municipal areas. Bangladesh has just started to comprehend the adverse consequences of the solid waste but has yet to establish proper legal framework and institutional structure in order to manage waste.  This paper intends to focus on global practices of solid waste management, particularly related to plastic waste, which exist in developing countries in order to draw lessons for Bangladesh. The paper will put forward suggestions with regard to municipal solid waste management including plastic waste management in a bid to reduce waste in the urban areas in the long run.
SOLID WASTE MANAGEMENT IN BANGLADESH: CASE OF PLASTIC PRODUCTS: Consumption of plastic products in Bangladesh has been increasing not only in volume but also in diversity of product use. Use of plastic products has extended from households to industrial purposes and from bulk packing to office equipment, building materials, engineering parts, medical instruments, poultry and fishing, automobile and cycle parts, electronics, engineering products and musical products (Box 1). In other words, these products are the possible sources of plastic waste. Since these products are produced by using different kinds of plastic raw materials, the waste generated through these products as well as their management is likely to be different. [Different kinds of plastic products include PET: Polyethylene Terephthalate (mineral/drinking water, bottles, cosmetic bottles): inexpensive, light weight, shatter resistant; PE/PP Rigids: Polythene and polypropylene 'hard' – usedin rigid application, such as tables, chairs, pipes, bottles, closures, pallets, crates, drums, other hard plastics; PE or PP films and bags:used in flexible applications such as bags, liners and other single or mono-component soft plastics; PVC: Polyvinyl Chloride: used for pipes and fillings, tarpaulins, medical apps; PS: Polystyrene: used in general applications (GPPS), foam PS, EPS (expanded polystyrene, high impact HIPS (used for disposable cups, trays pitchers, refrigerator liners); Other plastics: ABS (acrylonitile butadiene styrene); PC (polycarbon); PVDC (Polyvinaylidene chloride); PTFE (Polytetrafluroethylene: Tefron); Polytherentheketone (PEEK); multilayered plastic (laminates), polycarbonate (PC/ABS), polyurethanes (PU) and polymethylmetacrylate (PMMA). ] In addition to that lack of waste management of these different kinds of plastic waste may cause different kinds of adverse impacts on the environment and public health.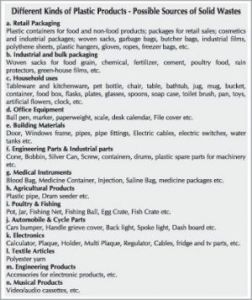 Considering the per capita consumption of plastic in 2014 was 3.5 kg (as stipulated in Waste Concern, 2014), national consumption of plastic in Bangladesh amounted to be about 545,300 tonnes. According to one of the studies, total plastic waste which was available for recycling was about 50,213 tonnes (Waste Concern, 2014). This indicates that only 9.2 per cent of total plastic consumed in the country was available for recycling in 2014. Hence, a large part of landfill plastic waste remains outside the purview of waste management which causes damages to the environment. Despite the fact that solid waste generated in Bangladesh is low in quantity, this small amount of waste has become a major environmental concern for the country due to lack of waste management.
Waste management in the municipal areas is at an early stage of development. Solid waste management, including plastic waste, has been carried out on a limited scale mainly from commercial motive. An informal channel has developed in case of plastic waste recycling in the municipal areas. Solid waste, including plastic waste, is usually collected from end users such as households, industries, hospitals and other entities by individuals, petty traders, private waste collectors and by the city corporations. Besides, a part of collected plastic waste is directly traded to the middlemen which sent for recycling. Another part of plastic waste collected by individuals from landfills, mainly from waste dumping areas, is traded by the middlemen. A general observation is that plastic wastes which are big in size and have weights and easily collectable are of more commercial value for recycling. In contrast, plastic waste, with light weight and difficult to collect, has less commercial value for recycling. As a result, a part of the plastic waste is not incorporated in the recycling process and remains  land-filled which cause damage to the soil and environment. Collected plastic wastes are processed into pellets which are used as raw materials in plastic industries.
The whole supply chain of recycling of solid waste lacks proper management and operation. There is absence of a holistic approach, particularly from the sustainable waste management point of view. In contrast to other developing countries, there are no specific laws, rules and guidelines for municipal solid waste management in Bangladesh.
Waste-related issues have been mentioned in the 'Environment Law 1995' which indicates types of industrial waste generated by industries that cause environmental pollution. In recent years, a number of initiatives have been taken in order to improve the waste management in urban areas. A national initiative called 3R (reduce, reuse and recycling) has been launched in 2010. Under this concept, a pilot project is currently being implemented in Dhaka and Chittagong cities. Besides, Bangladesh Bank has included plastic waste recycling plants under its Green Banking refinancing scheme. Development partners, particularly JICA and UNICEF, have been providing financial support for municipal solid waste management. Those initiatives are only the starting point of a huge amount of activities required to be taken over time.
MAJOR GLOBAL EXPERIENCE OF SOLID WASTE MANAGEMENT: Bangladesh can take lessons from the waste management practices of developed and developing countries. Municipal solid waste management has been carried out in advanced countries under proper regulatory and institutional framework. Municipal solid waste management in India has been carried out under several central and state-level rules and acts which include Municipal Solid Waste (Management and Handling Rules), 2000, The Delhi Plastic Bag (manufacture, sales and usage) and Non-Biodegradable Garbage (Control) Act, 2000, Hazardous Waste (Management and Handling) Rules, 1989 and Amendment Rules, 2000 and 2003, Biomedical Waste Management and Handling Rules 1998 and Amendment Rules, 2003 and Delhi Municipal Corporation Act, 1957.  These rules/acts have specifically mentioned categorisation of municipal waste, procedure for collecting waste by the local authorities, establishment of waste processing facilities by local authorities, prohibition of manufacturing and recycling of plastic bags from food packaging; prohibition of throwing or depositing non-biodegradable garbage in public drains, roads and places open to public view. These rules/acts also define placement of receptacles and places for deposit of garbage under the responsibility of Municipal Corporation and responsibility to the users for proper management and handing of hazardous waste. Disposal of biomedical waste after properly sorting it under different categories has been made mandatory. Overall responsibility has been put on local authorities in order to ensure less environmental pollution caused by municipal waste.
Malaysia follows a similar regulatory and institutional arrangement for waste collection and recycling. Municipal solid waste is managed by the local authority in Malaysia as per Local Government Act 1972. Under this act, the local authority is expected to provide, directly or through contract, public cleansing services of equitable and acceptable quality to all urban and semi-urban communities within its jurisdiction, and must dispose of all the waste collected in a sanitary manner. Under the Ministry of Housing and Local Government, Malaysia has set up the National Solid Waste Management Department as the regulatory body and the Solid Waste and Public Cleansing Management Corporation to conduct the operations. The Corporation would take over the role of managing solid waste from local authorities and watch over the concessionaires. However, local authorities would continue to monitor cleanliness in areas under their jurisdiction. The Solid Waste and Public Cleansing Act 2007 was gazetted in 2007 with the focus to pave the way for federal takeover of solid waste management and privatisation of solid waste handling. Consequential amendments were also made to three other policies which include Local Government Act 1976, Site, Drainage and Building 1974, and the Town and Country Planning 1976. The penalties for offences under the Act are harsh. [Those caught in illegal dumping, storage, and treatment are subject to a fine of between RM 10,000 (EUR 1980) and RM 100,000 (EUR 19,802) and a jail sentence of up to five years.]    The Act covers eight categories of controlled solid waste from commercial centres, public sites, construction sites, households, industrial zones, institutions and others. Solid waste management services provided include separation, storage, collection, transportation, transfer, processing, recycling, treatment, and disposal of controlled solid waste. Thus, Malaysia includes private sector along with the public sector for efficient and better management of municipal solid waste and identified a number of controlled activities for better waste management.
The regulatory framework and institutional setup for solid waste management are much more advanced in developed countries. A number of acts and rules guided the waste management in the United Kingdom. The UK follows the Environmental Protection Act 1990; the Environment Act 1995; the Waste Management Licensing Regulations 1994; Trans-frontier Shipment of Waste Regulations 1994; the Special Waste Regulations 1996; the Pollution Prevention and Control Regulations 2000 and the Landfill Regulations 2002. The European Union controlled solid waste by following consecutive environmental action programme since 1973. The approach and strategy in terms of waste in these Programmes were: from pollution control to pollution prevention. The latest programme (implemented during 2001-2010) incorporates the concepts of 'sustainable development' and integrates environmental decision-making and policy formulation into all major policy areas of the EU. The Programme identifies the reduction in waste as a specific objective and sets a target of reducing the quantity of waste going to final disposal by 20 per cent by 2010 and by 50 per cent by 2050. The actions required to achieve these targets include among others, establishing a strategy for the recycling of waste; the improvement of existing waste management schemes; and investment in waste prevention and integration of waste prevention into other EU policies and strategies.
Overall, both developed and developing countries follow various laws and rules in order to manage municipal solid waste. In most cases, the local authority is supposed to take responsibility for collecting and managing solid waste. There are evidences of inclusion of private sector in this process. A major perspective of these initiatives is to take measures for developing a sustainable waste management system.
Dr Khondaker Golam Moazzem is Additional Research Director, Centre for Policy Dialogue (CPD), Bangladesh.
moazzemcpd@gmail.com