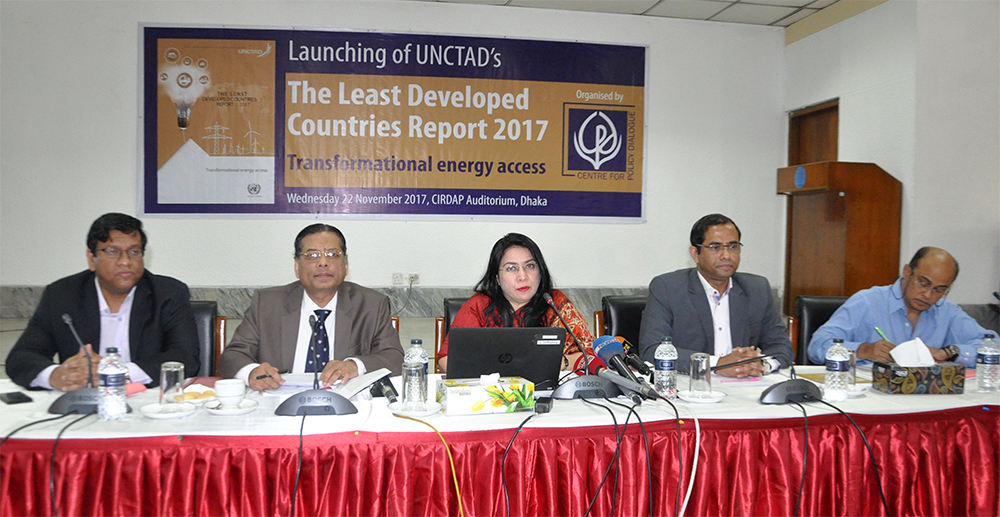 Policy consistency, governance and international support are essential to secure transformational energy for all in the least developed countries, according to the Least Developed Countries (LDCs) Report 2017.  Achieving the Sustainable Development Goal seven (SDG 7) – universal access to energy by 2030, will require a 350 per cent increase in their annual rate of electrification, the report added.
Centre for Policy Dialogue (CPD) organised a press briefing in Dhaka on 22 November 2017 to launch report subtitled 'Transformational Energy Access', prepared by the United Nations Conference on Trade and Development (UNCTAD), coinciding with the report's global launch on the same day. UNCTAD's LDC Report is an annual publication which highlights the state of economic development in the LDCs with opportunities and challenges of these countries.
Dr Fahmida Khatun, Executive Director, CPD, unveiled the salient features of the report and laid out a comparative analysis of Bangladesh's performance and recent energy trends in the LDCs to relate to the relevant policy interventions stated in it. Bangladesh would require some 20-30 per cent more new electricity connections every year to achieve the universal access to electricity by 2030, Dr Khatun said citing the report.
The residential sector is responsible for almost two-thirds of the energy demand in Bangladesh, while the industrial sector comprises of only 21 per cent of that, the report stated. The concerned authorities should take necessary steps to ensure balance in the energy demand, Dr Khatun stressed. Besides, global support is also necessary as the LDCs, including Bangladesh, need USD 12 billion to USD 40 billion per year to secure energy for all, she underlined.
Professor Mustafizur Rahman, Distinguished Fellow, CPD, said that access to affordable transformational energy will play a vital role in terms of securing economic growth, social inclusion and environmental balance if Bangladesh wants to achieve the SDGs by 2030 and to become a developed country by 2041. Hence, there is a need to increase energy generation capacity and production in the country, he highlighted. Besides, the government should incorporate the policy recommendations of the report in the country's Energy Master Plan, he said. So, the report has a three dimensional implication for Bangladesh in terms of the achieving SDGs, the Vision 2041 and also fulfilling the Energy Master Plan, he noted.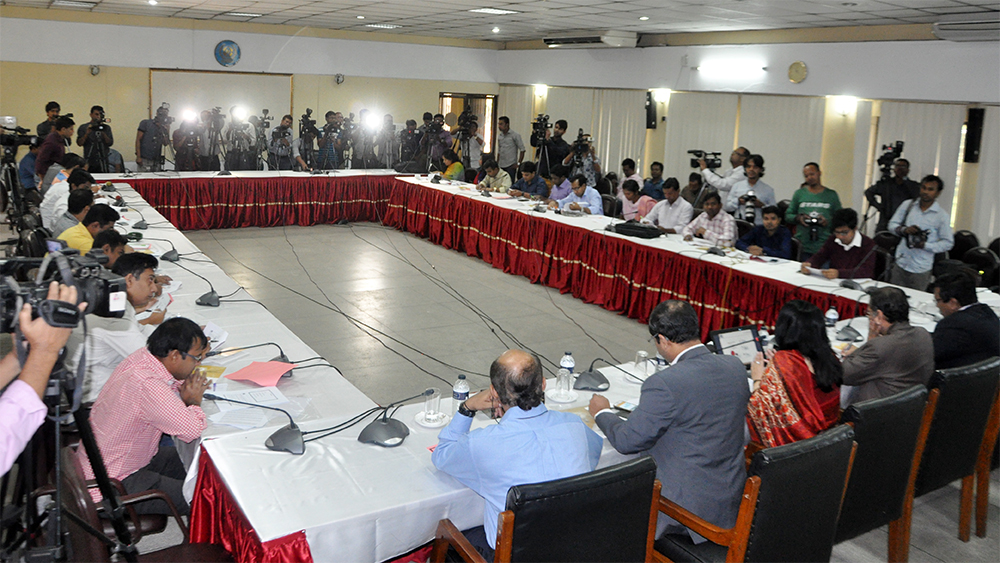 Dr Khondaker Golam Moazzem, Research Director, CPD, said that the government should also focus on rural electrification as only half of the rural population in Bangladesh has access to electricity.
Dr Anis Pervez, Additional Director, Dialogue and Communication and Towfiqul Islam Khan, Research Fellow, CPD were also present at the event. The briefing was followed by a question and answer session with journalists from print and electronic media.