Extending the use of remittance sent by Bangladeshi migrant workers from mere consumption to more productive areas including investment and social protection would pave way towards their greater welfare and better contribution to Bangladesh's economy.
To this end, the government needs to implement the right policies and ensure coordination with national and international partners also to reduce the global cost of remittance transaction as committed by the recently adopted Sustainable Development Goals (SDGs).
The observations emerged from a CPD dialogue on "Safeguarding Interests of Bangladesh Migrant Workers: Issues of Financial Inclusion and Social Protection" jointly organised at Lakeshore Hotel on Wednesday 21 October 2015 with Bangladesh Government and ILO under the programme for "Promoting Decent Work through Improved Migration Policy and its Application in Bangladesh".
While presenting the keynote, CPD Executive Director Professor Mustafizur Rahman noted that although developing countries have experienced astronomical growth of remittance inflow, only 26.6 per cent of remittance recipient households in Bangladesh are engaged in some type of investment while some 60 per cent of a BBS 2014 survey respondents indicated to have had bank accounts.
Despite being the most frequently used mode for channeling remittance in Bangladesh, banks remain the most expensive medium, charging 11.0 per cent of the remitted money, in comparison with Money Transfer Operator (MTO) charging at 6.6 per cent, observed Professor Rahman.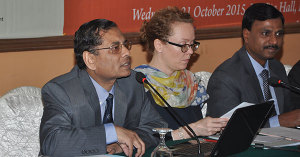 Drawing from best practices around the world, Professor Rahman recommended a number of policy interventions to enable banking service to facilitate investment of remittance, introduction of Insurance and Pension Schemes for migrants, use of mobile telephony for information services, social security agreement with host countries, comprehensive database , modernising state financial services, bolstering platforms for inclusion of migrant workers into the financial ecosystem and financial education both in the home and host countries.
Global, regional and domestic efforts are required to meet the challenges to ensure social protection at the pre-migration, host-country and post-return stages for the migrants. Along with a global accord to ratify core ILO conventions by all host countries, a monitoring mechanism can be set up as part of the SDG implementation monitoring process.
The Ministry of Expatriates' Welfare and Overseas Employment (MEWOE) will need to be capacitated and have its priorities reflected in subsequent policy interventions. Inter-ministerial and institutional coordination, public-private partnership among government agencies, banks, insurance companies; non-state actors participation and incentivisation; strengthened participation in global initiatives and partnerships towards enforcement of ILO Conventions would further facilitate the migrants' welfare.
Mr AHM Mustafa Kamal, MP, Minister for Planning, Government of Bangladesh addressed the dialogue as the Chief Guest and Mr M A Mannan, MP, State Minister for Finance and Planning, Government of Bangladesh addressed as the Special Guest.
Ms Beate K Elsaesser, Deputy Head of Mission and Director of Cooperation, Embassy of Switzerland in Bangladesh was the Guest of Honour.
The event was co-chaired by Mr Nurul Islam, BSc, Minister for Expatriates' Welfare and Overseas Employment, Government of Bangladesh and Mr Syed Manzur Elahi, Member, CPD Board of Trustees and Former Advisor to the Caretaker Governments.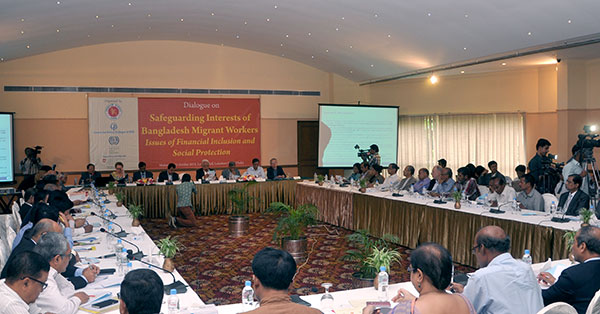 Following welcome remarks by Mr Khandker Md Iftekhar Haider, Secretary, Ministry of Expatriates' Welfare & Overseas Employment and introductory remarks from Mr Srinivas B Reddy, Country Director, ILO Country Office, Dhaka, the keynote presentation was addressed by Discussants Dr Zahid Hussain, Lead Economist, The World Bank and Mr Md Ahsan Ullah, Executive Director, Bangladesh Bank.
The floor discussion was addressed by Mr M Syeduzzaman, Member, CPD Board of Trustees and Former Finance Minister; Ambassador Munshi Faiz Ahmad, Chairman, Bangladesh Institute of International and Strategic Studies (BIISS); Prof. Ishrat Shamim, President, Centre for Women and Children Studies (CWCS); Ms Sheepa Hafiza, Director, Gender, Justice & Diversity and Advocacy and Migration Programme, BRAC; Mr Kamal Quadir, Chief Executive Officer, bKash Limited; Mr. Md. Sayeed Sikder, GM & Company Secretary, Board Division, Pubali Bank Ltd; Dr Wazedul Islam Khan, General Secretary, Bangladesh Trade Union Kendra; Dr Anwara Begum, Senior Research Fellow, Bangladesh Institute of Development Studies (BIDS); Mr Maksudur Rahman, Senior Vice President, and Head of Foreign Remittances Services Division, Islami Bank Bangladesh limited; Mr Shakirul Islam, Chairman, Ovibashi Karmi Unnayan Program (OKUP); Ms. Sumaya Islam, Director, BOMSA among others.