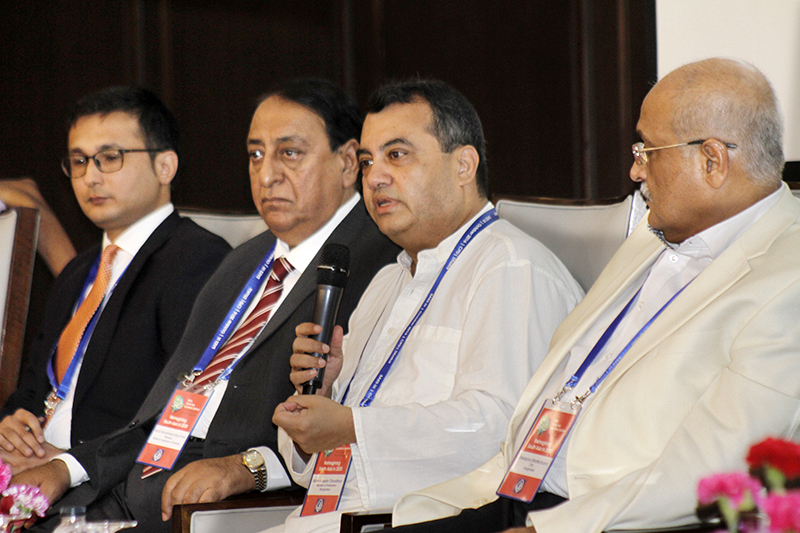 Leaders of the South Asian countries need to rise above the political dilemmas and need to collaborate inclusive and integrated manner to implement the 2030 Agenda. The Sustainable Development Goals (SDGs) are ambitious and complex which require deepening cooperation among the nations of this region. These observations emerged from the "Plenary Session 1" titled Is Political Leadership in South Asia Ready for Implementing the 2030 Agenda? of the Ninth South Asia Economic Summit (SAES IX) which was organised by Centre for Policy Dialogue (CPD) at Hotel Le Méridien Dhaka, Bangladesh on 15 October 2016.
Mr Saber Hossain Chowdhury, MP, Bangladesh and President, Inter-Parliamentary Union addressed the session as Guest of Honour. Dr Sarath Amunugama, Minister for Special Assignments, Government of Sri Lanka; Mr Shekhar Gupta, Editor-in-Chief, Mediascape Pvt. Ltd., India; Mr Choida Jamtsho, Member, National Assembly of Bhutan; Mr Nazir Kabiri, Adviser to the Finance Minister, Government of Afghanistan; Mr Rana Muhammad Afzal Khan, Member, National Assembly of Pakistan and Parliamentary Secretary, Ministry of Finance, Government of Pakistan; Mr Romi Gauchan Thakali, Minister for Commerce, Government of Nepal; and Mr Amir Khosru Mahmud Chowdhury; Former Minister for Commerce, Bangladesh delivered their remarks as Panellists. The session was moderated by CPD Distinguished Fellow Dr Debapriya Bhattacharya.
The Summit, held on 15-16 October 2016, was co-organised by the Institute of Policy Studies of Sri Lanka (IPS); Research and Information System for Developing Countries (RIS), India; South Asia Watch on Trade, Economics and Environment (SAWTEE), Nepal; and Sustainable Development Policy Institute (SDPI), Pakistan.