Published in East Asia Forum  on Tuesday, 29 December 2015
Political stability is the key to growth in Bangladesh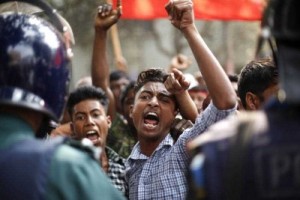 Bangladesh's year started with political turmoil when the opposition party — the Bangladesh Nationalist Party  — protested, demanding free and fair elections. On 5 January 2014, Bangladesh had voted in its current government led by the Bangladesh Awami League, but controversy surrounded the election. Unlike all previous elections since the ousting of Bangladesh's autocratic government in 1991, it was held under the ruling party instead of a neutral caretaker government.
Political unrest turned violent for some time in January and February 2015 disrupting production, transportation and various services. The country also endured strikes, exacerbating this shock. Educational institutions closed, communications were interrupted and safety diminished.
Despite the civil unrest, GDP growth for the 2015 financial year was 6.5 per cent, up by 0.4 per cent on the previous year's growth, but shy of the government's target of 7.3 per cent. This regained growth momentum in 2015 is largely due to a calmer political situation during the rest of the year.
Yet political stability has not removed political uncertainty. The ruling party is governing confidently and the opposition party is getting weaker, but investors are wary. This is reflected in the fall in investment below the target set in the 2015 budget. Private investment as a share of GDP grew by only 0.1 per cent in 2015 fiscal year than the previous fiscal year. The provisional estimate of total investment for the 2015 financial year was 29 per cent of GDP, below the target of 29.7 per cent.
Public investment fell short of its target by 0.6 per cent. This was due to the slow implementation of the Annual Development Programme, which was 1.5 per cent lower in July–October 2015 than that of the same period in the previous year. A decline in subsides, largely due to low food, fertiliser and oil prices in the international market, also contributed to lower public expenditures. This is worrisome as there is a large infrastructure gap in the country, which hampers private investment.
Private consumption has also been low due to reduced remittance inflow. During July–November 2015 remittance growth has been negative (at minus 0.9 per cent), though it grew by 7.6 per cent in the 2015 financial year. Export growth has been fluctuating throughout the year, but picked up in recent months. A major export boost has come from readymade garments, which are still competitive in the global market. But with stringent compliance requirements, the cost is on the rise. This has to be compensated for by higher productivity through technological upgrades and by developing workers' skills.
Another challenge for the government has been domestic resource mobilisation. Historically, Bangladesh's tax-revenue-to-GDP ratio is one of the lowest in the world. Revenue mobilisation efforts continue to fall short of targets. Revenue generation has been hampered by political turbulence and a decline in import duties.
One sobering indicator is inflation. Thanks to lower international commodity prices, restrained monetary growth and a stable nominal exchange rate between the Bangladeshi taka and the US dollar, inflation has been declining. If this trend continues, the target of the central bank to keep inflation at 6.2 per cent in June 2016 will be fulfilled. But non-food inflation has yet to be tamed.
Macroeconomic stability has been a strength of the economy. Despite several shortcomings, the economy exhibited many promising aspects. The country managed to increase its growth by 1 per cent per decade over the last three decades. Strong performance in agriculture, industry and the services sector have contributed to the acceleration of growth in recent years. Growth has also been less volatile and shown resilience during periods of political volatility, natural disasters and global financial crises.
As a result, not only has per capita income increased, but impressive achievements have been made on the social front as well. Progress in poverty reduction, lower maternal and child mortality, increased life expectancy and higher enrolment are some examples of such achievements.
Bangladesh can continue its growth by implementing good fiscal policies, improving infrastructure and investing in human capital, but the confidence of investors has to be improved. The predictability of the political scenario plays a critical role in boosting business and sustaining growth.
Fahmida Khatun is the Research Director at the Centre for Policy Dialogue, Bangladesh
This article is part of an EAF special feature series on 2015 in review and the year ahead.