Centre for Policy Dialogue (CPD) has organised a dialogue on "Flood 2017: Situation and Way Forward" on 19 October 2017 at the Centre on Integrated Rural Development for Asia and Pacific (CIRDAP).
Find more reports on this event.
---
Published in The Daily Star on Friday, 20 October 2017
Back to 'rat theory'
Minister Anisul again blames locals, rats for the damage of haor dams; CPD says govt's flood response was timely but inadequate
Staff Correspondent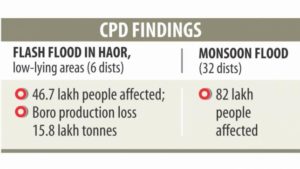 Over three months after the Anti-Corruption Commission sued 61 people for mismanagement and corruption in the construction of dams in the country's haor areas, the water resources minister once again held rats accountable for the destruction of embankments.
But he did not rule out possible corruption in the projects.
"I won't say there won't be any looting [of public money]. We won't be able to stop it. The Water Development Board [WDB] is not an isolated organisation; it's not an isolated society. It [WDB] too is part of the total system where corruption exists," said Anisul Islam Mahmud.
He was addressing a dialogue on "Flood 2017: Situation and Way Forward" organised by the Centre for Policy Dialogue (CPD) at the Centre on Integrated Rural Development for Asia and Pacific (Cirdap) in the capital.
On July 2, the ACC filed a case against 61 people, including contractors and WDB's suspended Superintendent Engineer Nurul Islam, Additional Chief Engineer Abdul Hai and 12 other officials.
The anti-graft body lodged the case after investigators "found evidence of irregularities" in the construction and maintenance of the dams.
Speaking at the programme, eminent water expert Ainun Nishat expressed concerns that there might be further corruption in the repair works of the roads and embankments in the affected region, and called on the government to engage people in the work to check it.
"Because they [locals] know that if the projects fail, they will have to suffer…. Build culverts and drains wherever necessary on and along the roads. Don't repair roads for this year. Do a study to find out why a particular road is damaged every year. And then take measures accordingly," he said.
The water resources minister, however, blamed the locals living on the embankments for the damage of the dams.
"Rats are attracted to these households and create holes on the dams. A small hole in a dam could damage an embankment badly," he said.
He made the same claim soon after the embankments gave in during the flashfloods in the haor areas in Sylhet region in March-April.
The minister said they were considering redesigning the dam to minimise the impact of climate change.
Debapriya Bhattacharya, distinguished fellow at the CPD, said there should be a new approach to tackle flood.
If the agriculture is not developed, infrastructure not redesigned and administration not upgraded in line with the modern demand, flood-inflicted damages will remain to be a big concern, he noted.
Zafar Sadique and Estiaque Bari, both senior research associates at the CPD, gave a brief presentation on their research titled Flood 2017: Assessing Damage and Post-flood Management.
The financial cost of this year's monsoon flood was likely to be about 0.35 to 0.44 percent of the estimated GDP of 2017-18 fiscal.
The government estimated 7.4 percent GDP growth for the fiscal 2017-18.
The research found around 46.7 lakh people and 10.3 lakh households in low-lying areas and haor of six districts were affected by the flash flood in March-April, inflicting a loss of about Tk 5,300 crore.
Then in late August, the monsoon flood affected 82 lakh people of 32 districts.
It will cost about Tk 2,600 crore for repairing and rebuilding the houses and another Tk 4,500 crore will be required to repair and rebuild roads, culverts and embankments damaged in the flood.
The study found the government reliefs were timely but inadequate.
Mia Hossain, a farmer of Sunamganj who was present at the programme, said the government relief for the flood victims was not sufficient.
According to the study, a number of embankments were damaged due to poor maintenance.
Dhirendra Debnath Shambhu, president of parliamentary standing committee on relief and disaster management, and Engineer Mahfuzur Rahman, director general of Bangladesh Water Development Board, among others, spoke on the occasion.
---
Published in The Financial Express on Friday, 20 October 2017
FE Report
CPD study estimates flood losses at Tk 150b
Losses caused by two spells of recent floods in the country have been estimated to be Tk 150.1 billion, according to a study conducted by Centre for Policy Dialogue (CPD).
Crop losses, collapse of houses and damage to roads, culverts, embankments and dams have dealt a severe blow to above 12.87 million people in 38 districts, the study added.
The findings of the study titled 'Flood 2017: Assessing Damage and Post-flood Management' were disclosed at a national-level dialogue organised by the think-tank at the CIRDAP auditorium in the city on Thursday.
The study said flash flood hit six districts in the haor areas during the March-April period while monsoon flood occurred in August affecting 32 districts.
Flash flood caused an approximate loss of 1.53 million tonnes of rice during the Boro season worth Tk 53 billion, it added.
The study showed that monsoon flood in August affected 8.2 million people in 32 districts, causing damage to 9 per cent of croplands worth Tk 27 billion. It also caused damage to houses, roads, culverts and embankments worth Tk 71.0 billion.
"The financial cost of haor flash flood is equivalent to 3.7 per cent of agriculture crop sector gross domestic product (GDP) while the financial cost of monsoon flood is likely to be about 0.35 per cent to 0.44 per cent of GDP of the financial year 2017-18."
The study also revealed that government allocation and incentives were inadequate for flood-affected people in haor areas.
It said 0.6 million flood-affected people were to receive support to cultivate one bigha of land each, irrespective of their flood losses.
In terms of area coverage, government incentives covered only 19.2 per cent of total cultivable land affected by flash flood.
Support coverage was 68 per cent of the total number of farmers affected by flash flood, the study said.
Out of the total allocation for incentives worth Tk 90 billion, it said, Tk 588 million (in September) and Tk 199 million (in October) were allocated for flood-affected farmers in 32 districts for seed, fertiliser and cash.
However, the loss has been estimated by CPD excluding financial costs of fisheries, livestock, and educational institutions etc.
To cope with such disasters, CPD also made some recommendations including improving service delivery for proper utilisation of relief allocation.
It also assessed the needs for raising efficiency of public food stock management and recommended a special financial mechanism for rural affected-people so that they could get access to low-cost formal credit.
Speaking on the occasion, former vice-chancellor of BRAC University Dr Ainun Nishat said Aman production might witness a 30 per cent fall due to monsoon flood this year.
The country is still going through a flood-like situation in many districts, he said, apprehending that money allocated for flood rehabilitation and repair to roads and embankments might be looted.
Economist Dr M Asaduzzaman said taking care of roads and embankments is more important than that of establishing new structures in the countries like Bangladesh.
When asked, he said a recent hike in prices of rice and vegetables has a correlation with the two spells of flood causing damage to standing Boro crop and vegetables while existing water-logging is likely to hit Aman farming as well.
The government should assess the availability of domestic rice, imported grain and public stock to prepare itself for meeting any possible rice shortage.
Water Resources Minister Anisul Islam Mahmud while speaking as the chief guest said the government is trying to recoup the losses caused by flooding.
He pointed out that rice varieties like Brridhan-28 or 29 take 150-160 days to ripe which are not suitable for haor areas.
He said the agriculture ministry is promoting the varieties in haor areas but they are not taking responsibility for any damage to crops if flash flood hits the region.
He said dams were damaged by overflow of rivers, onrush of water from the neighbouring country and heavy rain this year.
CPD distinguished fellow Dr Debapriya Bhattacharya who chaired the programme said flood is an old phenomena for Bangladeshi people.
"But we will have to adopt some new plans to face the age-old problem," he added.
He said climate change issue should be included in our flood preparedness programmes as a newer tool.
Regional, sub-regional and international cooperation will also be needed to resolve river related issues mostly responsible for floods, he said, adding that people should be included in flood preparedness plan to establish a most effective flood resilient method.
Chairman of the parliamentary standing committee on disaster management and relief Dhirendra Debnath Shambhu and CPD executive director Dr Fahmida Khatun, among others, were present.
---
Published in Dhaka Tribune on Thursday, 19 October 2017
Water minister: Corruption not a major issue in flood management
Several water and disaster experts have blamed heavy corruption in the water sector for poor disaster management before and during the recent floods
There may be corruption in the water resources sector, but it is not as massive as it is made out to be in public spheres, said Water Resources Minister Anisul Islam Mahmud.
Speaking at a discussion in Dhaka as the chief guest on Thursday, the minister said: "It is true that there are some corruption in the construction and repair work of flood embankments, but it is not serious."
Since the corruption occurs at small scale, it is also difficult to trace, he added.
The discussion, titled "Flood 2017: Current Situation and Necessary Actions," was organised by policy think tank Centre for Policy Dialogue (CPD).
Several water and disaster experts attended the discussion where they blamed heavy corruption in the sector for poor disaster management before and during the recent floods.
Water resource management and climate change expert Prof Ainun Nishat said some quarters engaged in heavy corruption following the flood in the name of repairing the roads and other development work.
He said the roads see heavy repair work every year, but they wear down shortly after they are repaired.
"Review the previous work to find out why every year the same places get damages during the flood," he added.
He also urged the authorities concerned not to engage local lawmakers in the post-flood repair and development work.
Responding to the allegations, the minister said: "The [Bangladesh] Water Development Board is not an isolated organisation… it is only one cog in a huge system. They way the system runs these days, it is possible that there could be some corruption here," he said.
The minister further said there was not any scope for corruption in the water sector because its budget was quite low.
"Out of a Tk420 crore budget, at best 10% is lost due to corruption," he added.
Speaking about the recent flood disaster, he said: "We are not saying that we do not have irregularities, but it is true that the flood did not happen due to negligence. It happened due to excessive rain; the embankments were not even damaged."
However, he agreed that the maintenance of the flood embankments were not adequate as the government did not allocate enough fund for maintenance.
"We have money allocated for new projects, but none for maintenance. We repair dams after they are damaged by floods. However, before flood, even if we notice any vulnerable points on the dams, we cannot do anything to fix them," he added.
The speakers agreed that a change in attitude toward maintenance work was necessary.
CPD Distinguished Fellow Dr Debapriya Bhattacharya, who chaired the discussion, said the government should also count the climate change impacts while fighting the floods, otherwise people would be affected more in coming years.
"We need the participation of the affected people in the policy-making process. Floods are not a new phenomenon. The problems that arise now should be added to the list of existing challenges to prevent and/or combat the effects of flood in future," he said.