The discussion session on Revival of Muslin: Policies and Institutions jointly organized by the Centre for Policy Dialogue (CPD) and Drik on Sunday 7 February 2016 at Kabi Sufia Kamal Auditorium of the Bangladesh National Museum.
View more news reports on the event
---
Published in The Daily Star on Monday, 8 February 2016
Fund research on muslin: analysts
Star Business Report
The government should provide financial assistance to researchers and weavers of muslin to revive the lost glory of the fine cotton fabric, analysts said yesterday.
The revival of muslin is important as it has a historic and commercial value, said Mustafizur Rahman, executive director of the Centre for Policy Dialogue.

"From the Indian subcontinent, especially from Dhaka, muslin worth 28 lakh rupees was shipped to different countries, particularly those in Europe, in 1789," Rahman said. He spoke at a seminar on how to revive muslin at Bangladesh National Museum in Dhaka.

"History shows that muslin had a commercial value. Time has come to revive it, but we need to discover the real muslin yarn first," he said.

An expert committee is working to discover the real cotton needed to spin muslin yarn, Rahman said.
Skilled weavers of today's jamdani, a handloom cotton fabric, can easily adapt muslin weaving and designs as their forefathers were the original muslin weavers, he said.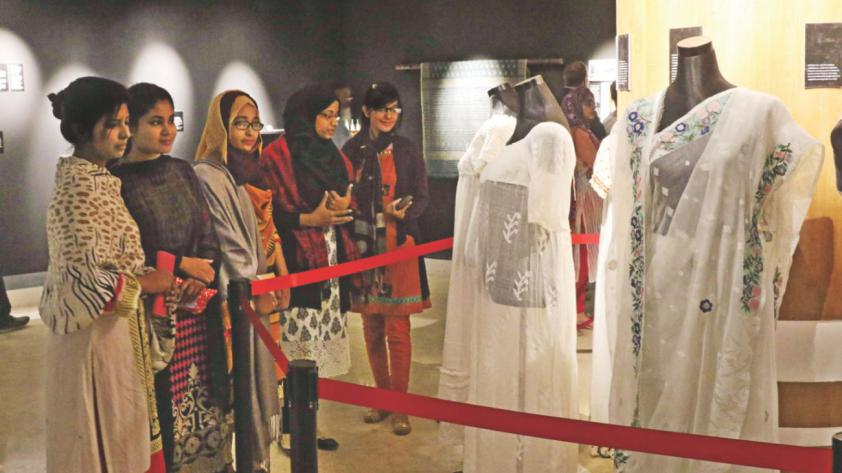 Hameeda Hossain, a human rights activist and academic, said the government should set up a muslin museum to preserve and showcase the glory of the product for which Bangladesh was once famous worldwide.
"It is a pity that we preserved very little of our muslin heritage. We do not have a textile museum to protect our heritage and legacy for the next generation," Hameeda said.
Dhaka was the main production hub for muslin fabrics, although the same product was made in other places as well, she said.
"We need regular photo exhibitions of muslin products so that people can understand its potential. We also need to recognise the challenges and reasons that forced weavers to leave the profession," she said.
Md Farid Uddin, executive director of Bangladesh Cotton Development Board, called for collection, identification and preservation of muslin for its revival.
"There are 520 kinds of germplasm of cotton, and the cotton development board has set up a germplasm centre for identification of the genetic resources of cotton from which muslin was made," Farid Uddin said.
During her visit to the textiles and jute ministry, Prime Minister Sheikh Hasina directed officials to revive muslin as it has a commercial value, said Jamal Abdul Naser Chowdhury, an additional secretary to the industries ministry.
Rosemary Crill, senior curator of South Asian textiles and dresses at the Victoria and Albert Museum in London, presented a keynote at the seminar.
Drik, Bangladesh National Museum, and Aarong are co-organising a month-long muslin exhibition on the national museum premises.
---
Published in The Financial Express on Monday, 8 February 2016
Public-pvt co-op stressed to revive lost glory of 'muslin'
Dialogue calls for establishing patent rights
FE Report
Speakers at a dialogue in the city Sunday highlighted the need for both policy and institutional support from the government for reviving the lost glory of Muslin, the fine fabric that once used to epitomise the skills of Bengal's weavers.
They demanded setting up a textile museum in Dhaka to preserve the country's textile heritage and stressed the need for a comprehensive study, research and innovation to restore the glorious heritage.
They also urged the government to take proper measures to protect the rights of the country's geographical indicative (GI) products like Jamdani.
Bangladesh National Museum (BNM) in collaboration with Drik and Aarong organised the dialogue on "Revival of Muslin: Policies & Institutions" at the national museum as part of its month-long Muslin Festival 2016 with a view to building a common understanding and commitment amongst participants towards the revival and development of muslin.
Cultural activists, researchers, academics, economists, representatives from various government and non-government organisations and university students, attended the seminar.
Rosemary Crill from Victoria and Albert Museum, London presented the keynote paper on the subject describing the origin and past history of Bengal Muslin, especially during the Mughal period. Drik Chief Executive Officer Saiful Islam narrated how they are trying to recover the lost glory by organising, guiding and patronising a group of weavers who are weaving something that has all the traits of the Muslin.
To recover the old glory, Beatrice Kaldun of UNESCO in her opening speech also stressed the need for enhancing brand awareness, developing skills and designs and promote publicity and building brand image.
BNM Director General Faizul Latif Choudhry made the welcome address, while CPD Executive Director Dr. Mustafizur Rahman presided over the dialogue.
"We have lost patent rights of many of our old heritage," Dr. Mustafiz said.

He stressing the need for clearly recognising muslin as a part of the heritage and as the precursor to jamdani.

The benefit to Bangladesh in 'owning' muslin and using the brand value would raise its profile in the global handloom market, he said.

He urged all, including public and private sector, to work together in a coordinated way with proper design and fashion to develop a country brand.
Replying to the audience, Industries Secretary Mosharraf Hossain Bhuiyan, who attended the programmme for a while, said that the Bangladesh Small and Cottage Industries Corporation (BSCIC) had already applied for Patent Trademark of Jamdani.
He pointed out the government is relentlessly working for the development of old traditional textiles and the BSCIC has set up a Jamdani Industrial City and a research centre at Noapara in Narayanganj for further development of the Jamdani sector.
Former commerce secretary Sohel Ahmed Chowdhury called for finalising the GI rules immediately and development of a trust fund, which he said would help country revive the past glory of textile.
Additional Secretary Jamal Abdul Naser Chowdhury said that it would be difficult to reproduce Muslin as the country has already lost the class weavers and the nature of soil has been changed.
Weather and cotton, according to speakers, were the two big factors.
Earlier, the best quality muslin was woven on the banks of the Sitalakkhya river from locally-produced White Corpus cotton.
"Now neither do we have that environment on the bank of the Sitalakhya river nor the country produces White Corpus cotton," said a participant.
The participant added that it's hard to weave high-quality muslin with imported cotton yarn. Today, muslin's unique yarn is not spun and the weaving techniques used on jamdani (surviving variety of muslin) are all that is left of this famous textile.
The dialogue was also addressed, among others, by founding member of Ain o Salish Kendra Dr. Hameeda Hossain, fashion designer Bibi Russel, Cotton Development Board Executive Director Dr. Md. Farid Uddin and Handloom Board DG Ershad Hossain.
---
Published in New Age on Monday, 8 February 2016
Govt patronage essential for reviving muslin
Md Owasim Uddin Bhuyan
Weavers, fabric designers and heritage preservation campaigners on Sunday said  support from the government was essential for reviving the famous muslin fabrics.
But individual initiatives were equally required for restoring  the famous muslin  fabrics  that earned worldwide fame for this land in the past, several  participants said at a day-long  discussions in the capital.
The ministry of cultural affairs hosted the discussion in association with Drik and Arong under a month long muslin festival that began on February 5.
'Revival of Muslin–Policies and Institutions' was the topic of discussion at the days first session with industry ministry additional secretary Jamal Abdul Naser Chowdhury in the chair.
It would be quite impossible for any individual to revive muslin which became extinct long ago, said Centre for Policy Dialogue  executive director Mostafizur Rahman while moderating the  discussions.
He said that coordinated efforts by the concerned government departments and  private entrepreneurs alone could revive muslin.
Naser Chowdhury said that unlike textile fabrics, the raw materials for the production of muslin was no more available.
Thorough research was necessary for reviving the muslin technology , he said.
Both muslin and jamdhani was weaved using unique intricate designs, said human rights campaigner Hameeda Hossain.
'Muslin – Restoring our Heritage' was the topic of discussion at the second session, chaired by National Museum director general Faizul Latif Chowdhury.
In her keynote paper, research fellow of London based Muslin Trust Sonia Asmore said muslin was important to Bangali culture.
Finest cotton grown at  Jangalbari, Bajitpur, Kapasia and other areas of Bangladesh was used to weave muslin, she said.
Visiting textile specialist from India Ruby Pal Chowdhury said that the famous muslin of Dhaka was weaved at Dhamrai and other areas close to Dhaka even during the rule of Laxman Sen's in the 10th century.
The unrivaled superiority of Muslin of Dhaka was due to the use of top quality long staple cotton.
North South University teacher Sharifuddin Ahmed said muslin had a very big market globally though it was an expensive fabric.
He said government should  enact archival laws  for the preservation of important documents.
Fashion designer Bibi Russell  said that muslin and Khadi were of the same family but jamdhani was of a different family of fabrics.
Since nothing is impossible, muslin can be revived only if  initiatives are taken, she said.
'Manufacturing Muslin –Challenges in Cotton Growing, Spinning and Weaving' was the topic at the third session chaired by national board of revenue chairman Nojibur Rahman.
Nojib said that as a great fan of muslin he had all the optimism that muslin would be revived in this country one day.
He said that during the formulation of the policies for the annual budget he would keep in mind the demand raised for government support in reviving muslin.
National Craft Council president Chandra Shekar Shaha said that muslin was a handicraft product and not an industrial product.
Without grooming skilled weavers it will be difficult to revive the muslin, he said.
Abdul Kashem, over 80, from a family muslin weavers in  Rupganj, Narayangan, said that his grandfather was a muslin weaver.
He said low wages were forcing    weavers to leave their hereditary profession.
'If we get financial support and quality yarns, we will be able to produce muslin sarees of any design,' he said.
In his presentation, Cotton Development Board executive director Md Farid Uddin said that following instructions from the government , CDB was  trying to find out the cultivar of phuti carpus which was the source of cotton for muslin fabrics.
---
Published in Dhaka Tribune on Monday, 8 February 2016
Bangladesh's fabled fabric needs a boost
Jebun Nesa Alo
Bangladesh's legendary muslin fabric is in need of support, participants at a discussion on reviving the marvellous material heard on Sunday.
Speakers at the "Revival of Muslin: Policies and Institutions" workshop said government support as well as private initiative were needed to promote the legendary textile and protect the artisans who weave it.
"A major intervention is needed from the public sector to promote muslin and to protect the livelihood of muslin artisans," researcher and rights activist Hamida Hossain said in her address at the Begum Sufia Kamal Auditorium in the Bangladesh National Museum.
The effort to revive jamdani and muslin, whose manufacture was systematically decimated by the British colonial authorities, is part of a larger process to reclaim the heritage of this textile and to promote brand Bangladesh globally, speakers said.
The workshop is one of several events this month during Muslin Festival 2016, organised by Drik, Aarong and Bangladesh National Museum.
In 2013, Bangladesh's jamdani muslin was included in the list of Masterpieces of the Oral and Intangible Heritage of Humanity by Unesco.
Artisans and investors alike need government support, preferably through a public-private partnership arrangement, speakers said. One member of the audience suggested that a Tk50 crore fund be set up to support the revival of muslin.
Speakers at the discussion admitted that little was known about the international demand for the textile and said research into this was needed.
The history of muslin goes back at least a millennium and the fabric's origins are shrouded in mystery.
Marco Polo described the luxurious fabric in 1298 in his Travels, saying it was made in Mosul in Iraq, from which it was said to take its name. Others have claimed that the textile was made in the southern Indian coastal town of Masulipatnam.
Neither claim has ever been proven.
As early as the 10th century, Arab traders described an exceedingly fine cloth originating in Bengal.
What is known for certain is that in the 17th and 18th centuries, Mughal Bengal emerged as the foremost muslin exporter in the world, with Dhaka as capital of the worldwide muslin trade.
At the end of the 16th century the English traveler Ralph Fitch wrote admiringly about the muslin of Sonargaon. Earlier in the same century, Portuguese traveler Duarte Barbosa also described the muslin of what is now Bangladesh.
In Central Asia, muslin is referred to as "daka," a reference to Dhaka's central role in the production and trade of the fabric.
The fine gauze has several commercial applications and is used in cerebrovascular neurosurgery.
The discussion was chaired by Mustafizur Rahman, executive director of the Centre for Policy Dialogue. Speakers included Industries Secretary Mosharraf Hossain Bhuiyan and Additional Secretary Jamal Abdul Naser Chowdhury.
---