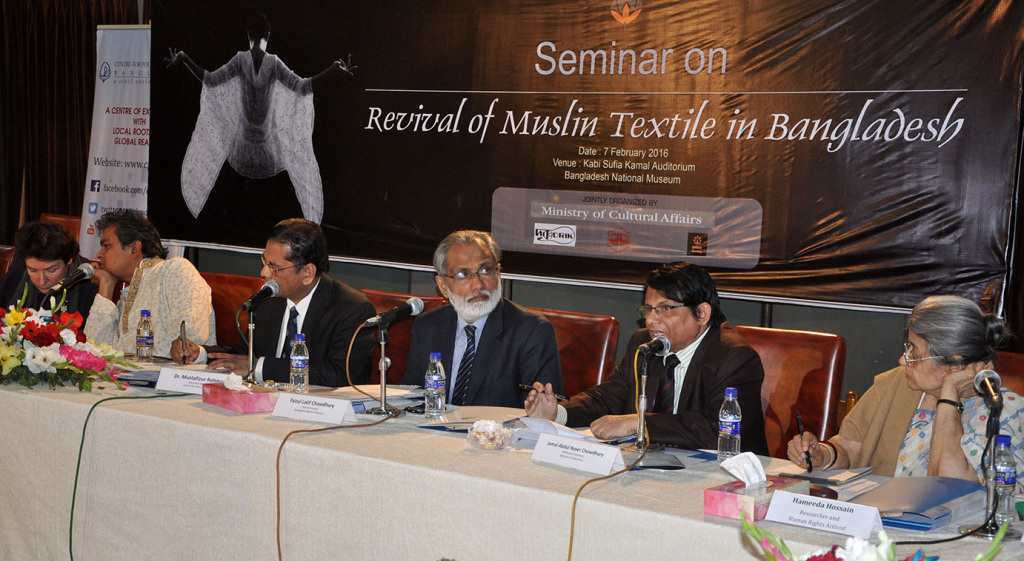 Required policies and institutional support from the government, investment of both public and private sectors in skill development training and baseline research together with knowledge and expertise of the civil society organizations and individuals is the key to reviving Muslin; extinct heritage of our bengal culture.
Such recommendations emerged from the discussion session on Revival of Muslin: Policies and Institutions jointly organized by the Centre for Policy Dialogue (CPD) and Drik on Sunday 7 February 2016 at Kabi Sufia Kamal Auditorium of the Bangladesh National Museum.
Drik in partnership with the Bangladesh National Museum and Aarong, has organized a month long 'Muslin Festival' and this session was a part of the series of sessions focusing on various related issues. The initiative was undertaken to tell the story of this unique fabric whose main production hub was in Dhaka and also to inspire the relevant quarters to research the lost plant and production techniques and thus work towards revival of our Muslin.
While chairing the session Professor Mustafizur Rahman, Executive Director, CPD opined that public sectors have to play the most important role in terms of addressing the concerns of the industry and advancing the interest of Muslin in Bangladesh.
Mr Md. Mosharraf Hossain Bhuiyan, Secretary, Ministry of Industries, Government of the People's Republic of Bangladesh addressed the session as the Chief Guest. He extended his appreciation for such initiative undertaken by the organizers and ensured that the government would act proactively to make this initiative successful.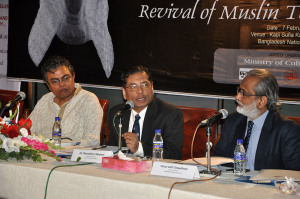 CEO of Drik Picture Library Mr. Saiful Islam described how they were trying to organize, guide and patronize a group of weavers to recover the lost glory and how exciting it was to see positive and enthusiastic responses from them. Stating the objective of this initiative he said, Drik's role in this initiative is of a catalyst only and other stakeholders need to work conjointly to revive this legendary heritage. Policy support for cotton and yarn import, private-public partnership and investment in training and research is critical, unless we do that it would be hard for us to work in such a competitive market.
Dr Rosemary Crill, Senior Curator, South Asian Textiles and Dress, Victoria and Albert Museum, London, presented the keynote paper where she gave a historical overview of the source and use of fine Muslin. Through this archival depiction she brought in the context which will help regain the lost heritage back in future times.
Eminent Researcher and Human Rights Activist Dr Hameeda Hossain put forward some suggestions that include establishing textile museum to house collections, documentation and preservation of Jamdani and Muslin motifs so that people can understand its potential. She particularly stressed the need to address the challenges currently being faced by the weavers for which many of them are being forced to leave the trade of their forefathers.
Md. Farid Uddin, Executive director, Cotton development board, Mr Ershad Hossian, Chairman, Bangladesh Handloom Board, Jamal Abdul Naser Chowdhury, Additional Secretary, Ministry of Industries, Dr. Momtaz Uddin Ahmed, Former Professor of Economics, Dhaka University, Dr Perween Hasan, Vice Chancellor, Central Women's University, Professor Dr Syed Masud Husain, Vice Chancellor, BGMEA University of Fashion & Technology (BUFT), Bibi Russell, Eminent Fashion Designer also spoke amongst others.