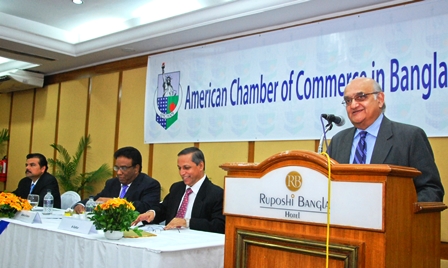 Professor Rehman Sobhan singled out the unjust global economic order and failure of local governance as the main reasons driving neglect of workers' interest in the readymade garment sector of Bangladesh and called for the global society's attention in establishing a more just global economic order.
According to the professor, the global RMG sector value chain has developed significantly over the export-oriented years in the past. However, distributive justice has not been ensured along the value chain.
He made the remarks as the guest speaker at the monthly luncheon meeting of the American Chamber of Commerce in Bangladesh (AmCham) at Ruposhi Bangla Hotel in the capital on Monday, August 19, 2013.
Noting the Rana Plaza tragedy and drastic ramifications following the collapse, Professor Sobhan pointed to the failure of governance and regulatory system in the country, the role of political patronage and disempowerment of workers.
Professor Sobhan drew attention to the unfair and unequal distribution of the value among various participants in the value chain. He pointed out that major retailers received about 63 per cent of the total retail value of apparels whilst the share for workers and also entrepreneurs in low-income countries such as Bangladesh was very little.
With regards to Rana Plaza tragedy, he emphasised the need for monitoring the deliverables and in this connection, he mentioned about the CPD initiative to monitor implementations of post- Rana Plaza deliverables, in partnership with a number of civil society organisations and eminent citizens.
Professor Sobhan argued that without a new international economic order, increased attention to redistributive justice and better compliance, and enforcement of workers' rights, incidents such as the Rana Plaza collapse would not stop from recurring.
Points made in the meeting are available for download here.
Links: Press coverage