As part of the CPD's flagship programme Independent Review of Bangladesh's Development (IRBD) the Budget Dialogue 2016 was organised at Lakeshore Hotel, Dhaka on 19 June 2016. A broad range of stakeholders shared their views and concerns on the upcoming National Budget for FY2016-17.
View 28 more news reports on this event
---
Published in The Daily Star on Monday, 20 June 2016
Higher growth doable with current investment
Planning minister says at CPD's discussion
Star Business Report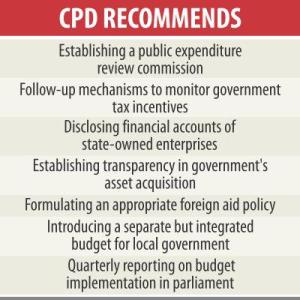 At a time when the finance minister, economists and businesses are worried about the falling private investment, Planning Minister AHM Mustafa Kamal argues that Bangladesh's economy can grow at higher rates with the current level of investment.
He cited examples of Singapore, Malaysia, Thailand, Vietnam and the Philippines that have been witnessing higher GDP growth rates with an investment to GDP ratio between 22 percent and 28 percent.
"If these countries can achieve higher GDP growth with lower investments, why can't we? Definitely, we can achieve that," Kamal said at a budget discussion organised by the Centre for Policy Dialogue at the capital's Lakeshore Hotel.
Mustafizur Rahman, executive director of CPD, presented a paper on the proposed budget for the forthcoming fiscal year. M Syeduzzaman, a former finance minister and a member of CPD's board of trustees, chaired the programme.
Bangladesh's investment to GDP ratio now stands at 29.4 percent and analysts said it needs to reach 33 percent to achieve the desired 8 percent economic growth.
Of the total investments, the private sector's stake went down to 21.8 percent in fiscal 2015-16 from 22.1 percent a year earlier.
"Our investment to GDP ratio is much higher than in our neighbouring countries," Kamal said.
Though he cited Singapore, Malaysia, Thailand, Vietnam and the Philippines as examples, he did not talk about the investment scenario in Bangladesh's closest neighbours — the South Asian nations.
At present, India's investment is more than 32 percent of its GDP and Sri Lanka's nearly 32 percent. For Bhutan, it is upwards of 50 percent.
Participants at the discussion, who range from businessmen to bankers and politicians, however, found that declining private investments have become a concern for the country as the economy cannot absorb 20 lakh fresh workers every year.
Fazlul Azim, a garment exporter, said adequate employment is not being created due to the falling private investment.
Moreover, the government has given a negative signal to the exporters, who actually create jobs, by hiking the tax at source to 1.5 percent from existing 0.6 percent, he added.
Nurul Amin, managing director of Meghna Bank, said banks are sitting on excess funds because of low demand from the private sector.
"Investors are just not coming forward to set up factories," he added.
Faruq Hassan, senior vice-president of Bangladesh Garment Manufacturers and Exporters' Association, said without new investments they cannot create jobs for fresh workers.
For instance, only 3.5 lakh new jobs were generated last year, he said.
Mainuddin Monem, deputy managing director of Abdul Monem Ltd, urged the government to develop economic zones on a fast-track basis so that the much needed investments and jobs creation can take place.
Muhammad Abdur Razzaque, chairman of the parliamentary standing committee on the finance ministry and a former food minister, expressed his concern over the deteriorating private investment.
Some 20 lakh fresh faces are coming into the job market every year, but they are not getting jobs, he said. "If there are investments, we can ensure employment."
Razzaque stressed the need for setting up a liquefied natural gas terminal. "The shortage of gas is a major obstacle to industries."
On the foreign aid in pipeline, the ruling party lawmaker said donors also have bureaucracy and they take huge time to process a project.
Amir Khosru Mahmud Chowdhury, a former commerce minister and a senior BNP leader, said private investment is not taking place because of the anti-business environment and capital flight.
"When governance, rule of law and freedom of the media are at question, private sector won't come forward with their investments," he added.
Biru Paksha Paul, chief economist of the central bank, however, disagreed with the speakers regarding the stagnant investment scenario.
"It's not a matter of concern," he added.
Paul said banks have excess liquidity because the government did not borrow from them the targeted amount.
MA Mannan, state minister for finance and planning, said budget implementation is a serious difficulty in Bangladesh as there are hundreds of laws that hamper the execution of works.
He also hinted that the government wants to get rid of the subsidy and incentive culture gradually.
"We need a lot of reforms. If we cannot make the land reform happen, there will be huge problems in future," he added.
In his concluding speech, Syeduzzaman urged the government to allocate more resources for agriculture research and education.
He said the banking system that is in serious trouble has to be improved, if necessary, by forming a commission.
Earlier, CPD in its analysis on the proposed budget found that the quality of fiscal planning remains weak as the revenue target was not achieved for the last four years and the rate of shortfall is also increasing.
"The weakest programming among all the indicators is net foreign borrowing as three-fourths of the target remained unattended," said Rahman of CPD.
The implementation of budget for fiscal 2016-17 will continue to face a number of familiar challenges, such as mobilisation of the targeted domestic resources, capacity to spend allocations and growing pre-dominance of non-concessional foreign loans, he said.
---
Published in The Financial Express on Monday, 20 June 2016
Budgetary targets outweigh govt's execution capacity
Challenge on investment front: CPD dialogue
FE Report
Speakers at a dialogue aired doubts Sunday about implementation of such a large budget next fiscal as they said the sizes of revenue target and annual development programme outweigh government's implementation capacity.
The volume of deficit financing in the proposed budget for 2016-17 is also large and its size may be further bulging as the revenue collection is already going much below the target, they pointed out.
At the post-budget dialogue arranged by the Centre for Policy Dialogue (CPD), the discussants suggested strengthening government institutions, establishing good governance, transparency and accountability for taking the economy on the aspired higher growth trajectory.
Planning Minister AHM Mustafa Kamal, however, ruled out such uncertainty about implementation of the proposed budget, saying that all macro-indicators, including GDP, are showing upturn as the country is moving in "right direction".
"The GDP has grown steadily over the last four decades and we are hopeful about achieving the 7.2 per cent GDP growth this year," he told the dialog on the budget for 2016-17 at a city hotel.
Replying to the speakers who termed the proposed budget 'impracticable' and 'unrealistic', the minister said it is quite achievable as the government has taken a number of measures to plug the loopholes.
Over the last seven year since 2009, the minister said, the size of GDP has grown 2.5 per cent, the size of budget increased three times and the government created employment for over 10.3 million people.
"The revenue collection will also be much bigger…," said the minister, adding that all customs stations will be brought under scanning machines. "From next year none will be able to bring anything with false declaration."
Brushing aside speakers' claim about low investment, the planning minister said investment has risen from US$ 23 billion in 208-09 to US$ 56 billion nowadays.
At present the investment rate is about 29.62 per cent which he said is higher than in many of the Asian countries, including Singapore (25.6pc), Malaysia (25.96), Vietnam 26.08) and the Philippines (22.4).
He said the country is moving in right direction and that all macro-indicators like remittance, export and import are in favour of achieving the GDP-growth target next year.
The minister hoped that everyone would have electricity and education by 2021 and the country would be free from hunger by that year of golden-jubilee celebration. And by 2041 Bangladesh will be a rich country and join the elite group of the world.
Private think-tank Centre for Policy Dialogue (CPD) organized the dialogue titled 'An Analysis of National Budget 2016-17′ at Hotel Lakeshore Sunday. A good number of economists, policymakers, academics, researchers, representatives from NGOs and development partners attended the programme.
CPD Executive Director Dr. Mustafizur Rahman presented the keynote paper wherein he discussed the strengths and weaknesses of the proposed budget and its implication. He identified sluggish investment, low rate of job creation, poor fiscal planning, unachieved tax-revenue target, ADP, establishing good governance as the major challenges.
According to CPD, all major parameters of fiscal framework need to register higher growth to attain the targets as it identified structural weakness in budgetary projections.
To bring more transparency in budget formulation, implementation and assessment, the CPD suggested establishing Public Expenditure Review Commission, disclosing financial accounts of state-owned enterprises, appropriate foreign aid policy and introduction of separate but integrated budget for local government.
Finance Minister Abul Maal Abdul Muhith has placed an ambitious Tk 3.4 trillion budget for the fiscal 2016-17, targeting 7.2 per cent GDP growth.  He proposed a revenue income of Tk 2.42 trillion which includes NBR tax revenue of Tk 2.03 trillion.
Revenue-collection target from non-NBR sources has been set at Tk 72.50 billion and non-tax revenue at Tk 323.50 billion. The ADP seize has been fixed at Tk 1.10 trillion.
State Minister for Finance MA Mannan, who attended the programme as special guest, also expressed his resentment over tasks not being implemented in right time and right direction.
He cited a large number of backdated laws, rules and regulations as among the reasons which slowed down the speed of work.
"We are living in a jungle of laws. We enacted the laws and handed over those to bureaucrats that control us," said the minister, adding that there are so many hearings, appeals that slow progress of work.
To overcome the problems he stressed the need for reform especially in case of land-transfer system as those make prospective investors shy away because of land-ownership complexities.
Criticizing the government for what he said its inability to run the country, former commerce minister Amir Khasru Mahmud Chowdhury contended that investment is not coming because of political uncertainty, lack of good governance, transparency and accountability, absence of democracy and the rule of law.
"It will be difficult to make real investment here. Private investment will not pick up unless there is democracy and human rights," the BNP leader told the meet.
In reply to the planning minister's investment figure, Mr Amir Khasru said public investments were increased as there remained huge scope of "plundering money".
He pointed out that the cost of Padma Bridge has been increased from US$ 3 billion to US$ 6 billion and it might come to US$ 9 billion. He indicated capital flight from the country.
According to the ex-minister, a huge amount of money is siphoned from the country every year.
Meghna Bank Managing Director Mohammed Nurul Amin said health of the banks is not good; they are sitting idle with huge liquidity.
"There is no credit demand. On the other side, huge amount of foreign loans are being taken by corporate houses from overseas banks."
Bangladesh Bank Chief Economist Dr. Biru Paksha Paul also contradicted speakers' views about low private investment and claimed that private-sector credit growth increased.
"It is still not a matter of concern but a matter to look into," he said. He also demanded adjustment of fuel prices.
Moderated by former finance minister M Syeduzzaman, the programme was also addressed, among others, by former MP Fazlul Azim, Dr Zafarullah Chowdhury, BFTI CEO Ahmed Ali, industrialist Moinuddin Momen, BGMEA Vice President Faruque Hossain, Build CEO Ferdous Ara Begum, women activist Salma Khan and Khandaker Shahidul Islam.
---
Published in Dhaka Tribune on Monday, 20 June 2016
Dialogue: Focus now should be on infrastructure investment
Tribune Business Desk
job creation and infrastructure investment should be at the centre of spends for strengthening Bangladesh's economic growth, said speakers at a dialogue yesterday.
Centre for Policy Dialogue (CPD) organised the "Budget Dialogue 2016" in Dhaka yesterday.
Among speakers, former DCCI Vice-President Khondaker Shahidul Islam expressed concern over present unemployment situation in Bangladesh.
He said: "Educated youth is left unemployed, which is alarming."
Fazlul Azim, a former Member of the Parliament and first generation businessman in Bangladesh, said there is hardly any scope to create jobs.
"There should be a favourable environment for investment – both local and foreign. Infrastructure is also an important."
Nurul Amin, a noted banker, said banking sector is not in good shape due to financial scandal, low profitability and weak investment activity in private sector.
"There is no alternative to boosting private investment. Political situation is stable, but uncertainty is still there."
Finance Minister AMA Muhith, in his budget speech, also felt no hesitation in admitting the fact that private investment remained stagnant.
Muhith pointed out that during the last few years private investment has been hovering around 21%-22% of GDP whereas this rate should be escalated to 27% in the medium term to achieve the desired level of growth.
BGMEA leader Faruque Hassan also spoke at the dialogue. He said the government proposed to achieve 7.2% GDP growth in next fiscal year.
"This is not possible without raising private investment. We can't create employment for 2m people entering in the job market every year."
He said: "Last year we created only 350,000 employments. Job creation can only happen in the private and agricultural sectors."
Mainuddin Monem, a young entrepreneur, said decent and quality job is important for sustainable economic growth.
"Budget should focus on job creation and utilisation of our demographic dividend."
Amir Khosru Mahmud Chowdhury, former commerce minister, said sustainability of the country's present economic growth is questionable "as the economic development is happening ignoring democracy."
Entrepreneurs find difficulties to make investment right now as was indicated in the recent increased capital outflow, he said.
"Public sector investment is increasing only because of cost-escalation of big projects, causing economic ransacking," he said.
"But the private investment remains—the key for sustainable development of the economy—stagnant as the country has no rule of law, democracy, freedom of speech and human rights."
Defending to Khosru's remark, State Minister for Finance and Planning M A Mannan said, "The country is now at a stage of developing infrastructure for facilitating private sector, which was ignored previously. Once, it is done; the private investment will be boosted."
Chairman of the Parliamentary Standing Committee on Ministry of Finance and Former Food Minister Muhammad Abdur Razzaque said, "Main challenges are to accelerate growth and investment. And for this, the major obstacles are infrastructure, low interest rate and peaceful condition in the political arena."
"Investment must be increased for creating employment by removing infrastructure bottleneck."
Planning Minister AHM Mustafa Kamal gave a long list of the country's development saying: "The country is now on a right track to become a rich country by 2041 as every economic indicators are positive."
M Syeduzzaman, member of CPD Board of Trustee and former finance minister, moderated the event.
He said the amount of private investment must be increased for qualitative development of the economy.
Prof Mustafizur Rahman, CPD executive director, presented keynote paper. He laid emphasis on job-augmenting growth for sustainable economic development.