Published in Dhaka Tribune on Friday, 22 January 2016
Rehman Sobhan's Untranquil Recollections launched in Kolkata
Tribune Report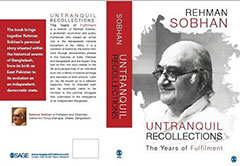 "Untranquil Recollections: The Years of Fulfillment," a memoir by eminent Bangladeshi economist Rehman Sobhan, was launched in Kolkata of India's West Bengal on Wednesday.
Nobel laureate Indian economist Prof Amartya Sen attended the programme as the chief guest at the National Library in Kolkata and released the book.
The book brings together Rehman Sobhan's personal story situated within the historical events of Bangladesh, from its birth as East Pakistan to its evolution as an independent democratic state.
Earlier, the memoir, brought out by Sage Publications, was launched in Bangladesh during the Dhaka Lit Fest in November.
Discussants included Dr Lincoln Chen, president of China Medical Board and founding director of Harvard Global Equity Initiative; Amiya Kumar Bagchi, emeritus professor at the Institute of Development Studies Kolkata and adjunct professor of Monash University; Siddiq Osmani, professor of development economics at Ulster University; Prof Rounaq Jahan, distinguished fellow at the Centre for Policy Dialogue (CPD); and Anik Palchaudhuri, chairman of the The Small Tools MFG. Company of India Ltd.
---
Published in The Daily Star on Friday, 22 January 2016
Rehman Sobhan's Untranquil Recollection launched in Kolkata
Staff Correspondent
Nobel laureate Prof Amartya Sen lauded economist Rehman Sobhan for his notable contribution to the self-reliance of Bangladesh's economy and introducing Bangladesh to the global arena at the publication ceremony of Rehman Sobhan's book "Untranquil Recollection, the Years of Fulfillment" at the National Library in Kolkata on Wednesday.
"Bangladesh's progress is better than India in many sectors, and those who read the book will know more about Bangladesh," said Amartya Sen, according a report by the daily Prothom Alo.
Rehman Sobhan said the book is not about the history of the independence of Bangladesh, rather how he observed Bangladesh's Liberation War.
"I was born in Kolkata and studied at Saint Xavier's College there. Then, I went to Cambridge where I met Prof Amartya Sen," reminisced the author.
"From Cambridge, I came back to Dhaka in 1956 and then came in close contact with Bangabandhu. Those experiences are described in my book," he added.
Indian film star Sharmila Thakur read parts of the book at the ceremony. Chinese Medical Board Chairman Lincoln Chan, Emeritus Prof Amio Bagchi, development economist Prof Siddiq Osmani, Bangladesh's political scientist Dr Rounaq Jahan, and AK Shivkumar, also took part in the discussion.
Sage Publications Chief Executive Vivek Mehra gave the welcome address at the ceremony.
Earlier, former Indian Prime Minister Manmohan Singh unwrapped the book in New Delhi.
---
Published in প্রথম আলো on Thursday, 21 January 2016
কলকাতায় রেহমান সোবহানের বইয়ের মোড়ক উন্মোচন
কলকাতা প্রতিনিধি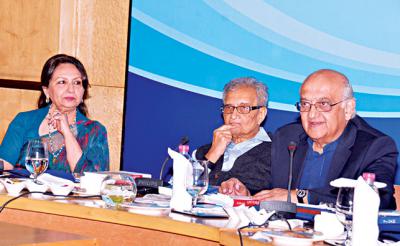 নোবেল বিজয়ী অর্থনীতিবিদ অমর্ত্য সেন বলেছেন, রেহমান সোবহান নতুনভাবে বাংলাদেশকে তুলে ধরেছেন বিশ্বদরবারে। বাংলাদেশের অর্থনীতিকে স্বাবলম্বী করার লক্ষ্যে রেহমান সোবহানের অবদান নানাভাবে সন্নিবেশিত হয়েছে।
কলকাতার জাতীয় গ্রন্থাগারের ভাষা ভবন মিলনায়তনে গতকাল বুধবার বাংলাদেশের বিশিষ্ট অর্থনীতিবিদ রেহমান সোবহানের স্মৃতিকথা আনট্রাঙ্কুইল রিকালেকশনস, দ্য ইয়ার্স অব ফুলফিলমেন্ট বইয়ের প্রকাশনা অনুষ্ঠানে অমর্ত্য সেন এসব কথা বলেন।
তিনি বলেন, ভারতের থেকে অনেক ক্ষেত্রে এগিয়ে গেছে বাংলাদেশ। এ বইটি যাঁরা পড়বেন, তাঁরা বাংলাদেশ সম্পর্কে আরও বেশি জানতে পারবেন।
বইয়ের বিষয়ে আলোচনায় অংশ নিয়ে রেহমান সোবহান বলেন, এ বইটি বাংলাদেশের স্বাধীনতার ইতিহাস নয়, বাংলাদেশের মুক্তিযুদ্ধ তিনি যতটুকু দেখেছেন, তা-ই তুলে ধরেছেন।
নিজের সম্পর্কে তিনি বলেন, 'আমি কলকাতার মানুষ। জন্মও আমার কলকাতায়। পড়েছি কলকাতার সেন্ট জেভিয়ার্স কলেজে। তারপর সেখান থেকে উচ্চশিক্ষার জন্য ছুটে যাই কেমব্রিজে। সেখানে আমার সঙ্গে পরিচয় হয় অমর্ত্য সেনের।'
রেহমান সোবহান বলেন, 'কেমব্রিজ থেকে আর আমি কলকাতায় ফিরে আসিনি। চলে যাই ঢাকায় । সেটি ১৯৫৬ সাল। সেখানে বঙ্গবন্ধুর সান্নিধ্যে আসি। এসব কথাই ফুটে উঠেছে আমার বইয়ে।'
অনুষ্ঠানে বইয়ের অংশবিশেষ পড়ে শোনান চিত্রতারকা শর্মিলা ঠাকুর। বই নিয়ে আলোচনায় অংশ নেন চীনের মেডিকেল বোর্ডের সভাপতি লিংকন চেন, ইমেরিটাস অধ্যাপক অমিয় কুমার বাগচি, আলস্টার বিশ্ববিদ্যালয়ের উন্নয়ন অর্থনীতির অধ্যাপক সিদ্দিক ওসমানী, রওনক জাহান, এ কে শিবকুমার প্রমুখ।
অনুষ্ঠানে স্বাগত বক্তব্য দেন বইটির প্রকাশক সেজ পাবলিকেশনসের প্রধান নির্বাহী বিবেক মেহেরা। এর আগে নয়াদিল্লিতে বইটির মোড়ক উন্মোচন করেন ভারতের সাবেক প্রধানমন্ত্রী মনমোহন সিং।