Published in The Daily Star on Monday, 27 July 2015.
MACRO MIRROR
The rise of shadow education
Dr Fahmida Khatun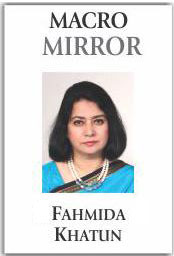 This is a common sight in many parts of Dhaka city, particularly around Dhanmondi and Lalmatia. You will see mothers waiting outside on the pavement while their children attend classes in schools. It doesn't make sense for many to go home and come back again to pick their kids up. Traffic is terrible. By the time they reach home, it may be time to start for their second trip to the school. For some, making such back and forth trips throughout the day is also expensive. So these dedicated mothers spend several hours on sunny and rainy days outside without any proper place to sit. Then after school, mothers feed their children quickly – sometimes on the road itself – there is another rush for the second shift of learning. This time coaching centres are their destination. So after schools and on holidays, one will find mothers congregating yet again outside old buildings, as their children take private lessons from a different set of tutors.
The number of Bangladeshi students going to top ranking universities is increasing every year. Access to information has helped them to look and prepare for good institutes. But the general intellectual ability of our younger generation has also improved more than ever before.
However, irrespective of their quality, students nowadays don't sit for their exam without intensive after-school tutoring. Many students go to coaching centres for every subject. Each student will learn the same subject with more than one private tutor. Parents don't want to leave any stone unturned for their children's result and thus, run along with their children from one tutor to another. It is also the demonstration effect. Parents feel nervous seeing other children being tutored by private tutors. So the rat race begins from a very early age. Healthy competition is not bad. There is nothing wrong to be ambitious as well. But the role of schools in the fulfilment of their ambition is something to think about.
Some of the top schools in Dhaka are best because they only keep the best students. Bad performers are thrown out. However, the credit of a school is when it can transform weak students into stronger ones as much as when it can make good students excellent ones. The spirit of a good school is not only to treat all students equally, but to also give special attention to those falling behind. Schools have to provide the platform for important pursuits of life such as sports, music and leadership, apart from studies, in addition to good education. If students have to rely on coaching centres for their grades, these top notch schools should really revisit their roles.
Thanks to the failure of our schools, coaching centres have become a thriving business. Many good teachers from reputed schools left their jobs and opened such tutoring outlets which are much more profitable than being a school teacher with a limited income. With students in multiple batches throughout the day, the average income of a tutor is at least Tk. 1 lakh per month. For a science teacher, it can be as much as Tk. 2.5 lakh, I am told. But parents don't mind paying extra for private tuition even after paying high tuition fees for schools since the extra lessons pay off.
A study by the Asian Development Bank in 2012 termed after school tutoring 'shadow education' which currently supplements school education. Not only in Bangladesh, this is also prevalent in other Asian countries including India, Korea, Hong Kong and Singapore. From rich parents' practice, this has now spread across all economic strata. At one point of time, extra lessons were necessary for students who couldn't cope with classes. Currently, private tuition has become a norm for primary, high school and even for university students.
At least two important policy issues emerge from the present day education system in our country. First, what is really taught at schools? Is it worth paying schools so much if their students have to take private lessons to perform better in exams? If students have to spend so much time for studies due to the failure of schools, how will they get enough time to concentrate on other traits in life to become a complete person? Second, are incomes of coaching centres under the tax net?
Time and again, emphasis has been put on bringing earnings of many unaccounted service sectors such as coaching centres, clinics and diagnostic centres under the radar of the National Board of Revenue. Whenever initiatives to tax these services are taken, the burden invariably falls on the consumers. How does one track the real income when all transactions are done through cash? Cash transactions can be dodgy on both sides. The payee of tuition fees could very well be a tax evader as well. This, however, is not the focus of my write-up today. When many big fish get away with evasion, why worry about the smaller ones? With automation and e-governance this can be fixed, if there is political will. I am more concerned about the way our trust on mainstream school education is declining.
The writer is Research Director at CPD, currently a Visiting Scholar at the Earth Institute, Columbia University, New York.