Published in The Daily Star on Sunday, 17 April 2016
Rana Plaza survivors rebuilding lives, slowly
Unemployment rate among survivors is still 48pc: ActionAid Bangladesh
Star Business Report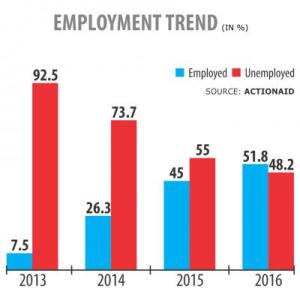 Rafique Khan, who used to work at one of the five garment factories housed at the ill-fated Rana Plaza, set up a small grocery shop in Savar with the compensation money he received.
He was rescued in an unconscious state 19 hours after the building caved in on April 24, 2013, and after seven days of treatment, he regained his consciousness.
"I am lucky that I survived and could start my own business with nearly Tk 9 lakh as capital," he said.
Khan is among the 51.8 percent of the respondents in a survey on Rana Plaza survivors who said that they have somewhat rebuilt their lives three years after the tragic event and have become gainfully employed again.
ActionAid Bangladesh, a global development partner, conducted the survey in March this year on 1,300 survivors and 500 relatives of the deceased. The findings of the survey were shared yesterday at a discussion on the Rana Plaza tragedy, at the capital's Brac Centre Inn.
The survey found that unemployment rate has gradually declined over the last three years and the employment rate steadily increasing.
Still, 48.2 percent of the survivors are unemployed three years on.
Among the currently employed, 21.4 percent are employed in garment factories, 23.2 percent are involved in petty business and 16.8 percent are working as tailors. Like Khan, 3 percent run grocery shops. Some 4.2 percent are engaged in wage labour and 4.9 percent in agriculture.
Aside from these, survivors are engaged in other types of income-generating activities as household help, salesperson, auto-rickshaw driver and mobile-phone repairer.
Those who are unemployed cited physical weakness (56.5 percent) and mental weakness (34.1 percent) as the main reasons for not being gainfully employed.
Some 41.1 percent of the survivors said their family income is between Tk 5,000 and Tk 10,000 a month, and 30.1 percent said it is between Tk 10,000 and Tk 15,000 and 14.8 percent between Tk 15,000 and Tk 20,000. Only 6.5 percent of the respondents said they have monthly income of Tk 20,000 and more.
"Evidence shows that the overall income of survivors is increasing compared to their income in 2013, 2014 and 2015."
In the survey, 78.8 percent of the survivors said their physical condition is more or less stable and 14.6 percent reported that it is deteriorating, listing headache, difficulty in movement, and pain in hand, leg and back, as some of the major problems.
Some 58.4 percent of the respondents said they are still suffering from long-term psycho-social difficulties, 37.3 percent are more or less stable and only 4.3 percent have recovered fully.
"After around three years of the incident, trauma in the survivors, though not severe, still exists," said the report.
With regards to monthly expenditure, 61.1 percent is spent on food, 15.5 percent on house rent, 12.4 percent on children's education and 8.4 percent on treatment.
For most of the relatives of dead workers, the major items of expenditure are food and children's education.
As a discussant, Khondaker Golam Moazzem, additional director of research at the Centre for Policy Dialogue, suggested introduction of special health cards for the survivors so that they can get free services from government hospitals.

"The survivors could not invest their money as the amount was not given at a time. They were given in phases and they spent most of the money for paying their previous loans and in meeting daily needs," he added.
The victims received compensation from the government, the foreign retailers and donor agencies.
The survey found that 33 percent of the monetary support received by the survivors was spent on paying back debts, 49 percent on food and other household essentials including treatment.
Only 16 percent went to savings and investment, particularly in small business, land and cattle.
While moderating the discussion, Farah Kabir, country director of ActionAid Bangladesh, called for proper payment of the victim's compensation.
"While the compensation issue has been resolved to a large extent, the long drawn-out process undermines the usefulness of the support," the report said.
ActionAid recommended a proper compensation mechanism, strengthening of the factory inspection department for streamlining the process of providing permits for setting up factories.
It also called for ensuring that the 'true spirit' of 'freedom of association' prevails by adequately empowering the trade unions to collectively bargain for their rights.
---
Published in The Daily Sun on Sunday, 17 April 2016
Rana Plaza Collapse
48pc of survivors still jobless
Staff Correspondent
Some 48 percent of the survivors of Rana Plaza collapse are still unemployed, three years after the deadly industrial catastrophe, due to physical inability and mental trauma, a recent survey by ActionAid Bangladesh suggests.
The findings of the study titled 'Three Years into Rana Plaza Collapse: Progress of Apparel Sector' was published at a function on the city in Saturday.
The report said 59 percent of the workers who survived the devastating industrial accident are suffering from mental illness and most of the survivors are now reluctant to work in garment factories.
Only five percent of the survivors have expressed interests in working in RMG factories, while 79 percent are interested in sell-arranged businesses, the study also finds.
The study report said the amount of compensations was not enough for the victims and the compensation scheme did not address the physical and mental trauma most of the victims have been suffering since the disaster.
"Now I don't want go back to garment factories as I still can't forget the disaster. I've received a total of Tk 1.45 lakh as compensation in three phases which helped me little. I am suffering from mental trauma and I could not complete my treatment," Rana Plaza survivor Nazma Akhtar said at the event.
The survey collected information from 1,300 Rana Plaza victims aged between 21 years and 30 years, and from 500 families of the deceased workers.
The report said 20 percent of the survivors have two dependant family members while 23 percent have four dependants. Of their current income, 61 percent is spent on food, 16 percent on housing and only 8 percent is spent for treatment. Chairperson of Ain O Shalish Kendra Hamida Hossain said the compensations so far provided to the workers can't actually be called compensations. "They need long-term support to overcome their physical and mental trauma," Hamida Hossain said.
Additional research director of Centre for Policy Dialogue (CPD) Dr Khandker Golam Moazzem observed that the support so far provided was partial and the assistance provided for jobs and rehabilitation is less than what is required.

"The compensations offered in phases did not pay off and the activities of different organizations to this end should be coordinated for a better outcome," he added.
Referring to the steps taken by the government following the Rana Plaza disaster, Inspector General of the Department of Inspection for Factories and Establishments Syed Ahmed called upon the factory owners to come forward to ensure workers' safety as only inspections or lawsuits won't deliver the expected welfare for the victims.
ActionAid country director Farah Kabir also spoke on the occasion.
---
Published in The Financial Express on Sunday, 17 April 2016
Three yrs of Rana Plaza collapse
48pc survivors remain jobless, memories still haunt 58pc
FE Report
Three years after the Rana Plaza collapse, 48 per cent of the surviving garment workers are still unemployed while 58 per cent live in delirium for lingering psychological upset. According to a survey, 79 per cent of the 2,438 survivors pulled out of the deathtrap under debris want to set up their own businesses. And only 5.0 per cent of the garment workers who returned from death's door expressed their interest to go back in the previous profession. Such findings on the fallout of collapse of the commercial complex were revealed in the survey conducted by ActionAid Bangladesh, ahead of the third anniversary of the tragic incident. The AAB authorities came up with the survey findings Saturday at a multilogue titled 'Three Years after Rana Plaza Collapse: Progress in the RMG Sector'. The talk was organised at the Brac Centre Inn in the capital. Department of Inspection for Factories and Establishments (DIFE) Inspector-General (IG) Syed Ahmed, Workers Safety Forum convener Hameeda Hossain, Centre for Policy Dialogue (CPD) additional research director Khondokar Golam Moazzem Hossain and International Labour Organisation (ILO) programme manager Tuomo Poutiainen spoke at the programme with AAB country director Farah Kabir moderating. Presenting the research findings, AAB research coordinator Nuzhat Jabin said physical condition of 78.8 per cent of the 1,414 injured workers is improving compared to previous year's 70 per cent. Meanwhile, 14.6 per cent of the injured workers said they still have serious physical problems. She said 464 trade unions had got registration up till 2015 but it is crucial to find out whether the unions are free. Claiming that many things have changed after the Rana Plaza incident, the IG of DIFE said there were only 42 inspectors in DIFE before the tragic event of 2013 but, now, the factory-inspection authority has 277 inspectors to ensure welfare, safety and health of human resources working in industrial sectors. Inspecting 1,549 RMG factories in last three years to check out their building safety, DIFE closed 39 factories, partially closed 42 and allowed 69 other factories to operate on some recommendations, he told the multi-stakeholder meet on the country's main export industry. Mr. Ahmed also said the Bangladesh Labour Act 2006 was amended in 2013 with more emphasis put on worker-safety issues. Hameeda Hossain said, "RMG sector-related organisations are saying that many of the factories have allowed trade unions but it should be clarified whether the trade unions are performing in favour of the factory owners or the workers." She urged the authorities concerned to reveal how much money was deposited with Rana Plaza Donors Trust Fund and how much disbursed to the affected workers.
Mentioning that the surviving Rana Plaza workers got financial aid step by step, the CPD additional research director, Mr. Golam Moazzem, said the workers could not invest or go for long-term savings with the money as they did not get all the money at a time. He also said many initiatives had been taken so far to rehabilitate the workers but some of them remain out of any support in absence of coordination.
The collapse of Rana Plaza on April 24, 2013 at Savar led to the death of at least 1,135 people, mostly garment workers, while nearly 2,438 escaped a close call. They live on to tell the tale of horror with different types of injury–both physical and mental. AAB conducted this year's survey, third of its kind on a representative sample of 1300 survivors and 500 relatives of the deceased workers. The first survey of AAB covered a total of 2297 victims–both survivors and families of those who perished. It was updated in 2014 and 2015 through consecutive follow-up surveys. Coming in a sequel to fatal industrial accidents up till then, the Plaza collapse set off a chain of legal actions against the owner of the building complex and remedial measures pushed through by international stakeholders of the apparel industry, including western retailers and consumer nations.
---
View more news reports on the event