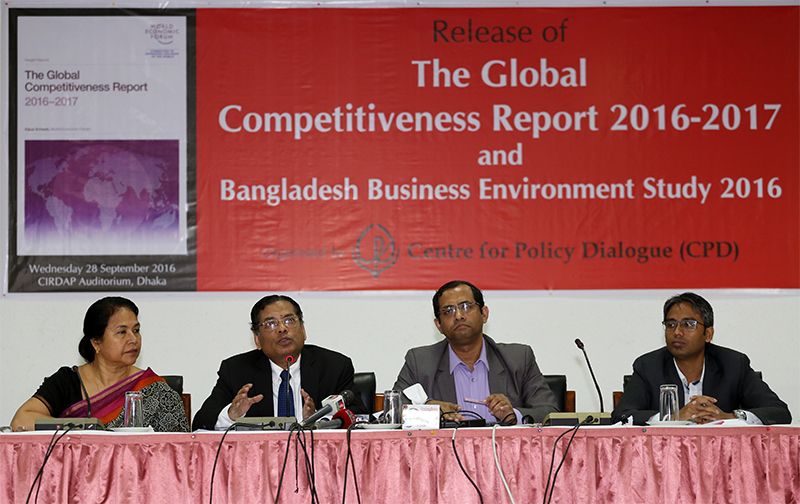 Bangladesh has moved one notch upward in the global competitiveness ranking by securing 106th position among the 138 countries. However, Bangladesh is still an under performer in the 'Basic Requirement' sub index of the competitiveness. In terms of score, Bangladesh has received 3.80 out of 7 which is an increase by only 1.06 per cent.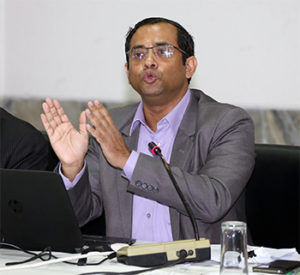 Such findings were revealed by The Global Competitiveness Report 2016-17 launched by the Centre for Policy Dialogue (CPD) at a media briefing on 28 September 2016 at CIRDAP Auditorium. The event, as always, coincided with the global release of the Report. The Global Competitiveness Report (GCR) is a cross-country benchmarking analysis of the factors and institutions that determine long-term growth and prosperity of countries.  CPD has been partnering with The World Economic Forum (WEF), known as the Davos Forum, in preparing the Bangladesh report since 2001. Dr Khondaker Golam Moazzem, Additional Research Director, CPD presented the GCR 2016-17 to the media along with "Bangladesh Business Environment Study 2016".
The report was prepared based on 12 pillars such as institutions, infrastructure, macroeconomic environment, health and primary education, higher education and training, goods market efficiency, labour market efficiency, financial market development, technological readiness, market size, business sophistication and innovation. According to the report Bangladesh has made considerable progress in Institutions and Infrastructure pillars but there is noticeable negative trend in the Macroeconomic Stability pillar. This has affected further improvement in overall ranking of the country. Performance of Bangladesh has also weakened in the case of Health and Primary Education and Financial Market Sophistication pillars.
The 2017 ranking has placed Switzerland, Singapore, United States of America, Netherlands and Germany as the top 5 countries. Among the neighbouring countries India has made remarkable improvement by moving up to sixteen ranks by reaching to 39th position. Bhutan and Nepal have also improved from their last year's positions and ranked 97th and 98th respectively. Pakistan ranked 122nd and became the weakest performer among the South Asian countries.
Dr Moazzem observed that Bangladesh economy is not ready to take a transformative journey towards competitive ranking of those of the middle-income countries. The government should focus on human resource development, business innovation and multimodal transport network within the country for smooth operation of the business supply chain. Such initiatives will support the country's journey towards moving higher in the GCR ranking.
CPD Executive Director Professor Mustafizur Rahman, CPD Dialogue & Communication Director Ms Anisatul Fatema Yousuf and CPD Senior Research associate Mr Kishore Kumer Basak were present at the event.