Published in The Daily Star on Monday, 8 August 2016 
MACRO MIRROR
The Japanese Wife – Dr Fahmida Khatun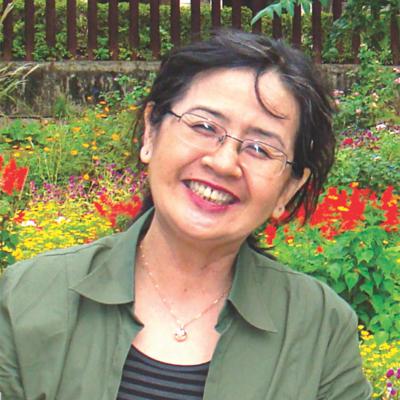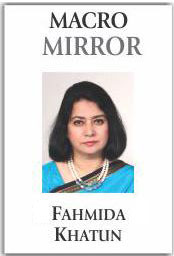 She did not see the bombings on Hiroshima and Nagasaki. She wasn't born yet. But she knew the sufferings brought by the two bombings on August 6, 1945, by the US with support of the UK. Born on November 1, 1950, she only read about the event in history books and learnt from her parents about the extent of the carnage that killed at least 129,000 people through the use of nuclear weapons. She thus inherited a sensitive and sympathetic disposition, which would later be moved by the miseries of the cyclone-hit Bangladeshis.
On November 12, 1970, Bangladesh was hit by a devastating cyclone – the deadliest of all natural disasters in the history of Bangladesh, killing about 500,000 people. Kazuko Uematsu, a student of Jissen Joshidai University in Tokyo, joined Bangladeshi students who were raising funds in a street campaign for the cyclone victims of Bangladesh at that time. One of the students, Momtaj Bhuiyan, who was a student of Naval Architecture in Tokyo University, founded the Bangladeshi Students' Association, and worked in support of the Liberation War in 1971, along with fellow students. Kazuko became a member of this group as well, and dedicated herself in the struggle of Bangladesh's independence. She continued her support to this country till the end of her life. At the time of her marriage with Momtaj Bhuiyan in 1973, she was working at the Shizuoka Bank in Mishima, Japan. She left her job and her family, living in Bangladesh for the next 43 years and continuing her work for the cause of Bangladesh.
During these four decades, she first worked at the Japanese Embassy for a couple of years. Later, she worked as a teacher at the Japanese Language School of the Embassy of Japan in Bangladesh. In 35 years, she taught hundreds of students, who are now well-established in their respective fields, both in Bangladesh and Japan. She wasn't only a teacher; she would teach the nitty-gritty of the Japanese language as well as inspire and help students apply for higher studies in Japan. Her students fondly remember her superior human qualities, and her motherly and friendly demeanour. Many of her students feel that had they not met Kazuko, they would have missed a great opportunity and might not have achieved the success that they enjoy now in their lives.
After the killing of Japanese citizens during the terror attack at Gulshan Holey Artisan Bakery on July 1, 2016 along with other victims, Japan assured us that they would continue to stand by us in a gesture of friendship to Bangladesh. As our largest bi-lateral donor, Japan has been a long standing partner of Bangladesh's development, and it provides loan at a very low interest, making it easier for our policymakers to plan development projects. The Japan International Cooperation Agency (JICA) and the Japan External Trade Organization (JETRO) have been Bangladesh's companion in its development strides for decades. Bangladesh's exports to Japan, including readymade garments, are also on the rise. Japanese companies are also interested in exploring market opportunities in Bangladesh in sectors such as textile, finance, infrastructure, IT, agriculture and social entrepreneurship. Japan's contribution in the infrastructural development of Bangladesh, including bridges and culverts, is particularly significant. With their sincerity and uncompromising quality, Japan has earned the trust of the Bangladeshi people.
Kazuko Uematsu Bhuiyan was a reflection of the gentle Japanese disposition.  She took on the responsibility of promoting and strengthening the Bangladesh-Japan friendship. She wouldn't let anything destroy this relationship. And this was evident in her staunch belief that the Holey Artisan attackers did not represent Bangladesh. Her Bangladesh was friendly and warm; one which welcomes foreigners and makes them one of their own in no time; one which always tries to make guests from other countries feel comfortable and happy, sometimes going out of their way and even at their own cost to ensure this. She took part in the candlelight vigil held in memory of the terror victims and spoke at the condolence meeting at the Central Shaheed Minar with emotion and conviction, asserting that the terrorists could not be Bangladeshis.
Fluent in Bangla, Kazuko never felt that she was a foreigner in this country. She always felt safe and comfortable in Bangladesh and didn't hesitate to relay that message to the world through an interview on the Gulshan attack aired on the Japanese television channel, NHK. In fact, she was committed to participating in the follow-up programmes that commemorated the victims of the brutal attack.
To some people Kazuko was a dedicated teacher, to others she was a passionate social worker, to many she was a charming host who would cook Japanese cuisine herself for her guests. To me, she was the symbol of positive vibration in life. She upheld Bangladesh in her heart but didn't leave her birthplace. A mother of three highly qualified and successful yet very modest children, Jun, Rumi and Yurika, Kazuko Uematsu Bhuiyan breathed her last on July 29, 2016 after a tragic road accident in Abu Dhabi. But Kazuko will continue to light up Bangladesh with her everlasting smile and melodious laughter for innumerable years to come.
The writer is Research Director at the Centre for Policy Dialogue.