Published in The Daily Star on Monday 28 September 2015
The power of an information society
Dr Fahmida Khatun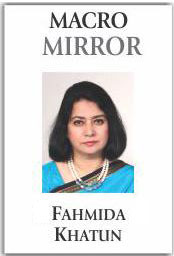 When the 'Digital India' initiative of the Indian Prime Minister receives the backing of none other than the Google CEO Sundar Pichai, one can't help but look at it with admiration. This CEO of Indian origin, and his compatriot Satya Nadella, the CEO of Microsoft, are among the talented products of India's world class tech institutes, Indian Institutes of Technology (IITs). Silicon Valley's strength depends on these IIT graduates.
The goal of becoming 'Digital Bangladesh' has been announced by our leadership at the highest level. We, however, are not fortunate enough to have such global support as we couldn't create a Pichai or Nadella. Even though our leaders have realised the importance of ICT, albeit a bit late, the preparations taken to become an information-based society are not as extensive as you'd expect. Just compare the number of IT institutions in Bangladesh. BUET, the only high quality engineering university of the country, has been there for decades. No government of the country has thought of investing in at least one more university like BUET, even though the number of students in the country, as well as the demand for IT solutions, has increased manifold. Students these days prefer to do BBA and MBA and pursue careers mostly in financial and commercial sectors. But they are not offered that many alternatives. Even if more students want to study science and technology, which institute will they attend? And then once they graduate, will they get to utilise their knowledge in the same field of their expertise?
Surely, even with limited talents, resources and opportunities, technology has brought a revolution in our lives over the past decade. For example, the use of mobile telecommunication has brought in spectacular results in remote villages and helped promote growth. Farmers are now able to receive market information through mobile services. Cell phones are used for collecting accurate data and quick dissemination of information. Services such as mobile money, healthcare, education and information, and helpline services are contributing to the welfare of the poor in several ways.
Mobile money is particularly useful for the remitters from abroad as it saves time and energy. As a large section of the population do not have access to banking services, mobile money has enabled them to send money to their families living in villages. In case of healthcare, mobile technology is being used by NGOs and the private sector to provide health services to the poor. Mobile phones are being used by doctors to fill out prescriptions and reduce maternal and child mortality in urban slums. Mobile education service is another new product of mobile technology that helps a large section of people who do not have the opportunity to access education from government-run education institutes.
Technology and information flow are also contributing towards empowerment of women. A large number of women enjoy online helpline services for information on rural livelihood, agriculture and legal rights of women. Women's education and access to information have been found to be a critical factor behind increased use of maternal health services and improved health outcomes, as well as reduced fertility and improved family nutrition.
However, the full potential of ICT in improving the livelihood of people, poverty alleviation and improving e-governance remains untapped in the country. Across the world, because of better and faster internet access and due to advanced fixed and mobile broadband technologies, there are new opportunities for innovative services and applications. In order to take advantage of these opportunities, our vision needs to be backed by proactive measures.
The first issue is that of affordability. Lower price has increased accessibility of technology. Having a mobile is no longer a luxury for farmers or housemaids, rickshaw pullers or day labourers. But further reduction in prices would expand the usability of many more services instead of using mobile technology only as a means of communication. The Broadband Commission for Digital Development has set a target to reduce broadband affordability for entry-level services to "less than 5 percent of average monthly income" by 2015. Lowering prices will also reduce the digital divide, a feature of technology which quite often manifests a "winner takes all" situation, whereby the educated and the wealthier tend to use mobile applications far more than the less educated and the poor. Therefore, in order to get more people digitally connected, low cost bandwidth and affordable phones are a must for establishing an information society.
The second obstacle in materialising the ambition of digital or information society is the lack of human resources. Bringing the whole country under digital coverage and connecting them through the internet would require massive capacity upgradation and skills development. Not only is there a need for more tech institutions, it is equally important to create awareness on the use of technology. Having access to technology is one thing, but using them for accessing various services is another issue. Apprehension and confusion regarding risks, and privacy and security concerns act as initial blocks for many of us when we first attempt to use technology.
In the coming days, the information society will not only provide improved services but also be essential for improving efficiency, effectiveness, transparency and accountability of governance. The faster we adopt ICT in all spheres of life, the better it is for overall development.
The writer is Research Director at the Centre for Policy Dialogue, currently a Visiting Scholar at the Centre for Study of Science, Technology & Policy, India.