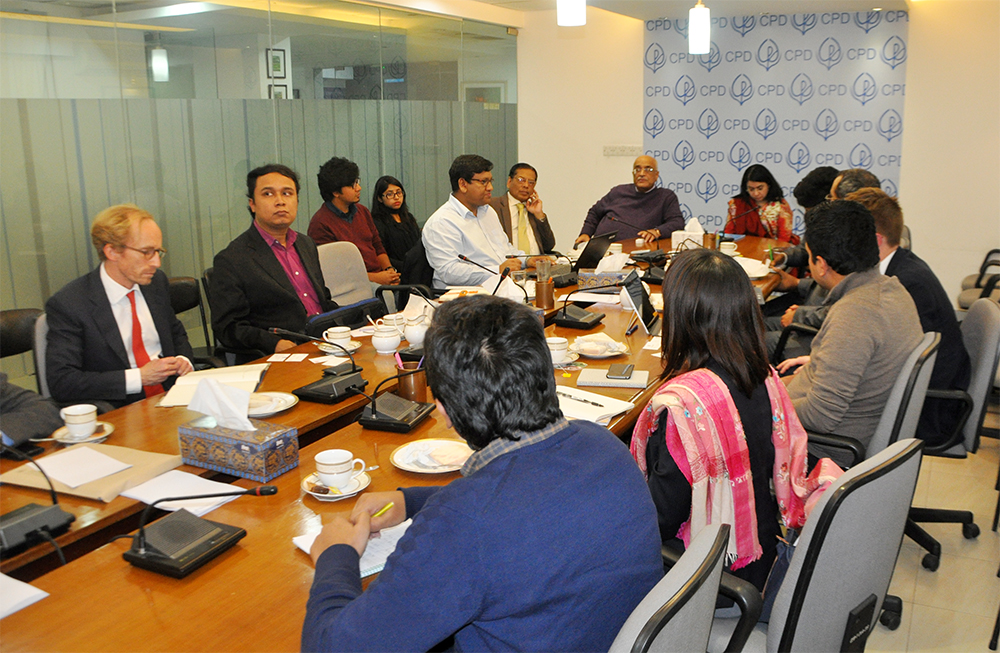 Presentation: Implications of the Rohingya Crisis for Bangladesh
The third meeting of the Bangladesh Economists' Network was held at CPD office on 16 January 2018.
Mr Towfiqul Islam Khan, Research Fellow at CPD, presented the CPD study on "Implications of the Rohingya Crisis for Bangladesh" at the meeting. He focused on economic, social and environmental implications of the crisis for Bangladesh. He also highlighted the growing resentment among the locals centring the Rohingya crisis. Mr Khan stressed on ensuring smooth repatriation process of Rohingyas as agreed between the governments of Bangladesh and Myanmar.
Participants, at the meeting, also argued on possible longer-term options for Bangladesh such as adopting refugee integration programme and third country repatriation if the crisis lingers.
Presided over by Dr Fahmida Khatun, Executive Director at CPD, the meeting was attended by Mr Ragnar Gudmundsson, Resident Representative of International Monetary Fund (IMF) in Dhaka, Mr Peter D'Souza, Senior Economic Adviser at Department for International Development (DFID) Bangladesh, Mr Mashfique Ibne Akbar, Private Sector Development Adviser at DFID Bangladesh, Thomas de Weers, First Secretary at Dutch Embassy in Dhaka, Kaori Konno, Researcher at Embassy of Japan in Dhaka, among others. Dr Debapriya Bhattacharya, Distinguished Fellow, and Professor Mustafizur Rahman, Distinguished Fellow at CPD were also present at the meeting.