Published in Dhaka Tribune on Wednesday, 20 July 2016
Bangladesh proceeds with strong foothold in global apparel market
Ibrahim Hossain Ovi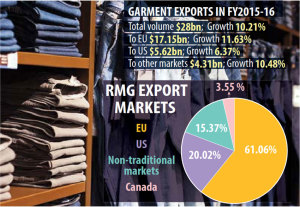 Bangladesh continues to make its firm footing in the global apparel markets that it has successfully shone in all of its export destinations in the just-concluded fiscal year.
The exporters and analysts attributed the growth to political calmness during the year, increased productivity, entrepreneurs' resilience and improvement of workers' safety standards in factories.
According to the Export Promotion Bureau (EPB), Bangladesh export to European Union countries posted an 11.63% rise to $17.15 billion, which was $15.36 billion a year ago.
While the export to US market, the single largest export destination for Bangladesh, has registered 6.37% to $5.62 billion in FY'15-16, in FY'14-15, it earned $5.28 billion.
On the other hand, RMG export to non-traditional markets rose by 10.48% to $4.31 billion, which was $3.9 billion a year ago.
In the just-concluded fiscal year, Bangladesh earned $28.09 billion, exporting clothing products, which is 82% of the total export of $34.24 billion.
Bangladesh is the second largest exporter of clothing products after China and taking the benefits of China shift. Its global market share is 5.1% as of 2014.
"I think Bangladesh market share in the global apparel market has increased a little bit in 2015, and in the current year, we will remain the second largest exporter in the globe," BGMEA senior Vice-President Faruque Hassan told the Dhaka Tribune.
Brands and buyers are shying away business from China, which would help Bangladesh grab more market shares, said Hassan.
"A slow and steady entrance in high value products is pumping our export value up."
New investment in eco-friendly manufacturing is another indicator of increased production capacity that would ultimately attract buyers.
"A good number of green factories are in the offing for production, which would add new volume to the country's production capacity," Abdus Salam Murshedy, president of Exporters Association, told the Dhaka Tribune.
If the government ensures utility services including gas and electricity, the market share would increase to 6% by the next two fiscal years.
But it would also depend on the recovery of economy from the recession in the export destinations, he added.
Bangladesh has set $50 billion export target by 2021. For achieving the target, the global market share has to increase to 8% with a 12% yearly growth.
"The double digit growth is a positive indication, but the enhancement of global market share will depend on growth in line with global market growth," Khondaker Golam Moazzem, additional research director of Centre for Policy Dialogue, told the Dhaka Tribune.

To retain the growth, Bangladesh has to emphasise productivity and workers efficiency as competitors are getting stronger day by day and also gaining preferential trade advantage, said Moazzem.

Brexit is another issue for Bangladesh's export. To avert the adverse impact of Britain's exit from the European Union, the government has to set strategy to avail trade advantage like the previous time, Moazzem adds.
Increasing export to non-traditional markets is an important element to enlarge global market share. In taking the advantage of non-traditional markets, the government and the association have to negotiate to reduce higher tariff bilaterally.
"We have also to concentrate on potential export destination like Japan to enlarge export value."
According to the sector people, the buyers confidence have been restored in Bangladeshi manufacturers because of safety standard improvement.
Safety assessment by global buyers platform has found less than 2% factories risky to workers' safety, which have already been closed.