Comprehensive multimodal connectivity in South Asia critically hinges on implementation of the Bangladesh-Bhutan-India-Nepal (BBIN) Motor Vehicle Agreement (MVA).
For deepening South Asian integration, the role of the MVAs will be key to establishing seamless multi-modal connectivity to facilitate movement of vehicles and goods, cars and passengers bilaterally, at sub-region level, within SAARC.
Trade and connectivity experts, diplomats, policymakers and government officials convened at a CPD dialogue to discuss how Bangladesh could align a comprehensive connectivity strategy with investment strategy to facilitate transport connectivity in South Asia.
Chaired by CPD Chairman Professor Rehman Sobhan, the CPD dialogue on "Trade Facilitation in South Asia through Transport Connectivity: Operationalising the Motor Vehicle Agreements (MVAs)," was held at Brac Centre Inn on Saturday, 20 June 2015.
CPD Executive Director Professor Mustafizur Rahman made the keynote presentation in which he mentioned that South Asia has till now continued to remain the most disconnected region in the world, with high cost of doing business and missed opportunities.
As the BBIN MVA has been signed, some restrictive features in the bilateral Bangladesh-India MVA, SAARC Framework MVA and BBIN framework MVA might need to be worked on to meet global best practices, he noted.
Professor Rahman recommended benefit sharing principles for determining tolls and tariffs; establishing monitoring committees for implementation oversight; designing widely accepted implementation modalities to ensure win-win outcomes; and ensuring access to information regarding implementation progress.
Addressing as a Special Guest, H E Mr Pankaj Saran, High Commissioner, Indian High Commission said that the growing trade between Bangladesh and India in past few years indicates an important structural change in how the two countries deal with each other. He added that following the MVA, roads construction will entails complexities of land scarcity. The land ports suffer from traffic congestion and backlogs of vehicles. To resolve this, connectivity needs to go beyond roads, involving all four modes including coastal shipping, waterways and railways.
Special Guest H E Mr Hari Kumar Shrestha, Ambassador, Embassy of Nepal noted that the BBIN MVA landmark agreement will be beneficial to Nepal and it would complement the SAARC MVA, expected to be signed soon in near future.
Chief Guest Mr Md Obaidul Quader, MP, Hon'ble Minister, Ministry of Road Transport and Bridges mentioned that the borders will no longer be treated as separators but the main challenges in developing internal infrastructure is relocating local establishments while constructing roadways. He emphasised the necessity of field visit necessary to ensure quality of work.
Guest of Honour Mr Abdul Matlub Ahmad, President, FBCCI, noted that the MVA will facilitate huge benefits for logistic business. Tracking mechanism for vehicles should be put in place for operational and security concerns.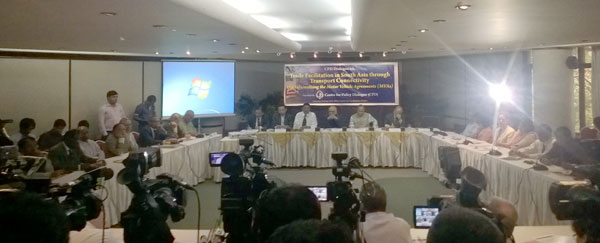 Following comments from CPD Distinguished Fellows Professor Rounaq Jahan and Dr Debapriya Bhattacharya the floor discussion was also addressed by Ms Samina Mehtab, Acting High Commissioner of Pakistan; Mr Yonten Gyantsho, Trade Counsellor, Royal Bhutanese Embassy; Mr Khairuzzaman Mozumder, Deputy Chief of Party at USAID; Mr Chandan Kumar Dey, Joint Secretary, Road Transport and Highways Division; Mr Monoj Kumar Roy, Additional Secretary (FTA), Ministry of Commerce; Mr Mahbubul Anam, President, Bangladesh Freight Forwarders Association (BAFFA); Dr Md Mozibur Rahman, Former Chief Executive Officer, Bangladesh Foreign Trade Institute (BFTI); Mr Ali Ahmed, Chief Executive Officer, BFTI; Mr Suhel Ahmed Choudhury, Former Commerce Secretary; Dr Mohammad Mahbubur Rahman, Former Secretary, Ministry of Communication; Mr A S M Mainuddin Monem, Deputy Managing Director, Abdul Monem Ltd; Mr Md Tanveer Islam, GM-Export, PRAN among others.
TV News Clip on the Event
Error type: "Forbidden". Error message: "The request is not properly authorized to retrieve the specified playlist." Domain: "youtube.playlistItem". Reason: "playlistItemsNotAccessible". Location type: "parameter". Location: "playlistId".
Did you added your own Google API key? Look at the
help
.
Check in YouTube if the id
PLlQrg2sIO-EwqTOAhJN7ki71ziqoDIB6D
belongs to a playlist. Check the
FAQ
of the plugin or send error messages to
support
.