Bangladesh will need to diversify its export basket in order to enhance export competitiveness and take full advantage of the duty-free market access (DFMA) offer of India to SAARC LDCs.
Deepening bilateral relationship with India covering the spectrum of trade, investment, transport and people-to-people connectivity is also crucial for Bangladesh to realise the potential opportunities emerging from the DFMA.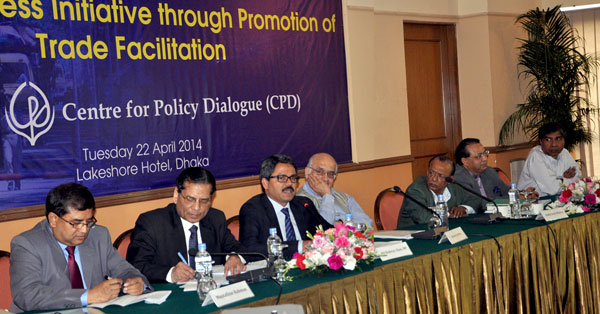 The observations surfaced at the CPD dialogue on "Utilising Indian Market Access Offer through Promotion of Trade Facilitation," held at Lakeshore Hotel on 22 April 2014 in Dhaka.
The event's Chair, Professor Rehman Sobhan, Chairman, CPD underscored that the realisation of the DFMA facilities has a historical significance as previous leaders and politicians had talked over this issue during different Indo-Bangladesh dialogues and meetings during the last three decades.
Professor Mustafizur Rahman, Executive Director, CPD made a presentation on the CPD study, co-authored by Ms Khaleda Akhter, Senior Research Associate, CPD. The study was undertaken in partnership with and support from the Asia Foundation.
Major findings of the study recommended investment in land port and infrastructure development to overcome infrastructure-related bottlenecks. It stressed on the necessity of Single Window Facilities and Electronic Data Interchange in simplifying inadequate customs and port facilities.
The study also suggested Mutual Recognition Agreement (MRA) between India and Bangladesh as regards testing, certification and licensing of products to resolve and overcome non-tariff barriers and procedural complexities of export and documentation.
Guest of Honour Mr Abdul Awal Mintoo, Former President Federation of Bangladesh Chambers of Commerce and Industry (FBCCI), underscored that Bangladesh is in need of exportable products having brand popularity in terms of price and quality to increase the export volume to India, which has plummeted in recent times despite the DFMA facilities.
In this regard, Designated Discussant Mr Abdul Matlub Ahmad, President, India-Bangladesh Chamber of Commerce and Industry (IBCCI), stressed that large brands can invest in Bangladesh to produce quality products to be exported to India. Investment from India will, however, require adequate supply of gas and power as well as land at reasonable price, he added.
Mr Bijay Selvaraj, First Secretary (Commerce), Indian High Commission, urged Bangladeshi entrepreneurs to consider the Indian population and market size for potential export opportunities. He noted that trade and investment dialogues in future should touch upon containerisation and multimodal transport issues.
Chief Guest Mr Md Shahriar Alam, MP, Hon'ble State Minister for Foreign Affairs mentioned the government's initiatives to facilitate Indo-Bangladesh trade and visa procedures. Among other initiatives, establishment of a Bangladesh Mission in Guwahati is underway and awaiting final approval from the Indian government, he added.
Strengthening Bangladesh's diplomatic and business presence in Indian market would be crucial to realising trade potentials, noted Dr Debapriya Bhattacharya, Distinguished Fellow, CPD. He identified lack of initiatives, discontinuity of business ventures, lack of political leadership and coordination among the ministries as the major drawbacks impeding the expansion of Bangladesh's trade to India.
The dialogue was also addressed by Mr Syed A Al-Muti, Programme Director, Economic Development, The Asia Foundation; Ambassador Farooq Sobhan, Former Foreign Secretary and President , Bangladesh Enterprise Institute (BEI); Major General (Retd) Amjad Khan Chowdhury, Former President, MCCI and Chief Executive Officer, Pran Group; Mr Arshad Jamal (Dipu), Director, BGMEA; Mr Manzur Ahmed, Advisor, FBCCI; Former Director, DCCI; Mr Gulzar Ahmed, Sales Manager, Square Toiletries Ltd among others.