CPD Research Monograph 8: Trade Facilitation towards Export Promotion in the Indian Market: Addressing the Emerging Gaps
Contributors: Mustafizur Rahman and Khaleda Akhter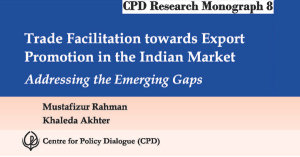 The opportunities and potential benefits that could emerge from deepening bilateral trade and investment and economy-wide cooperation between Bangladesh and India are undermined, to a large measure, by significant deficits in the areas of cross-border trade facilitation. This has emerged as a binding constraint that is adversely affecting the ongoing efforts on the part of Bangladesh to take advantage of India's offer of duty-free, quota-free market access for virtually all products of exports for the SAARC-LDCs.
The sorry state of bilateral trade facilitation results in significant cost escalation, high lead-time and erosion of competitive advantage of Bangladesh's entrepreneurs and business people. Investment targeting the growing Indian market is discouraged and entrepreneurs searching for market entry in India are frustrated.
The present study, based on extensive field-level survey and drawing on insights from key stakeholders, has carried out an in-depth investigation into four major areas of trade facilitation that impede bilateral trade between Bangladesh and India. These concern: a) infrastructure-related bottlenecks; b) inadequate customs and port facilities; c) non-tariff barriers; and d) cumbersome export procedures and documentation.
The study identifies a number of practical solutions which could help transform the land customs stations through which about 90 per cent of the bilateral trade takes place from 'control points to crossing points'. Some of the proposed measures include signing of Mutual Recognition Agreements, electronic data exchange, setting up of 'Single Window', standardisation and harmonisation of operating protocols, reducing paper works and documentation, building integrated customs stations, and introduction of green channels and fast lanes.
The study argues that, raising efficacy of trade facilitation measures will stimulate development of bilateral, sub-regional and regional value chains, and will strengthen regional and global integration of the economies of the two countries. Resource spent to address the attendant gaps will pay high dividends in terms of efficiency and welfare gains which will benefit key stakeholders on both sides of the border. The study argues that better trade facilitation will stimulate domestic and foreign investment in Bangladesh targeting the Indian market and will enable them to take greater advantage of the preferential market access offer extended by India.
Publication Period: August 2014
ISBN 978-984-8946-15-2
Price: Tk. 220 USD 20