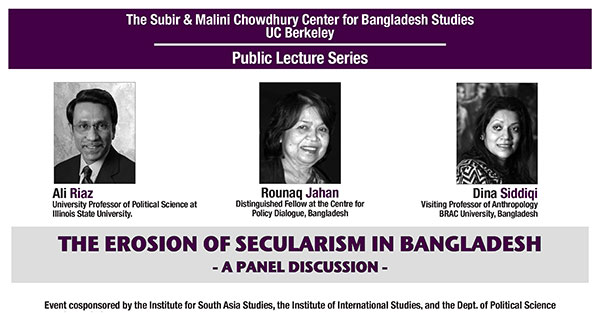 CPD Distinguished Fellow Professor Rounaq Jahan delivered a public lecture on "The Erosion of Secularism in Bangladesh," on 5 November 2015 at the Subir & Malini Chowdhury Center for Bangladesh Studies, University of California at Berkeley, USA.
The panel discussion took place with eminent political scientist Dr Ali Riaz, Professor and Chair, Department of Politics and Government, Illinois State University and anthropologist Dr Dina Siddiqi, visiting Professor of Anthropology, Department of Economics and Social Sciences, BRAC University, Bangladesh.
The discussion inquired whether Bangladesh was sliding away from the pronounced principle of secularism or that the secularists were pushing an untenable agenda. Read more about the conference here.
Professor Jahan also attended a conference on "Development and Democracy in Bangladesh: Problems and Prospects" hosted by Bangladesh Development Initiative, Institute of South Asian Studies and The Chowdhury Center during 6-8 November 2015 at Clark Kerr Center, UC Berkeley.
At the event, she chaired a session on "Politics and Governance Religion and the State in Bangladesh: Present Context, Future Trends" and was also a panellist at a session on "The Bangladeshi Paradox: Economic Growth without Political Development."
Explore more about the conference here.