Uneven Implementation of Post-Rana Plaza Promises
Need for Transparency and Accountability, stressed speakers

Discussants at a CPD dialogue on follow up of Rana Plaza Tragedy observed that the implementation status of post-Rana Plaza deliverables was rather mixed although progress has been made in some areas.
Despite significant efforts towards the betterment of the affected workers from different quarters, including government and RMG owners, the second CPD monitoring report has particularly identified that proper identification of victims and the status of compensation delivery for the affected and their dependants have not been up to expectation.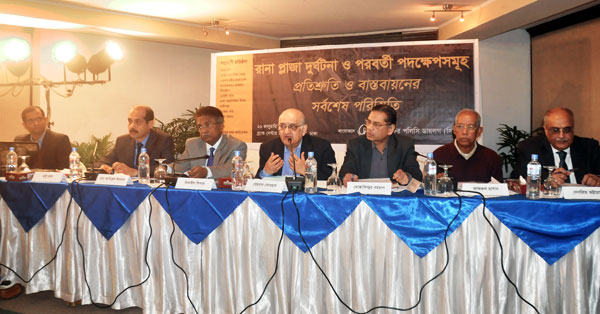 Speakers urged to address the immediate need for transparency and accountability as regards the promises made towards disbursing compensation and humanitarian aid for workers' treatment and rehabilitation.
The observations emerged from a dialogue titled "Rana Plaza Tragedy and Beyond: An Update on Commitments and Delivery" held at the BRAC Centre Inn on Sunday, 26 January 2014. The dialogue was the sixth follow-up activity of "Post-Rana Plaza Monitoring" a civil society initiative led by CPD, in partnership with a number of civil society organisations and individuals in Bangladesh.
Dr Khondaker Golam Moazzem, Additional Research Director, CPD made a presentation on the second independent monitoring report. Professor Mustafizur Rahman, Executive Director, CPD moderated the floor discussion at the dialogue chaired by Professor Rehman Sobhan, Chairman, CPD.
During the discussion, a number of victims of the tragedy and a rescue worker brought to attention the impact of the building collapse on themselves. The workers shared to what extent they were compensated and rehabilitated and urged speedy fulfilment of unmet promises for all of their co-workers.
As the Special Commentator, Dr Debapriya Bhattacharya, Distinguished Fellow, CPD reiterated that the RMG sector's achievement in the last four-decades will be at risk if transparency and accountability are not ensured in addressing the issues of compensation, rehabilitation and adequate medical attention – long due for the affected workers.
Mr Mikail Shipar, Secretary, Ministry of Labour and Employment, Government of Bangladesh, as the Chief Guest and Mr Md Atiqul Islam, President, Bangladesh Garment Manufacturers and Exporters Association (BGMEA) as a Distinguished Discussant, respectively informed of the measures taken by the government and the owners' association.
The event was also addressed by, among others, Mr Zafrul Hasan, Joint Secretary General, Bangladesh Institute of Labour Studies (BILS); Mr Tipu Munshi, MP, Former President, BGMEA; Mr Robert Wayss, Executive Director, Bangladesh Operations, Accord on Fire and Building Safety in Bangladesh, Bangladesh Accord Foundation at ILO Country Office, Dhaka; Brigadier General Ali Ahmed Khan, psc; Director General, Department of Fire Service & Civil Defence; Dr Hameeda Hossain, Chairperson, Ain O Salish Kendro (ASK); Dr MM Akash, Professor of Economics, University of Dhaka; Architect Iqbal Habib, Joint Secretary and Member Secretary, Urbanization and Urban Governance PC, Bangladesh Paribesh Andolon (BAPA); Mr Md Shafiul Islam (Mohiuddin), Former President, BGMEA; Mr Abdul Mannan Miah, Vice-President, BTMA and labour leaders Mr Babul Akhter, President, Bangladesh Garment and Industrial Workers Federation; Ms Nazma Akter, President, Shommilito Garments Sramik Federation (SGSF); Mr Tofazzal Hossain Bagu, President, Bangladesh Sangjukta Sromik Federation (BSSF).