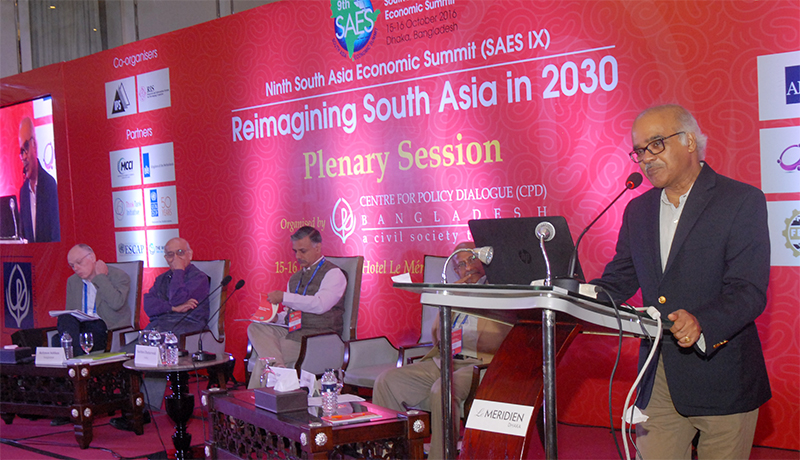 The South Asia region has been passing through a difficult situation with threats from anarchy and extremism. This situation has emerged from existing and incresingly widening inequality and injustice in the society. The policymakers of this region should act fast to reduce inequality, correct the injustices and establish rule of of law. In addition to that, governments of South Asia need to concentrate on the large and still growing young population. Effective resource mobilisation and employment generation are essential to engage the young generation with the process of ensuring peaceful societies in this region. Economic growth needs to be inclusive and, the youth can play the vital role of being the change agents towards a dynamic South Asia. These observations came from the fourth and final plenary session titled Towards an Inclusive, Just and Peaceful Society in South Asia: Who are the Change Agents? of the Ninth South Asia Economic Summit (SAES IX) which was organised by Centre for Policy Dialogue (CPD) at Hotel Le Méridien Dhaka, Bangladesh 16 October 2016.
CPD Founding Chairman Professor Rehman Sobhan presented the keynote on the subject. Dr Selim Jahan, Director, Human Development Report Office, United Nations Development Programme (UNDP), New York; Dr S R Osmani, Professor, University of Ulster, UK and Visiting Professor, Department of Development Studies, BRAC University, Bangladesh, Dr Christian Wagner, Senior Fellow, Asia Region Stiftung Wissenschaft und Politik, German Institute for International and Security Affairs spoke as Panellists at the session. The session was moderated by Dr Sachin Chaturvedi, Director-General, Research and Information System for Developing Countries (RIS), India.
The two-day Summit, held during 15-16 October 2016, was co-organised by the Institute of Policy Studies of Sri Lanka (IPS); RIS, India; South Asia Watch on Trade, Economics and Environment (SAWTEE), Nepal; and Sustainable Development Policy Institute (SDPI), Pakistan.