Published in The Independent on Thursday, 9 March 2017
'Gender bias casts shadow on working women'
Kaniz Fatima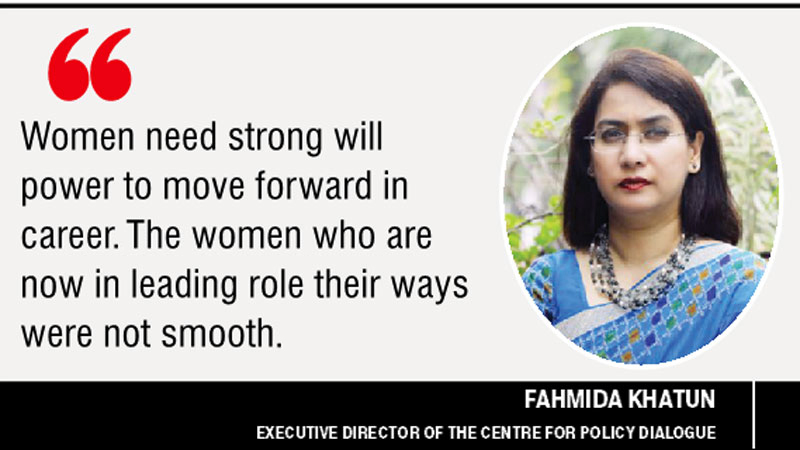 A lot of measures have been taken to integrate more women in the workforce and the percentage of female participation in the economy is growing. However, women still have to face a lot of cultural and economic barriers to move forward and build their careers.
The problem is particularly accentuated for working mothers. It is very tough for them to take leadership roles in industrial and service sectors in the country alongside looking after their families and rearing children.
However, there are some who have overcome all barriers and doing extremely well in many sectors. Taslima Miji is one such woman.
Taslima, founder of Gootipa and CEO of Techmania (a company that provides hardware and hardware-related services as well as networking), said as a woman entrepreneur, she had to overcome several barriers to establish her business.
She had started her business in 2008 after post-graduation from Dhaka University.
Citing her own experience, Taslima said a woman should always remember that society always poses hardship for her. She should know the obstacles and be ready to face them when she is about to venture into a business.
"I faced certain problems only because of my gender. In fact, it made me feel very sad and sometimes I felt that business was tough for a woman. But then I gathered the courage to face the problems and move ahead," she added.
"When a woman entrepreneur overcomes the primary problems imposed by her family and society, she has to face business-related obstacles like trade licence, TAX, VAT, bank loans, LC. The whole process is very much male-dominated," said the Techmania CEO.
When asked about bank loans, which happen to be a particular hindrance for many women entrepreneurs, Taslima said, "I took loans and never defaulted on repayments. And yet, I had to face a lot of hassles.
However, it is still very tough for women entrepreneurs to get bank loans, she added.
According to the Bangladesh Labour Force Survey of 2013, the participation rate of females (34 per cent) was substantially lower than males (82 per cent).
Of the 7.8 million businesses in Bangladesh, 99.93 per cent are cottage, micro, and small and medium enterprises (CMSMEs). However, the number of women-owned units is an insignificant 7.21 per cent. Moreover, women account for only 17 per cent of the employees in CMSMEs.
Asked about the social prejudice, Taslima said, "I do not believe in this. If a woman does not have social and family- related barriers, she can do as well in business as her male counterparts. This has been my experience."
Another problem area is that many women could not aspire for senior level positions even after working for some years due to marriage and motherhood, leading to career breaks.
Dr Fahmida Khatun, executive director of the Centre for Policy Dialogue (CPD), said, "Conflict between motherhood and work is a big problem for every working woman, and it hinders her from reaching the top level. Many working women quit their jobs when they become pregnant."

"Women need strong will power to move forward in their careers.

The women who are now in leading positions certainly did not have a smooth ride," she added.

The CPD has recently appointed Fahmida as its executive director.

Asked about her experience, she said, "It's actually tough. When you are in a top position, there is an outlook that a woman should spend more time in office to fulfil her responsibility. However, I have overcome this difficulty with my commitment and quality of work."