CPD senior researchers briefed Members of Parliament (MP) on the National Budget for FY2016 at the National Parliament on Wednesday, 10 June 2015.
Ms Raushan Ershad and around elevent MPs of the Jatiya Party exchanged views with CPD Head of Research Dr Khondaker Golam Moazzem and Research Fellow Mr Towfiqul Islam Khan.
Ms Ershad MP noted that the budget is interpreted in a different way by different people according to how it affects their lives. The government should pay greater attention to how the budget is affecting the general people and the poor in particular, she added.
Agreeing that attainment of 7 percent GDP growth is difficult without adequate investment, Ms Ershad MP underscored the importance of industrialisation in the country in a decentralised manner. Industries need to be export-oriented and also generate employment for the local level, she added.
Dr Moazzem felt that active discussion in the parliament and participation of the MPs was of critical importance. He also underscored the importance of formulating a realistic budget that can be implemented on the ground.
Mr Towfiqul Islam Khan presented salient features of the CPD analysis, following which Dr Moazzem summarised challenges for the government in implementing the budget. The major challenges were lack of discipline in fiscal framework in the FY2016 budget, lack of governance in ADP implementation, decelerated investment in agricultural and social sectors and lack of continuity of fiscal and budgetary measures from the preceding budget, including green tax and district budget.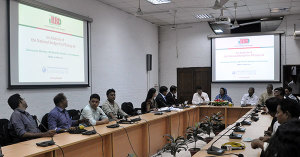 Recapitalisation of public institutions including the state owned banks shows lack of governance, flagged the CPD analysis. The government was also urged to undertake institutional and infrastructural reforms including for the National Board of Revenue (NBR).
On behalf of the Opposition, Mr Fakhrul Imam MP raised a number of issues regarding the major challenges for implementing the budget and its philosophical objectives in concordance with Bangladesh's ambition to become a middle income country by 2021.
During a Q&A session with the journalists, the discussion was also attended by Mr Md. Tajul Islam Choudhury MP, Chief Whip of the Opposition; Mr Fakhrul Imam MP; Whip Mr Md. Sawkat Chowdhure MP, Whip Mr Nurul Islam Omar MP, Whip Mr Salim Uddin MP; Mr Salauddin Ahmed Mukti MP, Mr Yahya Chowdhury MP, Mr Mohammad Noman MP, Mr Mohammad Abdul Munim Chowdhury MP, Mr Shahanara Begum MP and Ms Rowshan Ara Mannan, MP.
CPD Research Associate Ms Farzana Sehrin also participated in the discussion. Journalists from print and electronic media widely covered the event.