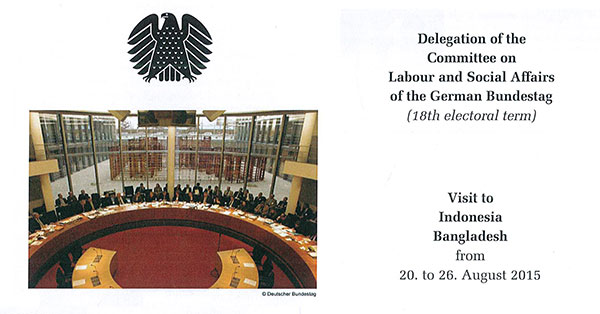 A delegation of the Committee on Labour and Social Affairs of the German Bundestag met CPD Distinguished Fellow Dr Debapriya Bhattacharya during a visit to Bangladesh on Monday, 24 August 2015.
The delegation was headed by German Members of Parliament Dr Matthias Bartke of Social Democratic Party and former head of department. Members of the delegation included Trade Union Secretary Mr Klaus Ernst of The Left Party, Former Immigrant Commissioner Ms Azize Tank of The Left Party and Graduate Social Pedagogue Ms Brigitte Pothmer of the Alliance 90/The Greens.
The Committee on Labour and Social Affairs is one of the committees of the German Bundestag, having 41 members and is mainly responsible for the areas of labour-market policy, labour law, health and safety at work, collective labour law, pensions insurance, accident insurance and social security, along with issues affecting people with disabilities.
At the meeting, the visiting MPs discussed trade unionism and global perspectives on adjustment of value chains. Dr Bhattacharya exchanged views on the current status of trade unionism in Bangladesh with the MPs.
The delegation was also accompanied by Mr Martin Frey, Head of The Committee Secretariat of the German Bundestag. The Committee is charged with deliberating on the budget of the Federal Ministry of Labour and Social Affairs. The Committee also increasing often needs to deal with questions of employment and social policy at European Union level.