The government needs to take advantage of the relative macroeconomic stability to stimulate private sector investment in FY2015-16. In view of this, CPD, in its report on State of the Bangladesh Economy in FY 2015-16 (First Reading) proposed a comprehensive policy package.
CPD released the aforesaid report to the media at the BRAC Centre Inn in Dhaka, on Sunday, 3 January 2016. The report presented an analysis of quality of macroeconomic management and underlying strengths and weaknesses of the economy, at the halfway mark of the ongoing fiscal year, on the basis of last available data on various economic indicators. CPD Research Fellow Mr Towfiqul Islam Khan presented the analysis on behalf of the research team which was prepared under CPD's Independent Review of Bangladesh's Development (IRBD) programme.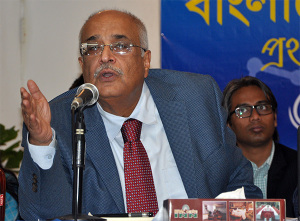 Dr Debapriya Bhattacharya, Distinguished Fellow of CPD proposed four major policy interventions including downward adjustment of the fuel prices at the domestic market, put emphasis on timely implementation of important ADP projects which are close to completion and utilisation of foreign aid in this connection, reduction in policy rates of the central bank, and depreciate exchange rate marginally.
CPD Executive Director Professor Mustafizur Rahman stressed that while adjusting the proposed fuel prices, within the fuel-mix, a differentiated approach will need to be taken for petrol and octane (relatively lower reduction in prices), and for diesel, furnace oil and kerosene. Professor Rahman pointed that the aforesaid price adjustment should be calibrated by taking into cognisance the revisions of gas and electricity prices, overall impact of the price-change mix on major stakeholder groups and government's subsidy-related expenditure and earnings.
While making the presentation, Mr Khan highlighted that the fiscal framework of FY2015-16 has come under severe strain in the early months. CPD apprehended that overall shortfall in the government revenue may reach Tk. 40,000 crore in absence of urgent remedial measure(s), he mentioned.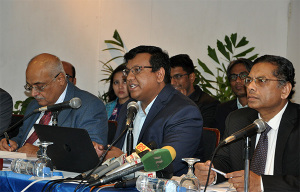 Mr Khan observed that Bangladesh economy experienced a number of macroeconomic advantages including lower inflation, declining interest rate, stable exchange rate and manageable fiscal deficit, positive balance of payment, augmented foreign exchange reserve, and low level of global commodity prices during the first half of FY2015-16.
Dr Bhattacharya urged the government to rigorously pursue a set of institutional and policy reforms (including in the areas of financial sector, revenue mobilisation, public expenditure management, PPP, privatisation, etc.) by taking bold steps. Only then the economy would yield the aspired results in the medium term. He also suggested the government to timely implement the forthcoming VAT and SD Act for augmenting higher revenue mobilisation. Recommendations also included establishment of reform commissions for financial and agriculture sectors.
Professor Mustafizur Rahman, Dr Debapriya Bhattacharya, Dr Fahmida Khatun, Research Director, Dr Khondaker Golam Moazzem, Additional Research Director, CPD and Mr Towfiqul Islam Khan responded to queries from journalists. Widely attended by electronic and print media, the briefing was also attended by Ms Anisatul Fatema Yousuf, Director, Dialogue and Communication and Dr Subir Bairagi, Research Fellow, CPD.