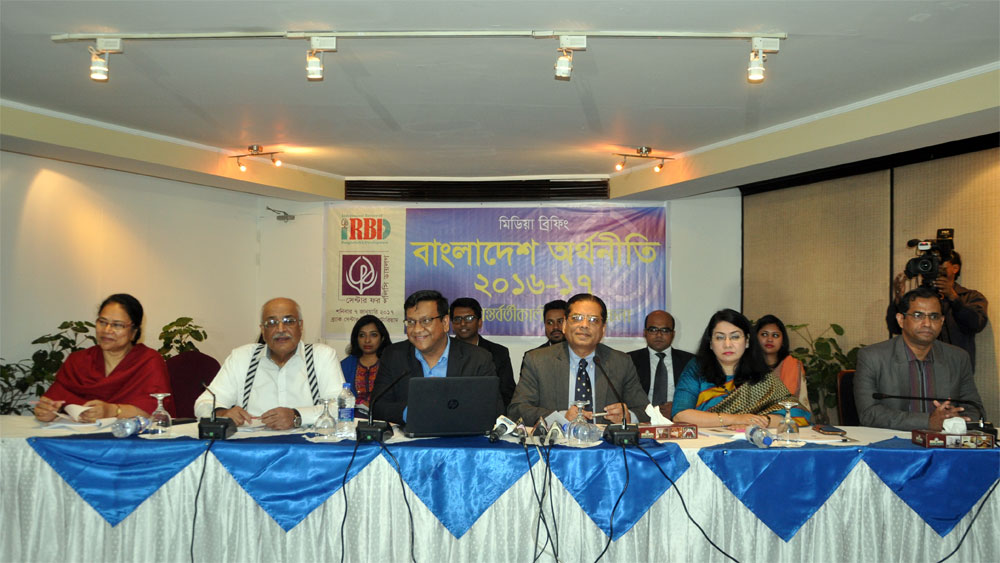 Download: Presentation | Paper
Bangladesh government needs to focus on lowering the interest rate of National Savings Bond (NSD) and adjustment of fuel price and exchange rate to sustain the economic growth for FY2016-17. Three reforms are vital as well- banking sector, local government management and public investment towards economic sustainability.
CPD shared these observations at a media briefing on the release of the State of the Bangladesh Economy in FY 2016-17 (First Reading). The event was organised on Saturday 7 January 2017 at BRAC Auditorium, Dhaka. CPD Research Fellow Mr Towfiqul Islam Khan presented the analysis which was prepared under CPD's flagship programme Independent Review of Bangladesh's Development (IRBD).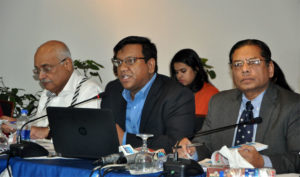 The report presented an analysis on Bangladesh's macroeconomic performance in FY 2016-17 on the basis of last available data on various economic indicators. It analised the strength and weakness of the country's macroeconomy and provided observations on mitigating various forthcoming challenges.
While presenting the report, Mr Khan mentioned the Robust GDP growth and rebounded investment in FY2015-16, low inflationary pressure, rising foreign exchange reserve, manageable fiscal deficit, and positive outcome in capital market as the comfortable spaces for Bangladesh economy in FY206-17. On the other hand, the financing mix of the budget deficit based on National Savings Bond (NSD) sale, rising non-performing loans (NPL), weak governance amid new scams in banking sector, inadequate Capital Adequacy Ratio (CAR), and lower remittance inflow are the major concerning areas of this fiscal year.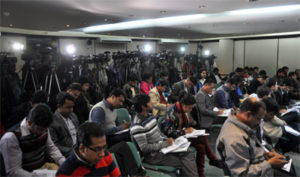 Professor Mustafizur Rahman, Executive Director, Dr Debapriya Bhattacharya, Distinguished Fellow, Ms Anisatul Fatema Yousuf, Director, Dialogue and Communication, Dr Fahmida Khatun, Research Director, Dr Khondaker Golam Moazzem, Additional Research Director and other researchers of CPD were present at the event. The media briefing was widely attended by electronic and print media.