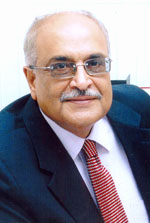 Distinguished Fellow
E-mail: debapriya.bh@gmail.com
Skype: debapriyacpd
Executive Assistant
Tel: (8802) 9134438 (Direct)
PABX: (8802) 9141703, 9143326; Ext: 144
Cell: (88) 01720421881
Fax: (8802) 813 0951
Dr Debapriya Bhattacharya, a macroeconomist and public policy analyst, is a Distinguished Fellow at the Centre for Policy Dialogue (CPD) – a globally reputed think-tank in Bangladesh – where he had been earlier its first Executive Director. He was the Ambassador and Permanent Representative of Bangladesh to the WTO, UN Office, and other international organisations in Geneva and Vienna. He was the Special Adviser on LDCs to the Secretary General, UNCTAD. Earlier, he had been a Senior Research Fellow at Bangladesh Institute of Development Studies (BIDS).
He currently chairs two global networks, viz. Southern Voice on Post-MDG International Development Goals – a network of 49 thinks tanks from Africa, Asia and Latin America, which serves as an open platform for discussions on 2030 Agenda for Sustainable Development and related issues; and the LDC IV Monitor – a partnership of eight development organisations seeking to provide an independent assessment of the delivery of the Istanbul Programme of Action (IPoA) for the LDCs.
Dr Debapriya is engaged in high-level policy designing and advising for the national government and various bilateral and international development agencies at home and in a number of developing countries. He serves in the boards and working groups of a number of national, regional, and international development organisations and networks (e.g. Monitoring Advisory Group of the Global Partnership on Effective Development Cooperation, UNDP/OECD), and in the editorial board of reputed journals (e.g. Oxford Development Studies). He has published extensively on pro-poor macroeconomics; post-2015 international development agenda; trade, investment and finance related issues of the LDCs.
He holds a PhD in Economics from Plekhanov National Planning Institute, Moscow and had been a Post-Doctoral Fellow at Queen Elizabeth House, Oxford. He held a number of visiting positions including Senior Fulbright Fellow at the Centre for Global Development (CGD), Washington DC.