Published in Daily Sun on Sunday, 1 May 2016
Country's unemployment worsens
Risky migration, crimes, drug smuggling and abuse rise
Monirul Alam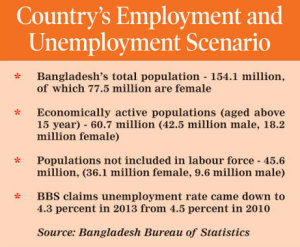 Bangladesh's unemployment situation worsened in last couple of years that potentially resulting in risky migration, drug peddling, abuse, addiction and smuggling and rise of criminal activities in the country, researchers say.
During the calendar year of 2014 and 2015, the country generates only 6 lakh employments (3 lakh annual average) leaving a vast number of unemployed persons among 2.0 million becomes eligible to enter job market every year.
In the previous years, between 2003 and 2013, the annual average employment generation was 13.8 lakhs nationally, according to the Centre for Policy Dialogue (CPD), a private sector think-tank that analyses economic state of the country.
"Implications are worst…. high rate of unemployment results risky migration; and of course drug….and crimes. But, the government alone could not solve the unemployment problems," Towfiqul Islam Khan, Research Fellow of the CPD told daily sun on Saturday.
Khan, while describing causes to unemployment, said that the country's education system is not pro-employment in many aspects. "Industrialists say they are not finding skilled people. But, you see we are having some 2.0 million new job-seekers every year. What is the gap? ….the gap lies with our education system," he pointed out.
He said, after completion of academic study, many of them fail to get jobs and become self-employed. "So, frustration drives them to find a job abroad by any means, mostly in illegal way risking their lives and waste of money. Involving in drug and crimes is not also new when someone is jobless."
He said the public sector generates very low number of regular jobs annually.
Khan said the government, in line with budgetary initiative of temporary employment, can extend policy supports to the private sector to generate employment through industrial expaansion.
Under the national social security strategy enforced through Annual Development Programme, the government's spending on employment generation at the rural areas was Tk 1400 crore in financial year 2013-14 and Tk 1500 crore each in FY15 and FY16. The government also spends for employment generation through other ADP projects, which are not segregated.
In Bangladesh, public sector employment is low while the private sector is the biggest employer.
The country's private investment was low during last several years due to political instability and high rate of interest on bank loans.
Khan said the positive strength of the local labour market is the emergence of many women jobseekers with rise in female education rate in recent years and suggested that the government can ensure policy supports for proper use of the country's demographic strength.
According to him, the unemployment rate is high at the higher educated level while low at the low-educated level. He said low-educated, semi-skill or low-skill and no-skill people can be engaged in any work to earn for him or her and respective family but higher educated people cannot do that because of wage structure and social status.  "So, higher education and technical education needs to be linked to the demand of local and global industries and businesses," he said adding, "There is no alternative to quality education."
According to Labour Force Survey 2013 (findings came out in October 2015) of Bangladesh Bureau of Statistics, total population stands at 154.1 million, of which 77.5 million are female. Of them, the number of economically active populations (aged above 15 year) is 60.7 million, out of whom 42.5 percent are male and 18.2 percent are female. BBS says unemployment rate came down to 4.3 percent in 2013 from 4.5 percent in 2010.
It says 45.6 million people are not included in labour force, of them 36.1 million are female and 9.6 million are male.