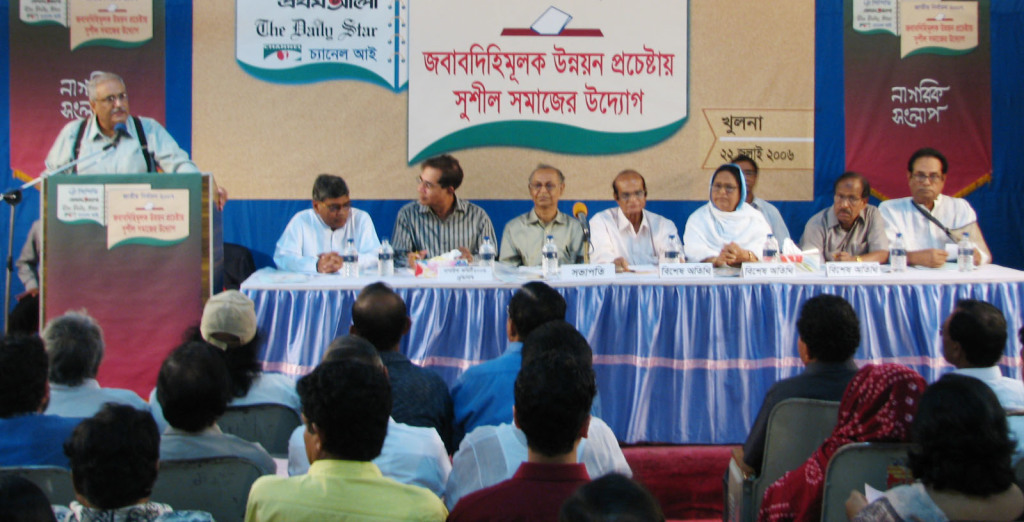 Speakers at the Nagorik Committee's regional dialogue in Khulna (22 July, 2006) called on the government to ensure people's constitutional rights, reopen the closed jute, newsprint and hardboard mills, and strengthen Mongla seaport for economic development of the southwestern regions.
They pointed out that 80 per cent problems of the countrymen could be resolved by ensuring their constitutional rights. They also urged the political parties to accept the outcome of the general elections.
Pointing out that Khulna was once an industrial hub but now it has turned into a "dead city" only because of negligence, the speakers called upon the region's MPs and policymakers to work united for the development of the area.
They demanded direct election in the women's seats and bringing necessary reforms in the electoral system so that the female candidates can contest at government expenditure.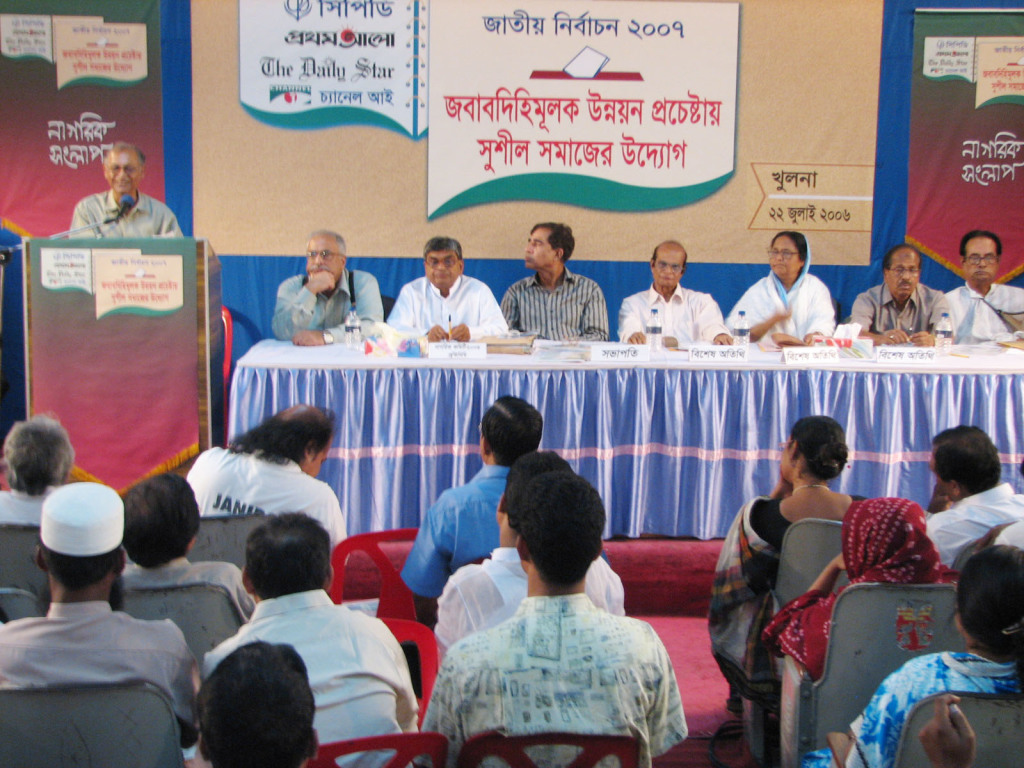 They also demanded uninterrupted power supply to the region's mills and factories and finance minister's visit to other areas of the country also, "instead of a particular region", for a balanced development.
The Centre for Policy Dialogue (CPD), the daily Prothom Alo, The Daily Star and Channel i jointly organised the dialogue as part of the civil society initiative for national election 2007 and accountable development.
CPD Executive Director Debapriya Bhattacharya moderated the dialogue chaired by prominent educationist Principal Mohammad Zafar Imam.
Former chairman of Khulna municipality Gazi Shahidullah, Principal Majeda Ali and Advocate Enayet Ali were the special guests at the regional dialogue held at the Zia Hall in the town.
Editor of Prothom Alo Matiur Rahman addressed the dialogue on behalf of the organisers while former adviser to the caretaker government ASM Shahjahan spoke on behalf of the Nagorik Committee formed for preparation of a vision paper for Bangladesh in 2021.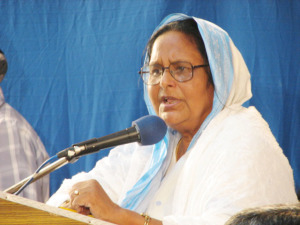 Lawmakers Nurul Islam of ruling BNP and Panchanan Biswas of main opposition Awami League, and Khulna District Bar Association President Advocate M Mujibur Rahman also spoke at the programme.
Seventy persons took part in the general discussion that continued for more than seven hours beginning at 10:00am.
Local political leaders, lawyers, teachers, NGO workers, cultural activists, businessmen and social workers also expressed their views at the discussion.
They thanked the organisers for holding the dialogue in "neglected and underdeveloped" Khulna.
Advocate Enayet Ali, who was involved in formulating the country's constitution, said full implementation of the constitutional rights is the only way to ensure good governance.
He alleged that the political parties have never wanted to make people aware of their constitutional rights. "Copies of the constitution are not available in the market as it has not been reprinted recently," he said.
Enayet Ali proposed to form an electoral college comprising representatives from all tiers to elect the president.
Principal Majeda Ali held lack of proper planning responsible for the closure of mills and factories. She stressed the need for a social research to find out the causes of decay in the society.
She proposed bearing at least half of the cost of a female candidate by the government. She also emphasised the necessity of forming a 'youth nagorik forum' for saving the young generation from drug addiction and other criminal activities.
If eight independent constitutional bodies function independently, 80 per cent of the problems can be solved, said Gazi Shahidullah.
The constitutional bodies including the Election Commission, Anti-corruption Commission, judiciary and the office of the ombudsman should work independently but they cannot.
He suggested appointment of judges following the recommendations of the Supreme Judicial Council.
Shahidullah also proposed cancellation of parliament membership for remaining absence for more than 20 days at a stretch instead of existing rule for 90 days.
He also suggested cutting salary of the parliament members for remaining absent in parliament. Shahidullah observed that there should be a provision that people working in four sectors — medical, power, communication and ports — can not call hartal or strike making the general people hostage.
There should be special tribunals for hearing the sufferings of those emergency professions and resolving their demands and requirements, he added.
In his presidential address, Principal Zafar Imam observed that black money and terrorism have polluted the country's politics.
Registration of the political parties and following some basic rules are needed, he said. He also demanded separation of judiciary and independence of the Anti-corruption Commission.
Nazrul Islam Monju, immediate past general secretary of Khulna city unit of BNP, said a balanced regional development is needed, lack of which leads to the demand of regional separation.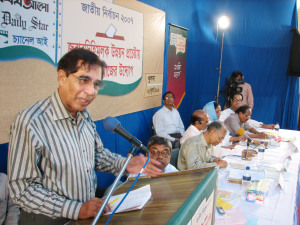 He stressed the need for bringing in honest and competent persons in politics.
Holding free and fair elections cannot be possible with the weak election management, he said.
Demanding stoppage of terming the business leaders 'hoarders' and 'black money holders', Khulna Chamber of Commerce and Industry President Shaaruzzaman Martuza said businessmen's image is often tarnished in different ways without any valid reasons.
Panchanan Biswas MP demanded budgetary allocation for strengthening the Anti-Corruption Commission. He also called for scrapping of the constitutional provision for state religion saying that the country cannot remain secular keeping the provision in the constitution.
Executive Director of CPD Debapriya Bhattacharya said the civil society is deeply concerned at the current political situation.
People have lost confidence in the Election Commission (EC). They want a free and fair election which is impossible if held under influence of black money, he said.
He said political and electoral reforms are a must for smooth functioning of democracy. An illiterate man must not get nomination to contest the parliamentary election.
In his address, he paid homage to slain journalists Manik Saha, Humayun Kabir Balu, Shaikh Harun-ar-Rashid and Shaikh Belaluddin.
Debapriya said a number of policy guidelines and 16 recommendations of a task force formed by CPD were handed over to the government ahead of the national election in 2001. "Then in 2003, we reviewed those recommendations,"he added.
He said it is the people who will have to take the initiative to solve their problems. "We must learn how to be self-reliant and build up our country without borrowing money from outside," he said.
Editor of Prothom Alo Motiur Rahman said people have doubt whether the next general election will be free and fair under the present EC.
He said the nation is going through a critical time as political unrest is growing, adding to the frustration of the people.
He said,"It has become a political culture in our country not to concede defeat in the elections. The tendency leads to political crisis, thereby creating room for the foreigners to talk about our internal affairs."
Matiur said political parties do not implement their election manifesto after going to power. "This is quite unfortunate," he observed.
He said democracy cannot be institutionalised through calling hartals. The country seems to be hostage to the whims of ruling BNP and Awami League, he observed.
He regretted that the judiciary has yet to be separated from the executive.
The Prothom Alo editor said nepotism must be stopped once and for all and political vandalism must not be encouraged in the interests of the country.
Secretary General of Greater Khulna Development Action Coordination Committee Shaikh Ashrafuzzaman, noted columnist professor Anwarul Kadir, President of Khulna Shacheton Nagorik Committee Md Hafizur Rahman, Principal Wahidur Rahman, leader of Bangladesh Frozen Food Exporters Association Humayun Kabir, Convener of Shacheton Khulnabashi Alhaj Rezaul Huq, Secretary of Khulna Mahila Parishad Rashu Akhter, Headmaster of Rupsha High School Rabiul Islam Palash, Director of Paribar Kalyan Samity Shamima Akhter Shimu, General Secretary of Khulna Puja Udjapan Parishad Advocate Krishnapada Das, Chairman of Bangladesh Kinadergarten Association Rehana Akhter and student of Daulatpur Govt BL University College Animesh Chandra Hari, Advocate Kudrat-e-Khuda, Mollah Saifur Rahman,and engineer Azadul Haque were among others who spoke at the discussion.