As part of CPD's flagship programme Independent Review of Bangladesh's Development (IRBD) the dialogue titled Illicit Financial Flows in the Context of Bangladesh was organised BRAC Centre Inn Auditorium, Dhaka on 25 June 2016.
 View 36 more news reports on this event
---
Published in The Daily Star on Sunday, 26 June 2016
Good investment climate will curb capital flight: analysts
Star Business Report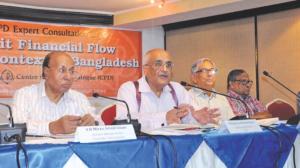 An investment-friendly environment with good governance in place could help reduce illicit financial flows from Bangladesh, experts said yesterday.
They made the observations at an expert consultation meeting on illicit financial flows, organised by the Centre for Policy Dialogue at the Brac Centre Inn.
The experts said the gradual opening of capital account convertibility and building effective coordination among different government agencies could also help the country reduce capital flight.
Debapriya Bhattacharya, distinguished fellow of CPD, a civil society think-tank, chaired the discussion, which was attended by top economists, academicians, bankers, businessmen and government officials.
"A sense of security in terms of law and order and an investment-friendly climate can prevent the flow of money to outside," said AB Mirza Azizul Islam, a former finance adviser to a caretaker government.  Bangladesh's recent decline in ranking in the ease of doing business and the global competitiveness report also proved that the country's investment situation is getting worse.
The lack of actions or punishment where cases are detected is also encouraging outflow of capital, he added.
Mohammed Farashuddin, a former governor of the Bangladesh Bank, echoed the same about the country's investment climate.
"If there was a 100 percent pro-investment climate, there would not be any capital flight," he said, adding that historical evidence also shows that the highest illicit financial flows had taken place during the election years, when uncertainty loomed large.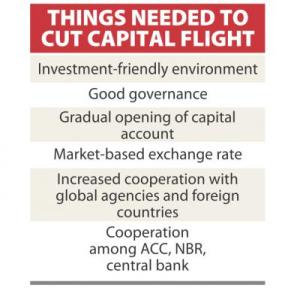 He suggested that Bangladesh should go for effective floating exchange rate before introducing capital account convertibility.
"Over appreciation of the taka through managed exchange rate also encourages the flow of illicit capital," Farashuddin said.
Earlier, Towfiqul Islam Khan, CPD's research fellow, made a presentation on the illicit financial flows from Bangladesh. The researcher tried to clarify the issue in the context of Bangladesh.
His findings show that 88 percent of illicit financial flows from Bangladesh in the last ten years took place through trade mispricing.
During the period, the average illicit financial flows stood at $5.588 billion a year, with the highest being in 2013, when $9.666 billion flew out of the country.
The sum is about 3.6 times the education budget and 8.2 times the health budget.
"If 25 percent of this money can be taxed, the health budget could be tripled or the education budget doubled," found the CPD study.
The third highest amount, $6.44 billion, slipped out of the country in 2008.
Interestingly, the country had been witnessing volatile political situation, centring on national elections, in both 2008 and 2013.
Akbar Ali Khan, former top bureaucrat and a former finance adviser to a caretaker government, said the capital outflows are not being fuelled by tax.
"The rich people are scared of keeping their money in the country. They think their wealth will be safe in other places."
Khan said the Anti-Corruption Commission cannot deal with the issue on its own; rather, a separate office is required to tackle the menace.
"Illicit financial flows cannot be prevented by creating new agencies and formulating fresh laws. The governance crisis is a major issue here," said Ahsan H Mansur, executive director of the Policy Research Institute.
Bangladesh should start capital account convertibility to reduce this illicit outflow, he added.
M Syeduzzaman, a former finance minster, touched upon the sources of illicit money.
Real estate transactions, which are shown hugely under-valued to dodge taxes, are a big source of untaxed money, he said.
Abdul Matlub Ahmad, president of the Federation of Bangladesh Chambers of Commerce and Industry, questioned the activities of too many government agencies and offices that deal with the issue of money laundering.
"Maybe they know many things on the illegal capital outflows, but they cannot do anything," he said, without elaborating further.
He also gave an example of gold smuggling, which is being detected by the law enforcers. "But, no mastermind is yet to be caught up," he added.
Bhattacharya said it is clear from the discussion that Bangladesh being an investment-deficit country is becoming an illegal capital-exporting country.
To address the issue, a taskforce can be formed, he added.
---
Published in The Financial Express on Sunday, 26 June 2016
Tycoons siphon off $56b from country in 10 years
Trade mispricing main instrument
FE Report
Leading economists and financial experts suggested forming an autonomous institution under finance ministry and also a taskforce to tackle wanton illicit outflow of resources from the country.
They made the call as the Centre for Policy Dialogue (CPD) at a dialogue Saturday unveiled that some US$ 56 billion has been taken out from the country through various channels over the last 10 years to 2013.
And about 88 per cent of this staggering amount was siphoned through trade mispricing.
In a major disclosure, speakers at the meet said the moneyed men take their funds out of the country for lack of real scope of investment as well as concern about safekeeping of the money.
Political instability, lack of good governance, non-enforcement of laws, high tax regime, and absence of investment environment are some of the major factors that drive the money off the country, they pointed out.
To check the leaks, they stressed strong political will, legal reforms, strengthening government institutions, more coordination among government agencies and with other countries, technological capacity building, establishing transparency and awareness building.
"Lack of investment environment as well as lack of security is main reasons behind the siphoning off money from the country," said former caretaker government adviser Dr Mirza Azizul Islam, stressing the need for enforcing proper action against money laundering.
Bangladesh Bank's former governor Dr. Mohammed Farashuddin also identified political instability as the main reason behind the fund flight. According to him, more amount of money was taken out of the country in 2008 as compared to 2007 because of political uncertainty.
Quoting GFI (Global Financial Integrity) estimates, CPD pointed out that some US$ 6.443 billion was siphoned off the country in 2008 as against $4.098 billion in 2007.
"In 2013, also 35 per cent more money, amounting to $ 9.666 billion, was siphoned off fearing more political uncertainty centering the 2014 general election," said the adviser. The amount was $ 7.225 billion in 2012. Besides political uncertainty he also indentified absence of trial and lack of investment opportunity as some other reasons.
"Siphoning of this illicit money is a complex issue. It cannot be resolved overnight. The ACC should act to check the menace, but it will not be able to do that," said former Adviser Dr. Akbar Ali Khan, who also advocated for establishing an autonomous body under the Ministry of Finance to check outflow of national resources from the country.
The proposed body will have to be manned by people from NBR, BB, ACC and the police.
Policy Research Institute Executive Director Dr. Ahsan H. Mansur highlighted the urgency of establishing good governance and reforming the laws. "Governance is the main source of problem. Solve the problem by addressing the governance issue, not by creating more institutions and regulations," he said.
"Sometimes laws themselves create problems," the economist told the function. Former Finance Minister Dr. M. Syeduzzaman also pointed out that the incidence of illicit money outflow became more active with changing laws since 2001. "The more we tighten the law, the larger becomes the black money," he said.
Most of the laws, said the ex-finance minister, either could not touch the core issue or were not enforced effectively.
Both Mr Syeduzzaman and former finance secretary Siddiqur Rahman pointed out that a huge number of foreign experts are working in the country.
"Many of them do not have proper authorization and are sending money illegally," said Mr Siddiqur Rahman, who also indentified over-invoicing as one of the byways of sending money abroad.
Dhaka University professor Dr. Abu Ahmed demanded the listing of multinational companies with the country's stock market and formal opening of gold and diamond markets as he sees those as hedge instruments.
Customs Intelligence DG Dr. Moinul Khan, however, said import of gold is open and can be imported by paying due tax. But the gold they seize is not for local use and most of that are brought in for illegal transaction.
He said the customs had seized some 80-maund gold in the last three years and arrested a number of traffickers. They also prevented the smuggling of 500-maund more gold.
Former DCCI president Rashed Maksud Khan also identified lack of proper policies and investment environment that encourages illicit money transfer.
"There is also no scope of investment and people having money do not feel safe in the country," he said.
FBCCI president Matlub Ahmad , however, urged the  businessmen to change their mindset and come forward to build the country with love and sincerity. "Unless you change the mindset, the flow of illicit money will never stop," he said.
CPD's distinguished fellow Dr Debapriya Bhattacharya in his concluding remark called for forming a socialized taskforce to deal with this issue. The force will be constituted with members from relevant government agencies, independent experts, civil-society actors and other stakeholders, including private sector.
The meeting was also addressed, among others, by DR. Mustafa K Mujeri, CPD Executive Director Prof Mustafizur Rahman, former SEC chairman Faruq Ahmed Siddiqi, BSEC member Swapan Komar Bala, and BIBM professor Dr. Ahsan Habib. CPD Research Fellow Towfiqul Islam Khan presented the keynote.
---
Published in Dhaka Tribune on Sunday, 26 June 2016
Corruption drives illicit financial outflow
Tribune Desk
The speakers suggested a number of recommendations, including the formation of a task-force, to stop the illicit financial outflow
Factors like corruption, political culture, absence of law enforcement and policy regime problem drive illicit financial outflows depriving Bangladesh of crucial investment funds, leading economists and analysts said yesterday.
Under this critical situation where illegal money transfer is rising in the country, they called for an autonomous body to stop it.
They suggested a number of recommendations, including the formation of a task-force, to stop the illicit financial outflow.
They were speaking at an Expert Consultation on Illicit Financial Flows in the Context of Bangladesh organised by the Centre for Policy Dialogue (CPD) in Dhaka.
Bangladesh ranks 26th in terms of illicit financial outflows, which mainly stem from tax evasion, crime and corruption, with a whopping $5.6bn being siphoned out every year during 2004-2013, according to GFI, a US-based think-tank. Of which, 88% was done through mis-invoicing, according to the CPD.
In his welcome address, CPD Executive Director Professor Mustafizur Rahma said the issue has come to the spotlight in recent days, though it has continued for many years. "It sneaks into the country as a cancer. It is the demand of the hour to prevent it for picking up investment in the country."
Former adviser to a caretaker government Akbar Ali Khan said the major reason for illicit financial flow out of the country is people get scared to keep money in the country but not tax evasion that might be the main cause of other courtiers, as tax is not so high in Bangladesh.
He said there are many loopholes in Bangladesh economy for money transferring. "Particularly lack of political commitment, absence of law enforcement and good governance has led illicit financial flow from Bangladesh. "It cannot be solved in the country overnight. We should look into why we cannot enforce law and why tax evasion continues."
Former Adviser to the caretaker government, Ministries of Finance and Planning A B Mirza Azizul Islam said giving security in people's life and asset, creating investment climate by easing business are the devices to prevent the illicit financial flow.
He said gross domestic savings is higher than the gross domestic investment, which clears that the money flows out of the country.
Moreover,  no visible punishment ha yet been given to the perpetrators due to administrative weakness, which has encouraged them to do so.
"In the current budget, import duty slab has been increased from four to five, which will give another scope for miss-invoicing," he said. For a developed country import duty should be of uniform rate, he said quoting an economist.
Executive Director at the Policy Research Institute of Bangladesh Ahsan Habib Mansur said illicit financial flow remains and will remain in our country and other countries.
"Main source of the problem in our country is absence of good governance. We cannot solve this problem by creating lots of institutions without addressing governance problem."
He also identified many reasons like political risk, tax and tariff regime for money transferring incidence. "Change of political regime creates lots of outflow in our country."
Former DCCI president Rashed Maqsood Khan said money is being illegally transferred because people do not feel safe and have no confidence in investment. "We are part of the globalised world. Money cannot be stagnant here. To keep money at home, investment should be encouraged by giving incentives, ensuring infrastructure and security."
Former Bangladesh Bank governor Mohammed Farashuddin said political unrest, inadequate investment friendly facilities and poor political culture are the causes of the illicit financial outflow.   He recommended establishing price commission to help check mispricing.
Former NBR member Aminur Rahman said in 1990s OECD countries took steps on harmful tax to prevent money transferring but no progress is seen yet. "I think the receiving country does not want to stop it for the sake of their interest."
Representative of ACC Farid Ahmed said sometimes perpetrators go unpunished due to flaw in prosecution procedure.
According to Panama papers findings we have identified some perpetrators and we are looking for them, he said.
FBCCI President Abdul Matlub Ahmad it is a mystery that thousands of crores of taka is being channeled out of the country every year. "Many agencies know about the matter, but cannot speak.
Former finance adviser M Sayeduzzaman said it is surprising to see that despite strengthening anti money laundering law, illicit financial flow increased in 2012 and 2013 in the county. "This means the law exists but has never been enforced," he said.
CPD Distinguished Fellow Debapriya Bhattacharya who chaired the event said: "Capital is being exported to other countries from an investment-less country, which is paradoxical."
He advised to form an autonomous body to prevent the financial fraud.
Economist Abu Ahmed said money will be flown away from the country whatever steps you take. "But we need to create investment opportunity and climate to keep money in home. Asset market on gold, gem and other options can be introduced for creating investment option for the investor.
Former central bank deputy governor Mohammad Ali Rumi laid emphasis on coordination among banks, NBR and agencies concerned to deal with the issue properly.
Economist Mustafa K Mujeri said collaboration nationally and internationally is important to prevent the money laundering.
Former BSEC chairman Faruq Ahmed Siddiqui said it is a deep problem in the country and can be controlled good governance. Sources of continued generation of black money are the keys to prevent illicit financial flow, he said.
---
Published in The Independent on Sunday, 26 June 2016
Experts for steps to stop money laundering
STAFF REPORTER
Economists, bankers and businesspersons yesterday emphasised the need to form a strong and independent body to curb illicit financial flows (IFFs) and recover the money that has already been siphoned off from the country.
"The Bangladesh Bank (BB), the Anti-Corruption Commission (ACC) and the National Board of Revenue (NBR) cannot control illicit financial flows. Bangladesh needs a different independent body to stop flow of illicit money under the finance ministry, comprising economists, social scientists and bankers," said a former adviser to the caretaker government of Bangladesh, Dr Akbar Ali Khan. He was addressing a discussion on 'Illicit Financial Flows in the Context of Bangladesh', organised by the Centre for Policy Dialogue (CPD), at BRAC Centre Inn at Mohakhali in the city.
It was moderated by the CPD's distinguished fellow, Dr Debapriya Bhattacharya. A former adviser to the caretaker government, Dr ABM Mirza Azizul Islam, former BB governor Dr Farash Uddin, Federation of Bangladesh Chambers of Commerce and Industry (FBCCI) president Abdul Matlub Ahmad, former Bangladesh Institute of Development Studies director general Dr MK Mujeri, former finance minister M Syeduzzaman, former finance secretary Siddiqur Rahman, Policy Research Institute (PRI) executive director Dr Ahasan H Monsur, Customs Intelligence and Investigation Directorate director general Dr Moinul Khan, Bangladesh Financial Intelligence Unit (BFIU) joint director Abdur Rab, former Dhaka Chamber of Commerce and Industry (DCCI) president Rashed Moksud Khan, senior Association of Bankers Bangladesh official Md. Nurul Amin, former BB deputy governor Md Ali Rume, Prof. Abu Ahmed and former National Board of Revenue (NBR) chairman Nasir Uddin also spoke at the programme, among others. CPD research fellow Towfiqul Islam Khan made a presentation on the topic. Dr Khan said people do not feel comfortable and secure keeping their money in Bangladesh as good governance is lacking here. "For this reason, people siphon off money to foreign countries, as they fear to keep money in Bangladesh," he said, adding: "It won't stop overnight." "We emphasise the need to form a legal framework to resolve this," he said.
Mirza Aziz said flows of illicit money would not stop unless tangible punishment is meted out to those involved. He also said an environment of security and investment should be ensured to stop flows of illicit money. An environment for investment is particularly important to prevent money from being siphoned off from Bangladesh, he said. Dr Monsur said sometimes, flows of illicit money cannot be stopped by the law, pointing out that it occurs in developed countries, too. He said security and proper returns must be ensured to keep capital in the country. Siddiqur Rahman emphasised the need to identify the sources of illicit money. He also raised questions about foreign employees who encourage undeclared money.