Favourable politics and reforms in public institutions are needs of the moment to stimulate private investment and consequently boost growth beyond the stalled six percent.
CPD, in its State of the Bangladesh Economy in Fiscal Year 2015 (First Reading), pointed out that lack of additional private investment for accelerating growth remained a major obstacle to Bangladesh's long-term vision of development.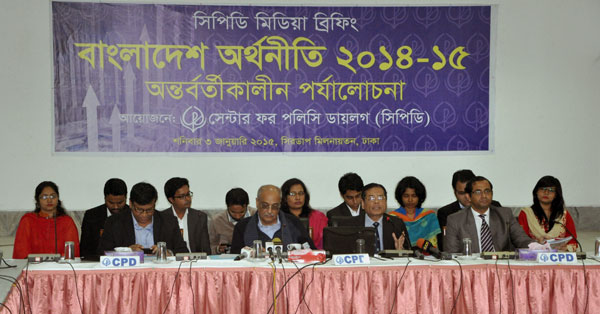 While briefing the media on the report held on Saturday, 3 January 2015, Professor Mustafizur Rahman noted that the positive macroeconomic trends in the early months of FY2015 were characterised by improved foreign exchange reserve, remittance, subsidy requirements and exchange rate.
However, a CPD perception survey conducted among entrepreneurs found that although 60 percent entrepreneurs made investments during FY2015, production growth was not impressive while employment at 80 percent enterprises remained at the same level, due to investment barriers including inadequate infrastructure, power and communication. These bottlenecks coupled with lack of reform measures have held back private investment, found the IRBD analysis.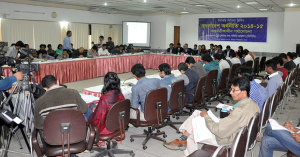 In this regard, Dr Debapriya Bhattacharya, Distinguished Fellow, CPD said that Bangladesh's economy has turned into a 'new normal' for constant 6 percent stagnated growth, also dubbed the 'Bangla rate of growth.
Dr Bhattacharya reiterated that conducive political environment is key to boosting the investor's confidence and encourage new investors, including the returning migrant workers and new workforce comprised of 20 lakh people every year. The government should facilitate infrastructure development, human resource development and conducive interest rate for entrepreneurs to achieve a 'super Bangla' growth rate beyond six percent, he added.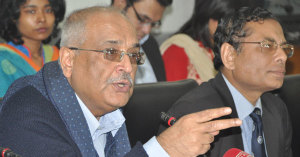 Pointing at insufficient revenue mobilisation in FY2015, the IRBD analysis called for revising revenue collection targets as CPD researchers suspected that a probable deficit of Tk. 25 thousand crore might undermine intended revenue collection.
Quoting Global Financial Integrity (GFI), Dr Bhattacharya noted that around $1.8bn had been siphoned off in 2012, which was more than the aid received by Bangladesh. In this regard, Professor Rahman particularly flagged that sudden surge in import of machineries did not correspond with recent investment trends on the ground. Whether it was indicative of capital flight as suspected by the IRBD analysis needed investigation, he cautioned.
The CPD IRBD report presentation was followed by a Q&A session with journalists.