Published in Dhaka Tribune on Sunday, 21 February 2016
Muhith's 'Sonali Dinguli' hits Ekushey Boi Mela
Abid Azad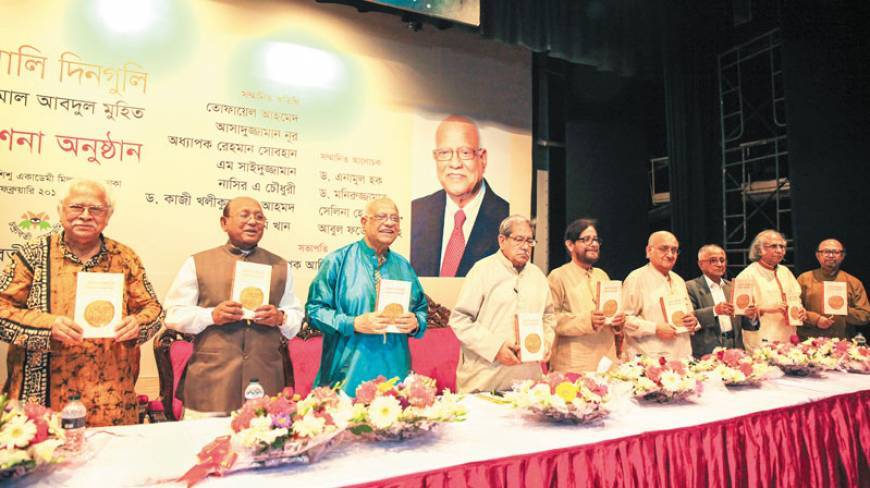 Finance Minister AMA Muhith has given a rare and detailed glimpse into his life in the first volume of his autobiography.
The 82-year-old recounts his life until 1955-56 in "Sonali Dinguli", unveiled at the Bangladesh Shishu Academy yesterday, his publisher said.
"A brilliant work," said Dhaka University's Professor Emeritus Anisuzzaman while eminent linguist Dr Moniruzzaman hoped readers would enjoy it.
"People usually prefer to avoid negative incidents in autobiographies but Muhith covered everything," Bangladesh National Museum's founder Director General Enamul Haque said.
Centre for Policy Dialogue (CPD) Chairman Rehman Sobhan said the book covered the end of Muhith's university days. "I did not have the opportunity to be with him in those days but I was with him in the 'Sonali Dinguli' of 1971 when we campaigned for Bangladesh's independence in the US."
Kamruzzaman Kajol, executive director of Chondraboty Academy, which published the book, said the minister would write two more books. "We are currently working on a special edition of "Sonali Dinguli" for children. I hope it will come out next month," he told the Dhaka Tribune.
At the launching ceremony, Muhith revealed the reason for taking up pen. "Last year, I suddenly realised that I need to write an autobiography as I am getting old. So I started writing on January 11, 2015 and finished on October 8."
He said he was working on the second part. "It will start just after my academic life. I have covered events until 1962 in the last three months," he added.
Commerce Minister Tofail Ahmed, Cultural Affairs Minister Asaduzzaman Noor, former finance minister M Saiduzzaman, PKSF Chairman Qazi Kholiquzzaman Ahmad, artist Hashem Khan, among others, were present.
Dhrubo Esh designed the cover of the 216-page book, available for Tk600 at the Ekushey Boi Mela.