Published in The Financial Express on Sunday, 19 February 2017
Ensure equal access to quality education to end inequality
FE Report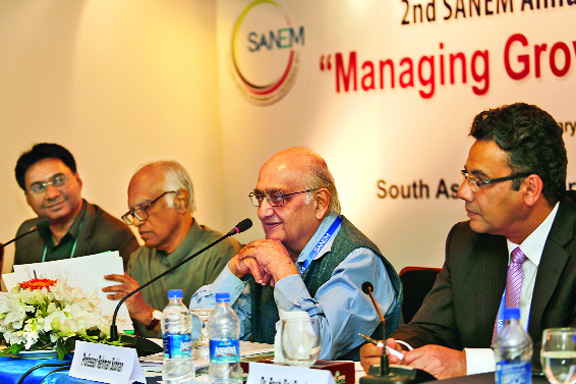 Ensuring equal access to quality education for all is one of the preconditions for alleviating inequality in Bangladesh and South Asia, eminent economist Professor Rehman Sobhan has said.
At the same time, governance and market mechanism also needed to be pro-poor to ensure greater equality in the country and in the region, he told the second SANEM annual economists' conference in the capital on Saturday.
"For understanding inequality, it is important to assess the causes and institutions that produce and reproduce inequality," he added, speaking at a high level panel discussion on "Managing Growth for Social Inclusion".
"If you look at the examples of the developed countries in Europe and East Asia, they have ensured not only education but also qualitative education for all," said Prof Sobhan, who is the Chairman of think tank Center for Policy Dialogue (CPD).
Lamenting the declining access to quality education at every level, he said: "A sense of equivalence in terms of access to quality education is needed if you want both growth and quality in South Asia."
He also emphasised on equality in terms of access to productive assets and skills. "When it comes to agricultural reform, there are opportunities in Bangladesh to reappropriate and redistribute the khas land and to use them for productive purposes." Prof Sobhan identified existing inequality in the current market mechanism itself. "For example, the small rural farmers operating at the lowest tiers of the market often do not get proper benefit for their hard work," he said, adding: "Therefore, it is important to link those small farmers with the highest tiers of the market."
He also noted that there were huge inequalities in the country in terms of access to good governance and public services. "There are large disparities when it comes to access to government resources, enforcement of laws and political power."
Speakers also highlighted and analysed the comparative pictures of growth and inequality among the South Asian countries.
Eminent economist Prof Wahiduddin Mahmud said it is a puzzle that for many developing countries like Sri Lanka, their high level of achievement in terms of human development did not translate into high income.
"However, for some other countries like South Korea, growth in human development and income level have gone hand in hand," he added.
CPD executive director Dr. Mustafizur Rahman said that ensuring higher agricultural productivity and income is one of the main prerequisites for ensuring greater inequality in the country.
SANEM executive director Dr. Selim Raihan, Professor of the Institute of Economic Growth in India Dr. Sabyasachi Kar, chairman of South Asia Watch on Trade, Economics and Environment of Nepal Dr. Posh Raj Pandey and executive director of the Institute of Policy Studies of Sri Lanka Dr. Saman Kelegama also spoke on the occasion.
Earlier in a session on 'The Politics of Growth', speakers analysed the role of political discourses in deciding the course of economic growth in a country.
Dr. Hossain Zillur Rahman, who chaired the session, said many good policies were formulated in Bangladesh which ultimately did not get implemented. From that point of view, he emphasised on institutional reforms.
"Interface of politics and economy is crucial," he said, adding, "especially, in this period of global turbulence, economists need to get into political space.