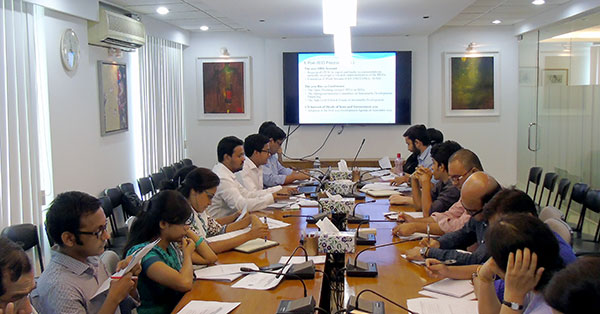 Success of the Sustainable Development Goals (SDGs) as part of the post-2015 development agenda will critically hinge on multi-stakeholder partnership, political will and data availability at the national-level.
Lessons learnt from the delivery of the Millennium Development Goals (MDGs) reflect that unavailability of data at the local level was a major impediment towards monitoring the MDG indicators and gauging the progress of the MDG goals.
As part of CPD's Young Scholars' Seminar Series (YSSS), Research Associates Mr Md Afshar Ali and Mr Mostafa Amir Sabbih shared their ongoing studies on the post-2015 framework with CPD senior and junior researchers on Monday, 3 August 2015.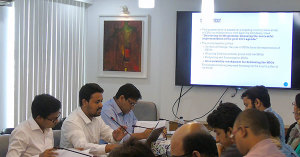 In light of the MDGs, the study on "Data Needs and Accountability Mechanism for Delivering the SDGs in Bangladesh," by Mr Sabbih shed light on the data needs for monitoring SDGs and data transparency-accountability nexus in Bangladesh while Mr Ali's study on "Exploring Issues Related to Means of Implementation" focused on the means of implementation including financing at the country level.
The researchers identified a number of issues for successful delivery of the SDGs, namely availability, accuracy and transparency of data for SDG indicators, means of funding such as domestic finance and overseas development assistance (ODA), and the role of trade, investment, remittance and public private partnership (PPP) in financing the SDGs.
It was also discussed that institutional arrangements for monitoring and accountability as well as engagement of government and non-government stakeholders will be of critical importance to accomplish the SDG goals at the national-level.