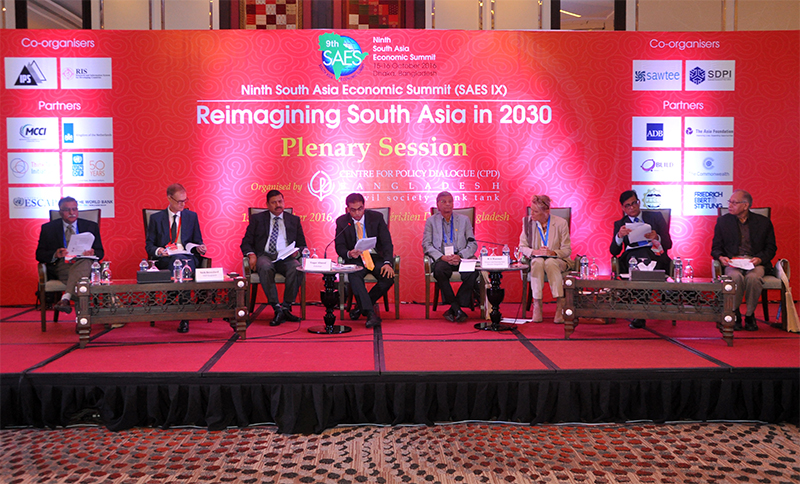 Experts stressed on strengthening partnerships through regional and global platforms towards achieving the Sustainable Development Goals (SDGs) at the third plenary session of the of the Ninth South Asia Economic Summit (SAES IX) which was organised by Centre for Policy Dialogue (CPD) at Hotel Le Méridien Dhaka, Bangladesh on 16 October 2016. Experts, policymakers, researchers present at this session, titled SDG Implementation Challenges in South Asia and Role of Global Partnerships, also observed that widening the ownership of SDGs and encouraging issue-based politics are essential. Unless SDGs are owned by high level political leadership of South Asia and allowed federal level outreach, they will only remain targets.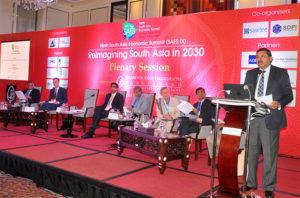 Mr M A Mannan, MP, State Minister for Finance and Planning, Government of Bangladesh was present at the session as Guest of Honour. Dr Nagesh Kumar, Head, UNESCAP South and South-West Asia Office, New Delhi, India presented the keynote on the subject. Dr Shamsul Alam, Member, General Economics Division, Planning Commission, Bangladesh; Dr Jagadish Chandra Pokharel, Chairperson, Nepal Institute of Urban and Regional Studies (NIURS); Mr Nick Beresford, Country Director (ai), United Nations Development Programme (UNDP) Bangladesh; Ms Leoni Margaretha Cuelenaere, Ambassador, Royal Netherlands Embassy in Bangladesh; Dr Mustafa K Mujeri, Executive Director, Institute for Inclusive Finance and Development (InM), Bangladesh; spoke as Panellists at the session. The session was moderated by Dr Vaqar Ahmed, Deputy Executive Director, Sustainable Development Policy Institute (SDPI), Pakistan
Institute of Policy Studies of Sri Lanka (IPS); Research and Information System for Developing Countries (RIS), India; South Asia Watch on Trade, Economics and Environment (SAWTEE), Nepal; and SDPI were the Co-organisers of this two-day Summit, held during 15-16 October 2016.