Published in The Daily Star on Thursday, 24 March 2016
Tax receipts rise as export, import get a boost
Sohel Parvez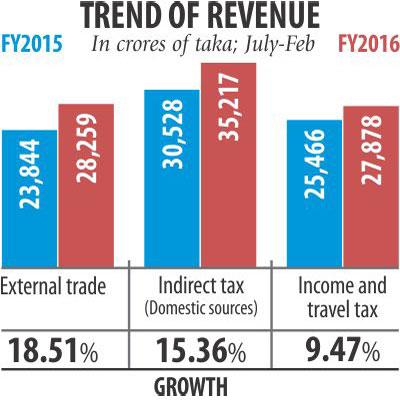 Tax collection rose 14 percent year-on-year to Tk 11,387 crore in February, on the back of increased exports and imports in recent months, according to provisional data of the National Board of Revenue.
Overall, the tax authority collected Tk 91,355 crore in July-February this fiscal year, registering 14.42 percent growth over the same period a year ago.
However, the amount fell Tk 12,810 crore short of the target at Tk 104,165.66 crore for the eight-month period.
So far, collection stood at 51 percent of the total target of Tk 176,370 crore for fiscal 2015-16. It means the NBR will have to collect the rest in four months, which some taxmen and analysts said would be a tough task.
In February, revenue collection from external trade-related activities soared 25 percent to Tk 3,722 crore year-on-year. Overall receipts rose 18 percent to Tk 28,259 crore in July-February, thanks to a recovery in imports and exports from a downtrend in October-December.
Imports grew 6.73 percent in July-January this fiscal year compared to the same period last year, while exports rose 9 percent in July-February.
However, the growth in direct and indirect tax collection from domestic sources slowed, according to NBR data.
In February, indirect tax collection, mainly VAT and supplementary duty from domestic businesses, edged up 10 percent to Tk 4,343 crore year-on-year.
Total collection of indirect taxes from domestic economic activities rose 15 percent to Tk 35,217 crore in July-February.
"The slowdown in the growth of indirect tax collection from domestic sources is perhaps a sign that economic activities did not pick up as much as expected," said Towfiqul Islam Khan, research fellow of the Centre for Policy Dialogue.

"The NBR will need to intensify its efforts to plug the gaps," he added.

Slow growth in income tax collection is a matter of concern, said Khan.

"It appears a reduction in the tax rate and lower profits of large taxpayers, such as the commercial banks, were not compensated by bringing in new taxpayers."