As a signatory to the 'Sustainability Compact' with the EU and ILO, Bangladesh must ensure improved workers' rights and better industrial relations in the country's RMG sector. Conducting social dialogues between workers and entrepreneurs on exercising freedom of association with workers' organisations, ensuring collective bargaining and applying national law at EPZs can help the country follow through on its commitments.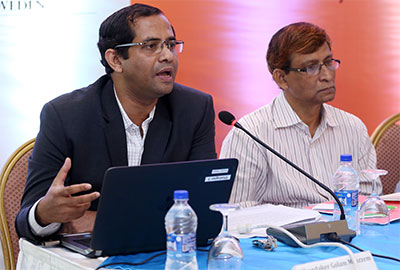 Dr Khondaker Golam Moazzem, Research Director, Centre for Policy Dialogue (CPD) expressed these views during his keynote presentation at the CPD-ILO dialogue titled Catalysing Social Dialogue in the RMG Sector of Bangladesh on 23 April 2017. The event commemorated the fourth anniversary of the Rana Plaza tragedy. The presentation explored the adequacy of the support extended to survivors, tracked progress on ongoing institutional reforms in the RMG sector post Rana Plaza's collapse and recommended social dialogue as a strategy to improve worker-employer relations in the sector.
Dr Moazzem noted that progress in advancing workers' rights is slow and labour unrest incidents since 2013 are alarming. After dissecting factors that lead to such unrests, he recommended raising awareness on social dialogue among workers and employers, encouraging buyers to take on greater management roles at the factories and improving arbitration processes to resolve disputes quickly.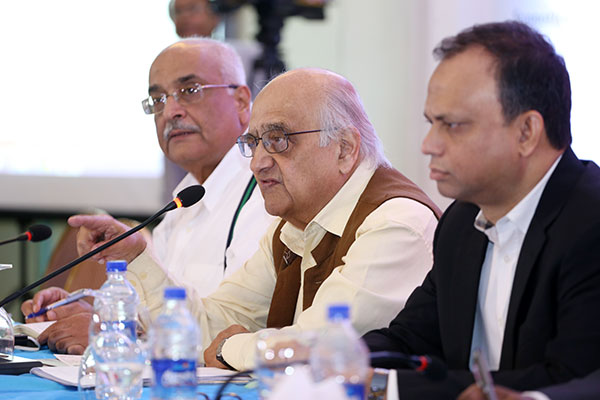 Professor Rehman Sobhan, Chairman, CPD alerted that a shirt that Bangladesh produces for USD 5 is sold for atleast USD 25 or higher in international markets. This shows that the RMG sector is embedded within a deeply unjust global value chain where international buyers profit extensively. The current business model partly forces RMG suppliers to override workers' rights and manufacture as cheaply as possible. The situation demands deconstructing the chain to make it more transparent and with fairer prices for RMG exporters and workers. Professor Sobhan also emphasised on the need to investigate how far Bangladesh has addressed the fundamental problems exposed in the Rana Plaza tragedy's aftermath. He pinpointed key issues—supporting collective action, addressing weak governance structures, and strengthening political oversight—that can improve workers' rights in the RMG sector.
In her opening remark, Dr Fahmida Khatun, Executive Director, CPD mentioned that compliance measures during post-Rana Plaza period has helped to improve the credibility of Bangladesh's RMG sector. She highlighted that this is an ongoing process and therefore, compliance is required continuously for the sector's sustainable growth. "There are also a number of unfinished agenda; one of them is to undertake social dialogue among the stakeholders of the industry", she observed.
Md Srinivas B Reddy, Country Director, ILO Office for Bangladesh added, "enhanced social dialogue can help workers and employers form a high quality partnership where they share goals and objectives. By providing all social partners with an opportunity to engage in the decisions that shape their society, social dialogue can help to constructively reduce inequalities".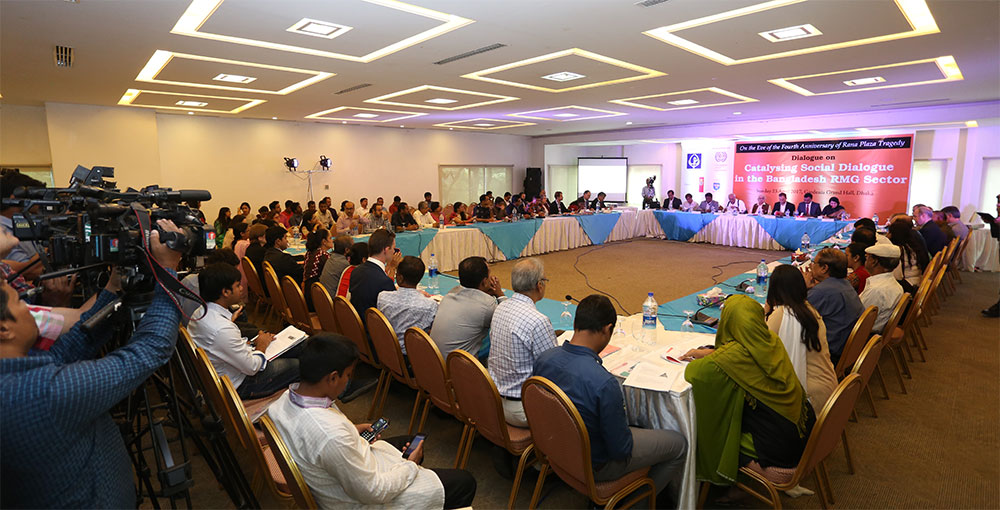 In May 2017, Bangladesh also risks losing preferential treatment in the EU market if it cannot demonstrate significant improvement in the RMG sector when ILO reviews the country's progress in meeting Sustainability Compact commitments. Taking note of this critical issue raised during the open-floor discussion, Dr Debapriya Bhattacharya, Distinguished Fellow, CPD and moderator for the event questioned whether Bangladesh was adequately prepared for the evaluation.
Discussants also raised concerns on inadequate welfare measures for workers, the need for relating the issues to the Sustainable Development Goals and on improving capacity and government support for making institutional reforms to the RMG sector sustainable.  Many also stressed on the need for a transformative change in the relations between workers and employers that moved away from mistrust and towards partnering for shared goals.
Mr Mikail Shipar, Secretary, Ministry of Labour and Employment, Government of Bangladesh was present as the Chief Guest while Mr Mahmud Hasan Khan (Babu), Vice-President, BGMEA attended the programme as Special Guest. High-ranking government officials including secretaries, ambassadors, distinguished representatives from the RMG sector, academia and civil society attended the dialogue.