Bangladesh's graduation from the category of the Least Developed Countries (LDC) is almost certain. Now, it is critically important for the country to prioritise the future strategies in view of making the graduation sustainable. The government needs to take measures on issues related to 'beyond graduation', and initiate necessary structural transformation for ensuring 'smooth graduation'.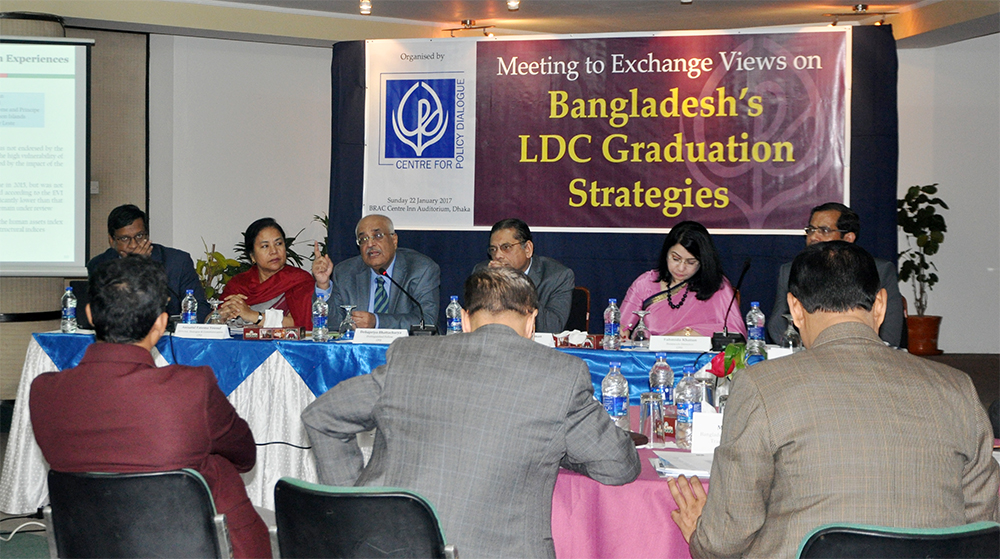 These views were shared at a meeting with government officials today on Bangladesh's LDC Graduation Strategies, organised by the Centre for Policy Dialogue (CPD), on 22 January 2017, at the BRAC Inn Auditorium, Dhaka. CPD Research Fellow Mr Towfiqul Islam Khan presented the keynote titled "Graduation from the Least Developed Country Category: Is Bangladesh Ready for a Smooth Transition?" at the meeting.
In his presentation Mr Khan described the LDC paradigm, analysed the graduation prospects, pathways of a smooth transition for Bangladesh, and mentioned lessons from past graduations of other countries. Based on the lessons from past LDC graduates, Mr Khan mentioned four elements as key drivers for a smooth and sustainable transition. These are quality of institutions, peace and social stability, economic and social planning, emphasis on infrastructure and education, and, prudent and forward-looking macroeconomic policies.
CPD Executive Director Professor Mustafizur Rahman, in his introductory remarks, highlighted the positives and the negatives associated with Bangladesh's graduation from LDC category. Timely and effective policy measures is the only key to tackle the negatives and utilise the positives for a sustainable graduation for Bangladesh.
Dr Debapriya Bhattacharya, Distinguished Fellow, CPD, observed that the sustainable and smooth graduation from the LDC will ultimately support the government's effort in implementing the Sustainable Development Goals (SDGs). The government should consider the rapidly changing global dynamics in formulating necessary policies, he added.
The meeting was participated by 27 senior and midlevel government officials from 24 government institutions and agencies. Ms Anisatul Fatema Yousuf, Director, Dialogue and Communication, Dr Fahmida Khatun, Research Director, Dr Khondaker Golam Moazzem, Additional Research Director of CPD were present at the meeting.
Presentation on Graduation from the LDC Category: Is Bangladesh Ready for a Smooth Transition?