Distinguished economist Late Dr. Mahabub Hossain will be remembered for his magnanimous contribution to the development in the agricultural sector of Bangladesh, speakers said at the Citizen Mourning session on 19 January, 2016 at the Krishibid Institution Auditorium, Dhaka. The Executive Director of the Centre for Policy Dialogue (CPD) Professor Mustafizur Rahman proposed in the session that the State can still recogise this renowned agricultural and development economist. The proposal was echoed by other speakers at the session.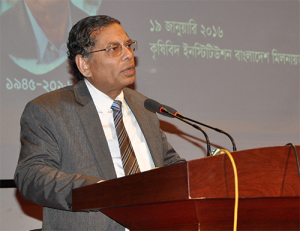 Anchored by the Chairman of Palli Karma-Sahayak Foundation (PKSF) Qazi Kholiquzzaman Ahmad the session was co-organised by PKSF, Bangladesh Institute of Development Studies (BIDS), CPD, BRAC, Bangladesh Agricultural Research Council (BARC), SHUJAN, Bangladesh Rice Research Institute (BRRI), Bangladesh Unnayan Parishad (BUP) and Institute for Inclusive Finance and Development (InM).
Speakers at the session shared their personal experience with Dr. Mahabub Hossain and highlighted his professionalism, commitment and dedication towards research on agriculture, and described him as an extremely hard working person. They mentioned that the young generation has a lot to learn from Dr. Mahabub's life. He will be remembered for his remarkable contribution in the field of agricultural research, charismatic leadership in agricultural innovation, and, mostly, for evidence-based and field oriented research practices, speakers observed.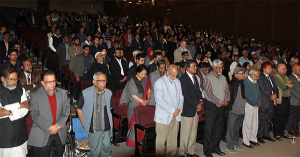 Dr. Mahabub Hossain breathed his last at 2:45 AM Monday, 04 January, 2016 (BST) as Member of the Board of Trustee of CPD, the Adviser to the Executive Director of BRAC and Chair of the Department of Economics and Social Science, BRAC University.  As a prominent economist of the country with global reputation he served as the Head of Social Science Division of International Rice Research Institute (IRRI), Executive Director of BRAC, and Director General of Bangladesh Institute of Development Studies (BIDS).
Former Finance Secretary and Member of CPD Board of Trustee M Syeduzzaman, Director General of BIDS Dr. K. A. S. Murshid, Member Secretary of SHUJAN Dr. Badiul Alam Majumder, Chairman of BUP Mr. MA Jalil, Vice-Chair of BRAC Dr. Mushtaque Chowdhury, Executive Chairman of BARC Dr. Abul Kalam Azad, Member of Planning Commission Dr. Shamsul Alam and younger brother of the deceased Dr. Sakhawat Hossain attended the session among others.