Published in The Independent on Tuesday, 8 March 2016
'Lot more needs to be done for women's economic empowerment'
Kaniz Fatima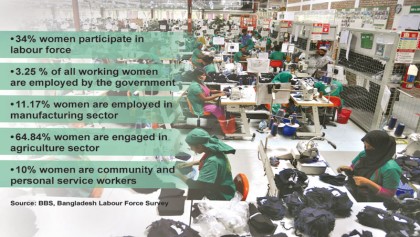 There is no doubt that the economic status of women in Bangladesh is better off today compared to what it was a few years ago. But the progress has not been up to expectations. Women still have to face barriers and disadvantages in many aspects of their lives, experts observed.
There are claims that there has been remarkable progress in women's empowerment in Bangladesh, but it is not true in many cases. "Effectively, we do not find women's empowerment at the field level. We do not find women in significant role in sectors where power is very important, such as banking," said the World Bank's chief economist in Dhaka, Zahid Hussain .
According to Bangladesh Bank, there are 56 banks in the country, but there is no female managing director in any of them.
A recent report of the Bangladesh Bank said the number of women in the banking sector is decreasing at all levels. In 2013, the participation rate of women at the entry-level of the banking sector was 16.88 per cent, which came down to 13.70 per cent in 2014. At the mid-level, women officers were 16.66 per cent in 2013, which fell to 14.18 per cent in 2014. In the senior management position, the number of women was 10.91 per cent, which came down to 7.46 per cent in 2014.
Women are still lagging behind in the labour force participation rate.  The "Labour Force Participation Study 2015" said 82 per cent men participate in the labour market, whereas women account for only 34 per cent.
"I do not find any reason why the male and female labour force participation rate would not be equal. It is very unfortunate that the female labour force participation rate is only 34 per cent in 2016," Zahid Hussain  said.
The female labour force participation rate is 48 per cent in Thailand, though it is a male dominated country, he added.
"Once it was hard to find female students in IBA, BBA, and MBA. But now many women are studying in these subjects.  And social myths like women cannot join the police or armed forces have been exploded. So, why should the female labour force participation rate be lower," he wondered.
According to the BBS, agriculture remains the dominant employment sector for women (64.84 per cent), in Bangladesh, followed by manufacturing (11.77 per cent), self-employment (16.8 per cent), and community/personal services (10 per cent). Only 3.25 per cent of all working women are employed by the government, in comparison to 8.25 per cent in the case of working men.
Despite significant progress in recent decades, the labour market remains divided along gender lines and progress towards gender equality seems to have stalled. All chambers have women members, but their number is very low and the role in decision making is less significant.
The CPD executive director, Prof Mustafizur Rahman, thinks there is hesitation in society to promote women to upper or responsible position. Women are in higher position in NGOs, but "We do not find them in higher position in government and corporate jobs," he said.

There have been changes for women in terms of education and in other spheres. Women are steadily moving into all sectors, he observed. It will take time to promote women to higher position as many are in middle positions, he added.

"There is a hesitation among people whether women would be able to complete the responsible task properly. If we can overcome these negative attitudes towards women, they will go forward," he hoped.

"The barriers are both formal and informal, including discriminatory inheritance laws. But it is very tough to change the inheritance laws because religion is related to this, and many women do not want changes in it, said Hussain. "In this case, I think initiative should be taken so that women have a major share in new property."
Zahid Hussain said the infrastructure of the country is not female-friendly. Huge trading is done though land ports. But, there is no washroom or waiting room for women in the lands ports. It is necessary to build a female-friendly business infrastructure.
"In the demographic dividend, we say about young labour force participation and in the case, opportunity for men is very low as their participation rate is already 82 per cent. If we cannot harvest the gender dividend, our demographic dividend will not bring any opportunity for us," said Hussain.
Bangladesh will need to break the barriers that prevent women from participating in the labour market or entering the organised business sector as entrepreneurs.
"In these cases, we have to come out from the norms that women have to carry out responsibilities of home," he added.
Advocate Salma Ali, executive director of the Bangladesh National Women Lawyer's Association, said: "Even today, most of the women do not enjoy economic freedom. In many cases, women earn, but cannot spend the money according to their will. Women work but remain unpaid. Many home-based women workers do not get money in their hands, as the work of marketing is done by their husbands. Thesame situation exists in the agricultural sector." It is important to remove the discriminatory inheritance law. The right to property is very important for fulfil the campaign for the 2016 theme for International Women's Day — "Planet 50-50 by 2030: Step It Up for Gender Equality"