Published in The Daily Star on Monday, 04 January 2016
MACRO MIRROR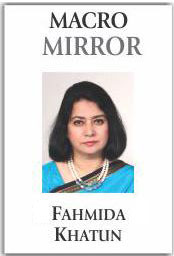 Tightening of recent security measures at the Hazrat Shahjalal International Airport, Dhaka, is a laudable initiative of the government. Not only has this cleaned the airport vicinity of people accompanying passengers and crowding the place, it has also led to travellers inside the airport to feel more assured. Well, some wouldn't, however, miss the opportunity to take advantage of such tight security.
I became the subject of one such opportunist during my recent travel. Before boarding a flight at the last security check, a lady asked whether and how much money I was carrying. Being baffled by her question, I said I was carrying very little money as I use credit card. Then she directly asked me to leave some money for her and her colleagues. It took me a few seconds to retort and ask her to come in front of everyone while I give her the money. She probably had the wrong catch! But I wonder how often these airport staff take such adventures and how much money they earn from innocent travellers.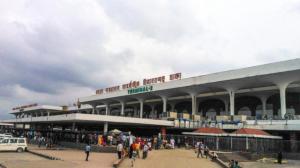 The inflow and outflow of air travellers in Bangladesh has increased manifold, as the prosperity of the country has increased over the years. In addition to about 7.6 million wage earners, more and more people can now afford to make trips abroad for business, education, health and holidays. Similarly, thousands of expatriates – from officials of international aid agencies to diplomats, consultants and foreign investors also travel to Bangladesh every week.
Bangladesh is becoming a commercially important destination among global investors. Investors see a lot of potential in a number of sectors, including financial institutions, hospitals, pharmaceuticals, readymade garments, power, telecommunications, construction, food, and fast moving consumer goods (FMCG). Recent improvements in the country's per capita income, graduation to a lower income country status and commendable credit ratings have caught the attention of the global community. It has boosted the image of the country significantly.
Airport infrastructure and services, however, have not kept pace with the development of the country in other areas. The airport building itself is unappealing to start with. In contrast, when one travels through the streets of Dhaka, several parts of the city look like some of the advanced countries of Southeast Asia with plush buildings, new flyovers and colourful shopping complexes.
When someone lands at an airport of a country, it tells a lot about that country. It is like the gateway of the country. Thus, the image of a country somewhat rests on it, as this first impression lasts for a long time. What impression does our own airport give to someone who is visiting Bangladesh for the first time? Poor air conditioning system, smelly toilets, mosquito bites?
These, however, are relatively trivial issues. The most painful experience is of course the long wait for one's luggage. Many surveys of the airline industry have shown that passengers, particularly of the red-eye flights, hate the wait for their luggage on arrival. Thus, all good airlines fix this problem first. In our case, this situation is actually deteriorating. One of the reasons behind this is the fact that Biman has the responsibility of ground handling of many airlines. This information is enough to understand the efficiency level in this regard. One can also probably relate to why Biman, despite new aircrafts and good pilots, cannot become profitable. Its airplanes do not fly on time, services of cabin crews are sub-standard, and they often misbehave with passengers.
So after travelling for hours with little or no sleep, when passengers finally cross the long immigration line, the wait for another hour or more for their luggage becomes truly agonising. And if you are down on your luck and don't get your suitcase even after all this, it's bound to try your patience once again. For quite sometime, one wouldn't find any representative either from the airline you travelled with or civil aviation personnel to lodge complaints of missing baggage.
Of course, there have been improvements regarding the safety of the things in the suitcase. There was a time when passengers wouldn't know whether they would get their suitcases intact or not. I myself lost things from my suitcase many times while departing from and arriving in Dhaka. This has reduced over time due to better oversight.
Immigration has also improved a lot, thanks to digitisation and a change of attitude of duty officers. But it is still not enough to handle long queues when a few flights land or depart at the same time. Computers do hang up quite often. At times, some of the airlines have to make special request to the immigration officials to clear passengers of their flights quickly to maintain their flight schedules. Supervision can be improved. Not everyone has the same level of skills or work with equal sincerity. Some would keep staring at others or gossip with fellow officers in front of passengers. Further automation and training are needed for swift services.
Customs have improved too. Recovery of unauthorised and illegal items channelled through the airport by customs officials is praiseworthy. At the same time, harassment in the name of checking suitcases has reduced. Strict customs is good for earning revenues and security improvement. But it can be done in a passenger friendly way. Attitudes towards the returnee migrant workers should be more sympathetic and cooperative rather than hostile.
Airport infrastructure is directly linked to economic development. It not only connects people across the world but also creates employment and generates revenue. On the other hand, an improved airport can increase the demand for other sectors in the economy and boost productivity. For a long time, discussions and plans for a modern airport have been on the table of Bangladeshi policymakers. But the selection of an area for a new airport itself continues to be a challenge. While the country awaits a befitting airport, the existing one can be improved within its own structure.
The writer is Research Director at the Centre for Policy Dialogue.