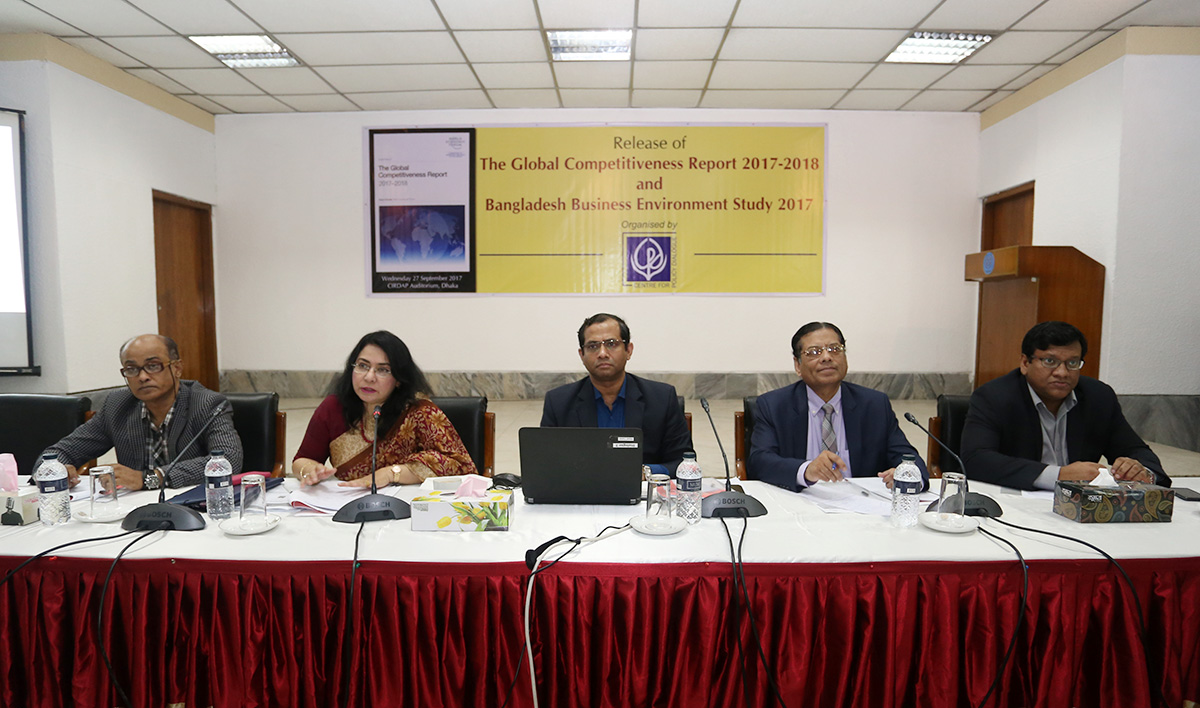 Bangladesh, for the first time, has entered into the 100-country club of the world's most competitive economies, according to the Global Competitiveness Index (GCI) 2017-18 released by the World Economic Forum (WEF). The country moved seven notches up to rank 99th  among 137 countries in the annual index. It scored 3.9 out of 7 with improved scores across all the 12 factors especially in 'institutions' and 'infrastructure' sub-indices. However, the country needs to emphasise on the competitiveness requirement of labour market efficiency and technological readiness.
Centre for Policy Dialogue (CPD) disclosed the findings at a media briefing organised to launch the Global Competitiveness Report 2017-18 and Bangladesh Business Environment Study 2017 in Dhaka on 27 September 2017.  CPD unveiled the report in Bangladesh on behalf of the Geneva-based WEF. The Global Competitiveness Report is a cross-country benchmarking analysis of the factors and institutions that determine long-term growth and prosperity of countries. The WEF has been publishing the report since 1979.  CPD, as a partner of the WEF, has been carrying out the Bangladesh part of the report since 2001.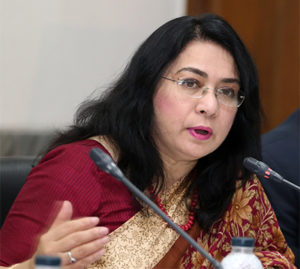 While presenting the key findings of Bangladesh chapter of the report, Dr Khondaker Golam Moazzem, Research Director of CPD, said that considerable score in 'Basic requirement' sub-index helped Bangladesh in coming down to double digits ranking. He, however, highlighted that weaknesses in efficiency enhancers continue to prevail despite some improvement.
Bangladesh should focus towards an 'efficiency driven' economy to accommodate the requirements, he recommended. Besides, more investment in the IT sector and quick implementation of the key projects are also very important as the country is most laggard in the sector, Dr Moazzem emphasised.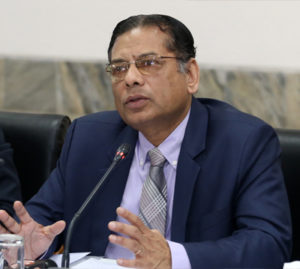 The report identified corruption as the top problematic factor in doing business in Bangladesh, followed by inadequate infrastructure and inefficient bureaucracy. Additionally, poor work ethics has been identified as a new obstacle. Businessmen also expressed dissatisfaction on poor financial soundness of banks and difficulties to raise capital in stock market. Underlining these issues, the CPD reiterated its call to form a financial commission to address the concerns.
Switzerland topped the index for the ninth consecutive year followed by the US and Singapore. On the South Asian front, India remains the most competitive nation. It ranked 40th.
Dr Fahmida Khatun, Executive Director; Professor Mustafizur Rahman, Distinguished Fellow; Dr Anis Pervez, Additional Director, Dialogue and Communication; were present among others at the event.