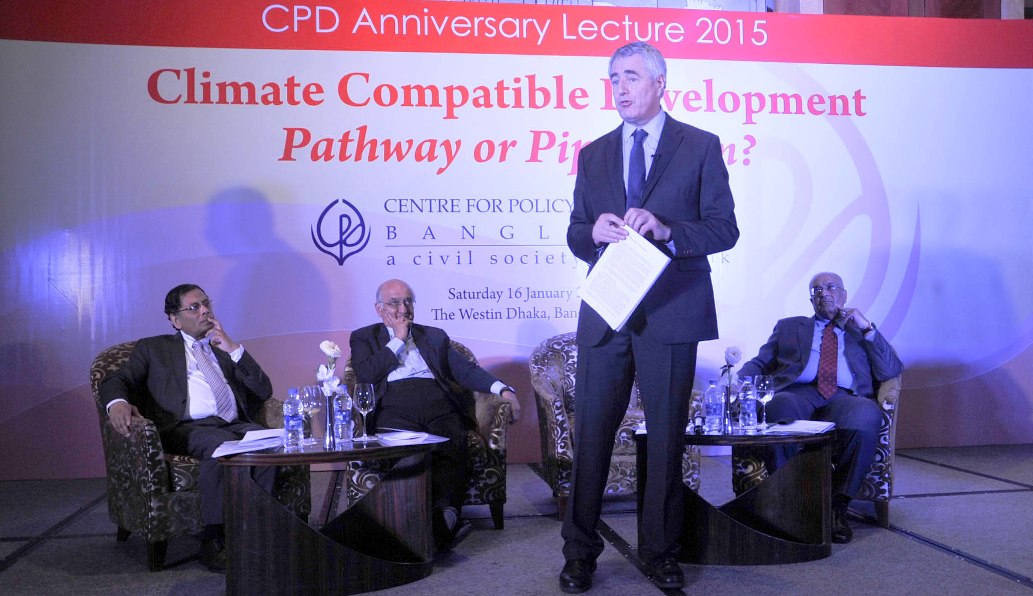 Climate compatible development offers a framework for thinking about the pathway to overcome the 'wicked problems' of dealing with climate related challenges, while simultaneously achieving the poverty reduction target of Sustainable Development Goals (SDGs), said Mr Simon Maxwell, CBE at the CPD Anniversary Lecture 2015. He remarked that achieving the SDGs will require close integration of poverty, environmental and social action in the light of the idea of 'zero-zero': zero poverty by 2030 and zero net emission of CO2 about 2070.
Mr Simon Maxwell, CBE, Executive Chair, Climate and Development Knowledge Network (CDKN), Chair, European Think-Tanks Group and former Director, Overseas Development Institute (ODI), London, United Kingdom was addressing the CPD Anniversary Lecture 2015 on "Climate Compatible Development: Pathway or Pipedream?" on Saturday 16 January 2016 at The Westin Dhaka. The event was chaired by Professor Rehman Sobhan, Chairman, CPD.
Drawing attention to climate challenges Maxwell observed that in order  to have sustainable solutions engagement of all sectors, public and private, is must for a country like Bangladesh where demographic changes, urbanisation, inter-sectoral shifts, integration into the world economy, and the management of financial and trade shocks all need to be addressed simultaneously. He added that addressing all of these issues to face the climate challenge are like puzzles, which he termed as 'wicked problems'- difficult to define clearly and having multi-causal interdependencies with different stakeholders.
To achieve the target of 'zero' net carbon emission by 2070, Maxwell said that there is no alternative but to combine development and environment where private sector should play their roles responsibly, not only environmentally but also economically. He identified unplanned urbanisation and traffic congestion as burning problems for the city of Dhaka. He also expressed that necessary policies should be put in place and implemented immediately to save the rivers of this agriculture driven country.
Referring to the Paris Agreement adopted from the COP21 in December 2015, Maxwell observed that it was a very good start as it offers universal commitments, regular review, ambitious long-term goal and raft of necessary instruments. He suggested that every country needs to mainstream compatible climate development and prepare a sustainable plan for challenge mitigation. He felt that the role of think tanks are vital in such mainstreaming. Maxwell emphasised on three key points, policy leadership, policy design and policy implementation, which are critical to the roadmap of zero-zero where think tanks should act and be engaged with responsibility.
In the concluding remark, Professor Rehman Sobhan, Chairman, CPD, outlined that generating funds from own resources for addressing climate related challenges will not be an easy task for Bangladesh. In this context, political will is an important factor, he emphasised.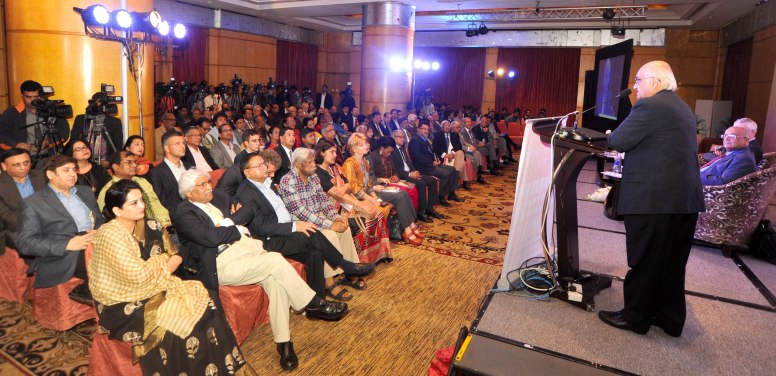 The event was attended by more than 250 professionals that includes policymakers, development practitioners, bureaucrats, businessmen etc. from different academia, research and development organisations. CPD  Board  of Trustees  Sir Fazle  Hasan  Abed, Founder Chairperson, BRAC and  Mr M Syeduzzaman, Former Finance Minister of the Government of Bangladesh along with the Ambassador of France H E Ms Sophie Aubert, High Commissioner of the Democratic Socialist Republic of Sri Lanka H E Ms Yasoja Gunasekera,  High Commissioner of  Maldives H E  Dr Mohamed  Asim, Executive Director  of Bangladesh  Centre for  Advanced Studies (BCAS) Dr A Atiq Rahman, Director of International  Centre  for Climate Change and Development (ICCCAD) Dr Saleemul Huq, Member Secretary of SHUJAN Dr Badiul Alam Majumdar, eminent columnist Mr Syed Abul Moksud, Vice-Chairman of New Age Group and Industries Mr Asif Ibrahim, students of economics and social science disciplines from various universities were present among the audience.