Designing a new global financial structure could shield the interest of low income countries from the economic and financial crises that afflicted Eurozone countries, observed Dr Louka Katseli while addressing CPD Anniversary Lecture 2014.
Referring to the consequences of Greek economic crisis, Dr Katseli noted that policymaking in the times of crises is shaped by the interests of a global financial system which caters to its narrow financial interests as opposed to the national interest in the absence of regulation, appropriate incentives or effective oversight, she observed.
Concerted action by few financial speculators can produce an unprecedented crisis for a national government, she added.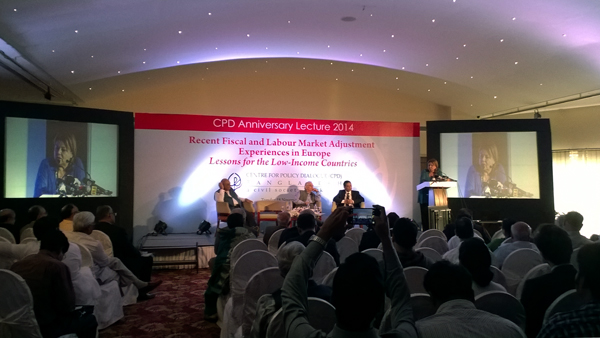 Dr Katseli, Professor of Economics at the National Kapodistrian University of Athens, Greece, was addressing the CPD Anniversary Lecture 2014 on "Recent Fiscal and Labour Market Adjustment Experiences in Europe and Lessons for the Low-Income Countries," held on Tuesday 18 November 2014 at Lakeshore Hotel, Dhaka. The event was chaired by Professor Rehman Sobhan, Chairman, CPD.
CPD Distinguished Fellow Dr Debapriya Bhattacharya introduced Dr Katseli, an expert on international economics and development policy, who has served as Director, OECD Development Centre; as member and vice president of UN's Committee for Development Policy. Dr Katseli currently leads the Social Pact Party and has held positions such as Greece's Minister of Labour and Social Security and Minister of Economy, Competitiveness and Shipping.
In the opening, Professor Mustafizur Rahman, Executive Director, CPD, said that Dr Katseli was invited to share her reflections on the salient features of the financial crisis in the context of globalising economies, her assessment about the way the crisis was managed, and her insights on lessons that we can draw for our own policy making.
Drawing on experiences from her own country Greece, Dr Katseli posited common policy challenges for the Eurozone which appeared similar to that of the developing countries, including Bangladesh.
Bangladesh needs to have a vision for its future and a transformative strategy for its implementation shaped by its own history, endowments and culture, A transformative strategy would focus on how to promote structural change and productivity-enhancing reforms to upgrade the productive base, develop new sectors, products and services and invest on powerful enablers such as governance, infrastructure, human capital or local, regional and global networks, she observed.
According to Dr Katseli, Bangladesh would require diversifying its economy beyond textiles, pursuing active industrial policies, undertaking governance and institutional reforms and building public-private sector partnerships for development, mobilising development assistance, trade and domestic taxes to finance infrastructure and other specific enablers.
Developing countries, including Bangladesh and even many emerging economies are in a better position to reap low labour cost competitive advantages, she added
In her presentation on "Beyond Austerity Policies: Mapping a Sustainable Transformative Agenda," Dr Katseli focused on the Eurozone crisis from a global perspective and the strategic pitfalls in managing the crisis.
Pointing at the unemployment scenario in the Eurozone, she noted that combination of credit crunch and austerity policies result in dramatic reduction of aggregate demand, firm closure and surge in unemployment. She further mentioned that excessive labour market flexibility increases unemployment due to adverse income and productivity effects. It was also observed that sharp reduction in wages does not necessarily enhance final price competitiveness due to fall in productivity and increases in non-wage cost components.
Dr Katseli observed that the secular stagnation in Europe was not the outcome of the crisis itself, but of the way the crisis has been handled. Austerity policies guided by the overarching objective of policymakers to support at all costs the European financial system as opposed to its real economies have brought Europe to an impasse.
Among the useful lesson that emerged from the analysis was the observation that primacy of fiscal goals as the backbone of a policy strategy that aims to improve financial stability, competitiveness and growth is self-defeating. It was learnt from experience that government is likely to lose credibility if living standards deteriorate.
In recommendation, Dr Katseli urged the importance of shaping and implementing a domestic transformative strategy by facilitating structural change, investing on enablers (e.g. governance, infrastructure, human capital, networks), promoting active  trade, investment and industrial policies, introducing appropriate incentives for private sector mobilisation, designing effective and efficient social protection systems and ensuring policy coherence.
Building partnerships for change at national, regional and global levels was another standalone recommendation.