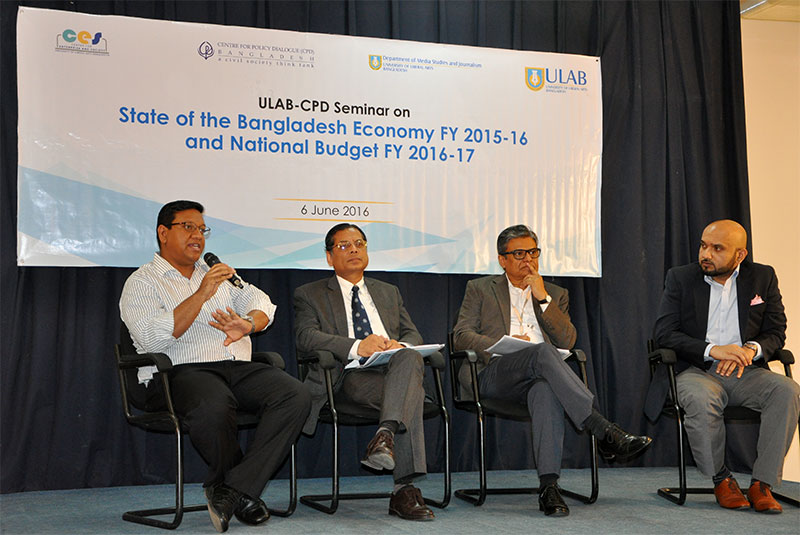 A special lecture session was organised to brief the teachers and students of the University of Liberal Arts Bangladesh (ULAB) about the macroeconomic context and various aspects of the national budget for FY2016-17. Status of the state of the Bangladesh economy in recent years and a brief analysis of the recently proposed national budget for FY2016-17 were shared with the students in this interactive session.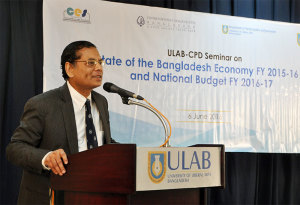 CPD Research Fellow Mr Towfiqul Islam Khan delivered the lecture titled State of the Bangladesh Economy in FY2015-16 and An Analysis of the National Budget for FY2016-17 focusing on contemporary macroeconomic issues, features of the Budget for FY17 and a few recommendations for more successful implementation of the budget for the upcoming fiscal year. The event was organised in collaboration with ULAB's Centre for Enterprise and Society (CES) and Department of Media and Journalism at the ULAB Auditorium on Monday 6 June 2016. With an objective to encourage the students to be engaged with macroeconomic policy debates the session was organised as part of CPD's lecture series on national budget.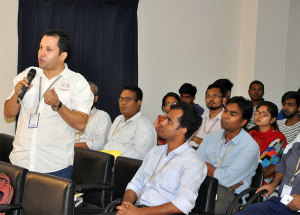 In his welcome remarks, CPD Executive Director Professor Mustafizur Rahman recalled the contribution of the freedom fighters in 1971 during the birth of Bangladesh and observed that invaluable contribution of the martyrs should be the inspiring force towards development of our country. Professor Rahman mentioned about various achievement and strengths of the Bangladesh economy. He said that the economy is getting stronger day by day and now it's time for the country to transform into efficiency driven economy from a factor driven one. He particularly mentioned about windows of opportunities- demographic dividend and advantage of being least developed county (LDC). He also identified some challenges the country is currently facing while moving towards a middle income country.
Professor Imran Rahman, Vice Chancellor of the ULAB; Ms Anisatul Fatema Yousuf, Director, Dialogue and Communication, CPD; Mr Sajid Amit, Acting Director of CES; Dr Jude William Genilo, Head of the Department of Media and Journalism, ULAB were present at the session along with the teachers and students of the university.
Students, faculty members and journalists took part in the discussion through an interactive Q&A session following the keynote presentation.