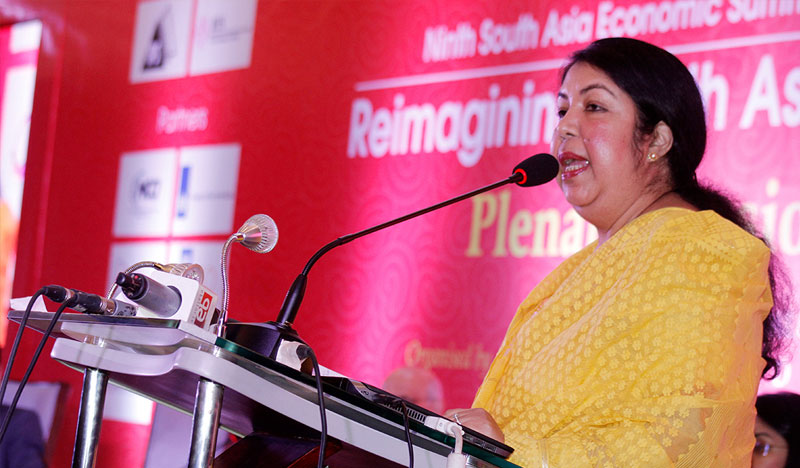 Dr Shirin Sharmin Chaudhury, MP, Hon'ble Speaker of the National Parliament of Bangladesh put emphasis on forming stronger collaboration among the South Asian countries to overcome poverty, reduce inequality, establish good governance and, particularly, to meet the sustainable development goals. Dr Chaudhury, delivered these observations while speaking as the Chief Guest at the concluding session of the Ninth South Asia Economic Summit (SAES IX) organised by the Centre for Policy Dialogue (CPD) on 16 October 2016 at Hotel Le Méridien Dhaka, Bangladesh.
The session was Chaired by CPD Founding Chairman Professor Rehman Sobhan. CPD Research Director and Convenor of SAES IX Preparatory Committee Dr Fahmida Khatun presented a summary of deliberations at the Summit. Dr Posh Raj Pandey, Chairman South Asia Watch on Trade, Economics and Environment (SAWTEE), Nepal delivered his statement as the Organiser-Designate of SAES X. Mr Md Shahriar Alam, MP, State Minister for Foreign Affairs, Government of Bangladesh also spoke as the Special Guest of the session. In the concluding remarks CPD Executive Director Professor Mustafizur Rahman expressed his gratitude to all guests, participants, co-organisers, partners, stakeholders, media and well-wishers for their contribution to the SEAS IX.
The two-day Summit, held during 15-16 October 2016, was co-organised by the Institute of Policy Studies of Sri Lanka (IPS); Research and Information System for Developing Countries (RIS), India; SAWTEE, Nepal; and Sustainable Development Policy Institute (SDPI), Pakistan.
View more news reports on the Concluding Session